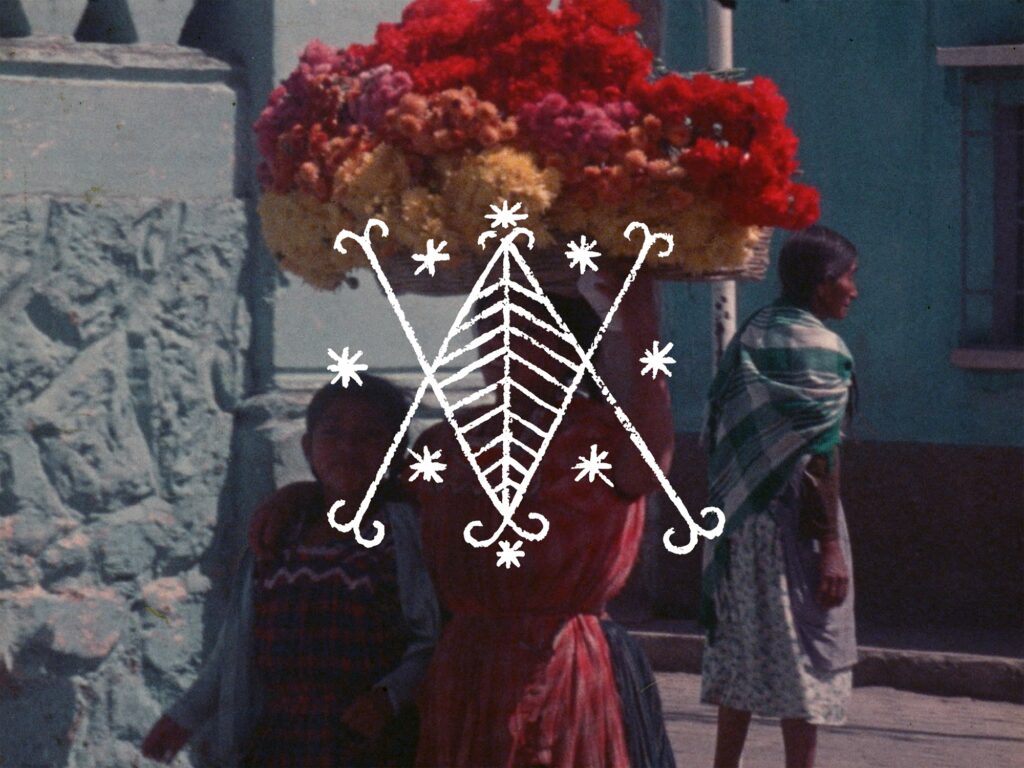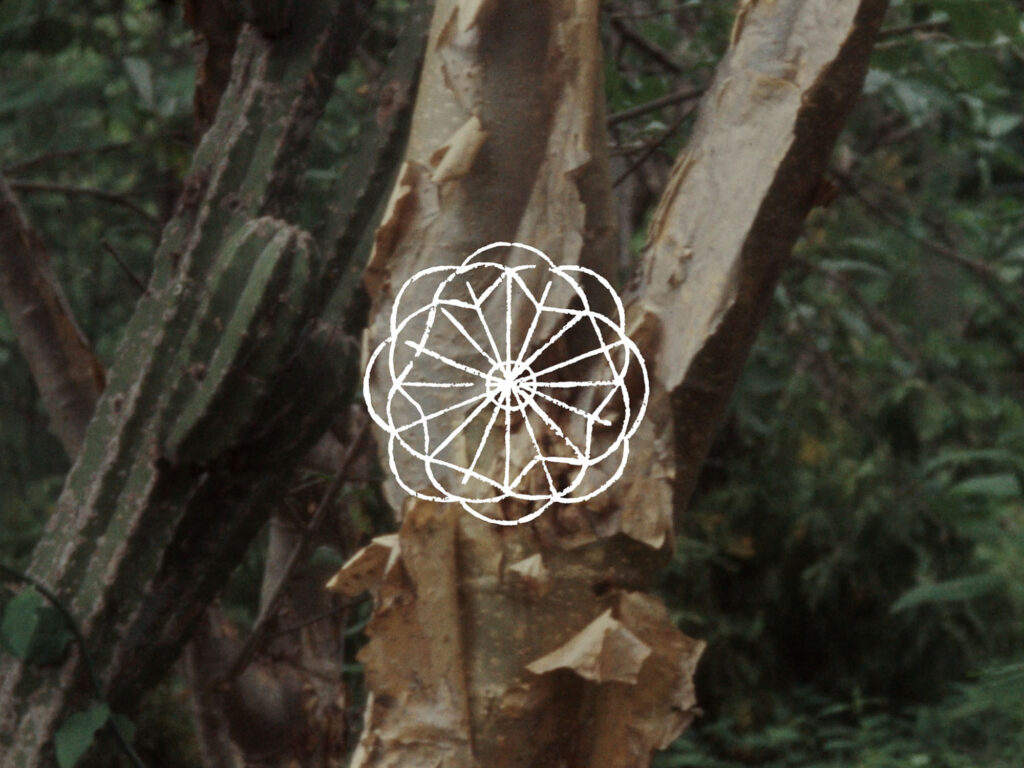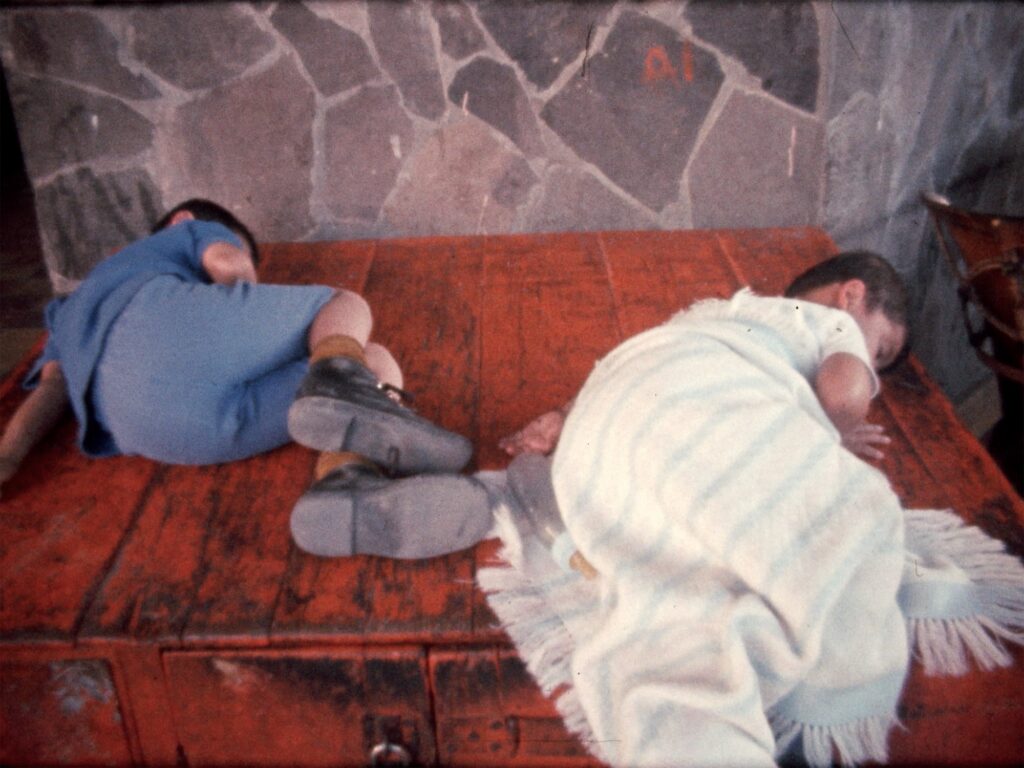 Vever (for Barbara)
Shot at the furthest point of a motorcycle trip Barbara Hammer took to Guatemala in 1975, and stitched through with Maya Deren's reflections of failure, encounter and initiation in 1950s Haiti, Deborah Stratman's Vever (For Barbara) is a cross-generational binding of three filmmakers seeking alternative possibilities to power structures they're inherently part of. Grown out of abandoned film projects of Hammer and Deren, Stratman's film acts as a vever—a symbolic drawing used in Haitian Voodoo to invoke a Loa, or god—in offering tribute to kindred spirits and radical women of different eras. —Deborah Stratman
"If history were recorded by the vanquished rather than the victors, it would illuminate the real, rather than the theoretical means to power." Maya Deren's words, found towards the middle of Deborah Stratman's Vever (For Barbara) suggest a reappraisal of our entire conception of history. Deren's provocation is particularly germaine within the context of Stratman's film, which is not a flattening of different histories but rather a palimpsest of images, tones, textures, voices, ideas and cultures. Yes, we see images of Guatemala from 1975: horchata served in a wooden bowl, spotted piglets grazing, women sitting in market stalls and beautiful swathes of nature. But we are also made aware of seeing these images from Barbara Hammer's embodied (American) first-person perspective. We read the Ukrainian-born Deren's words written in the thrall of Haitian voodoo, which Stratman extends through the use of the vever as a device. With the addition of Teiji Ito's Japanese classical music-inspired soundtrack for Meshes of the Afternoon, the cultural collage is sent through another spiral. But Stratman skillfully reflects these latent and subaltern vibrations off of a more straightforward element: her phone call with Hammer in which we hear the artist speak quite directly and practically about the beautiful film images we're lucky to see. —Herb Shellenberger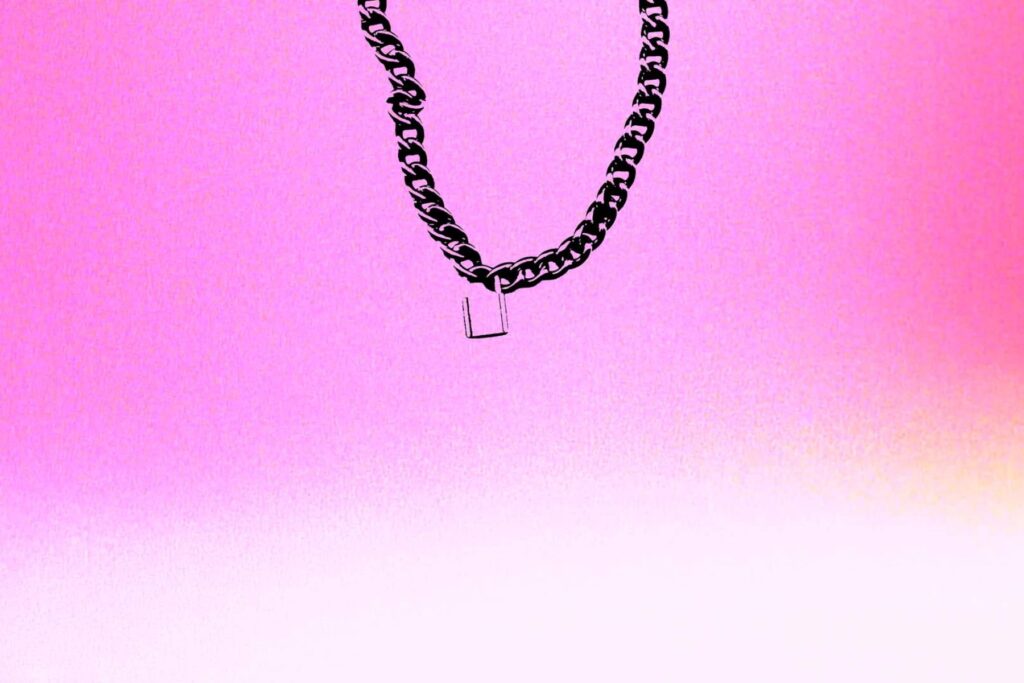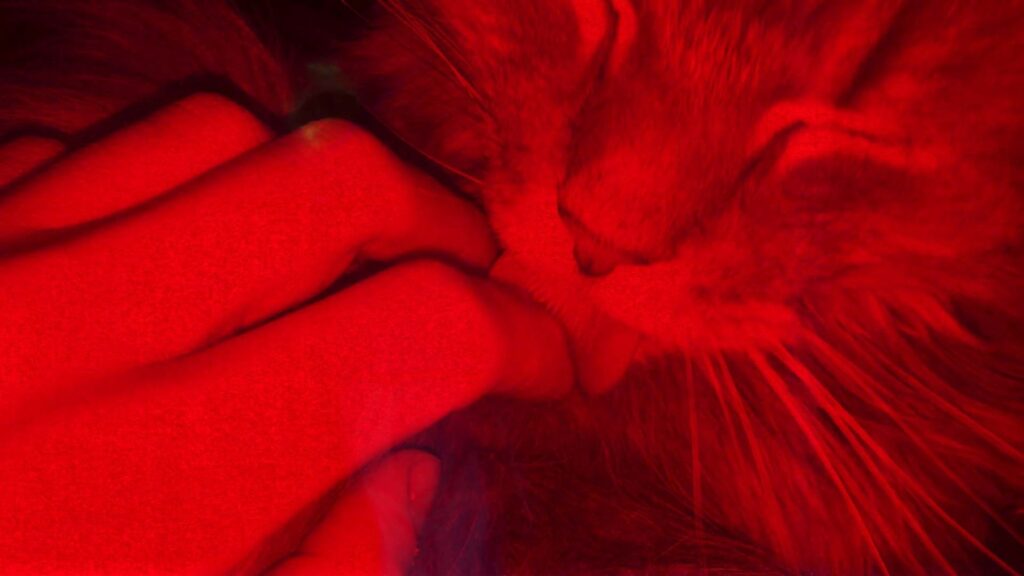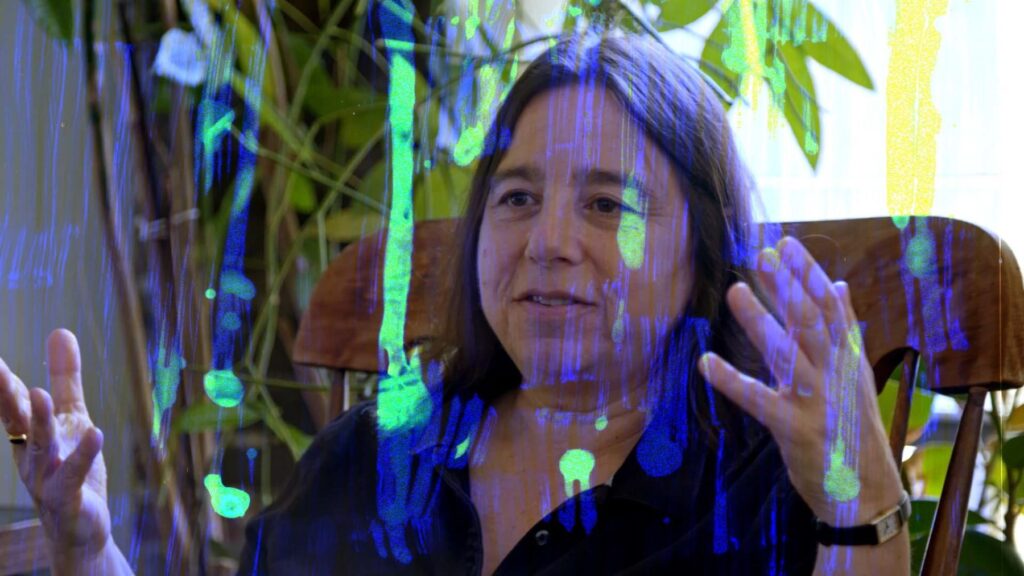 The Prince of Homburg
Patrick Staff's new work reinterprets 19th century German writer Heinrich von Kleist's play The Prince of Homburg. The film considers cycles of violence, desire and repression that are embedded in contemporary cultural and political crises. Staff explores dream-like transgressions of law and order and the fraught spaces where queer desires manifest using unconventional filmic structures and experimental techniques. The video cuts together a narration of Kleist's play with interviews, conversation, found footage, hand-painted animation and song.
In a series of fragmented 'daytime' sequences—intercut with flashes of the sun and sky, city streets and text—a range of artists, writers and performers reflect on contemporary queer and trans identity and its proximity to desire and violence. Each of these segments is punctuated by 'night-time' diversions, narrated by genderqueer writer Johanna Hedva in the dual role of both narrator and Prince. — Spike Island
Patrick Staff crafts a poly-vocal dreamscape of insurgent infrastructures, a delirious crepuscular journey at the interstices of multiple co-existent realities. The film's three-part trajectory follows the prince's descent deeper into exhaustion, coursing through the repressive disciplinary ideologies of rationality and into the final resurrectionary death of a symbolic execution. Employing a cast of friends and kindred accomplices including genderqueer writer Johanna Hedva, trans musician Macy Rodman, lesbian writer and AIDS activist Sarah Schulman, trans femme writer Che Gossett and former lawyer Debra Soshoux amongst others, the film extends its psycho-sexual, spiritual and social conjurations of civil disobedience and counter-hegemonic subjectivities into the plane of a lived reality of consensual collective queer becomings. — Letitia Calin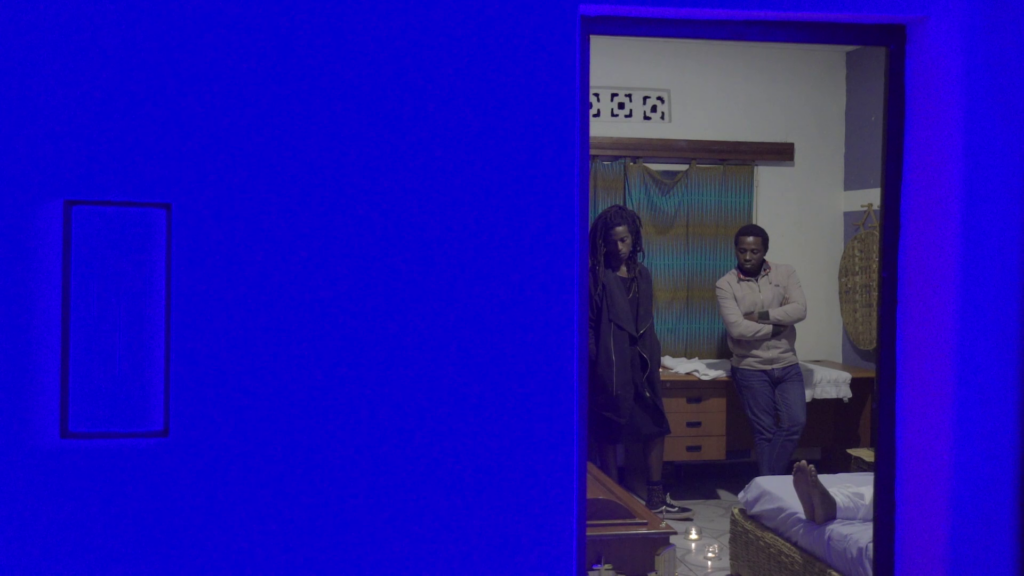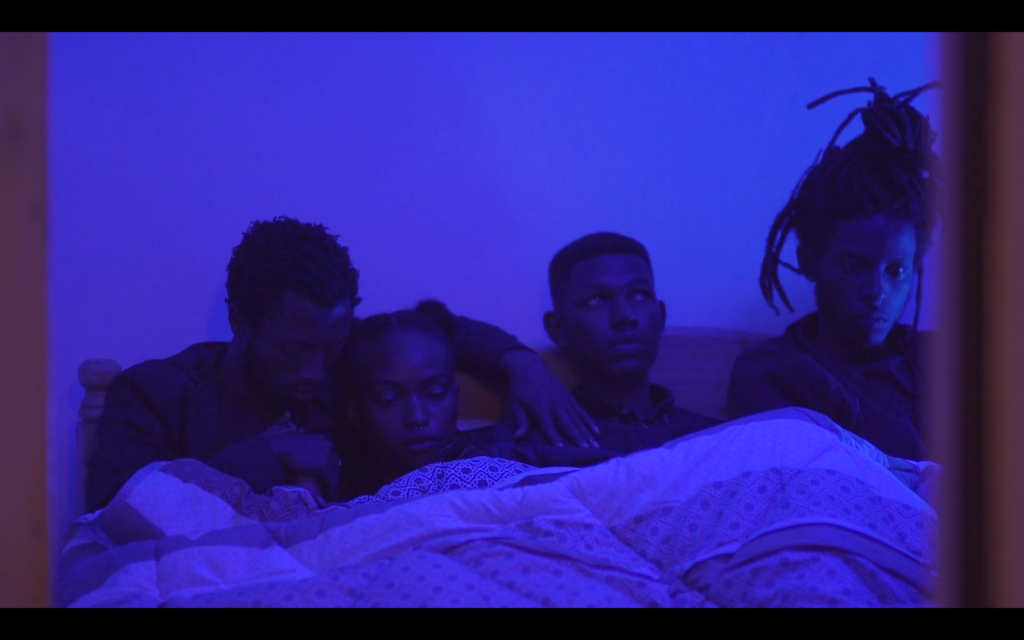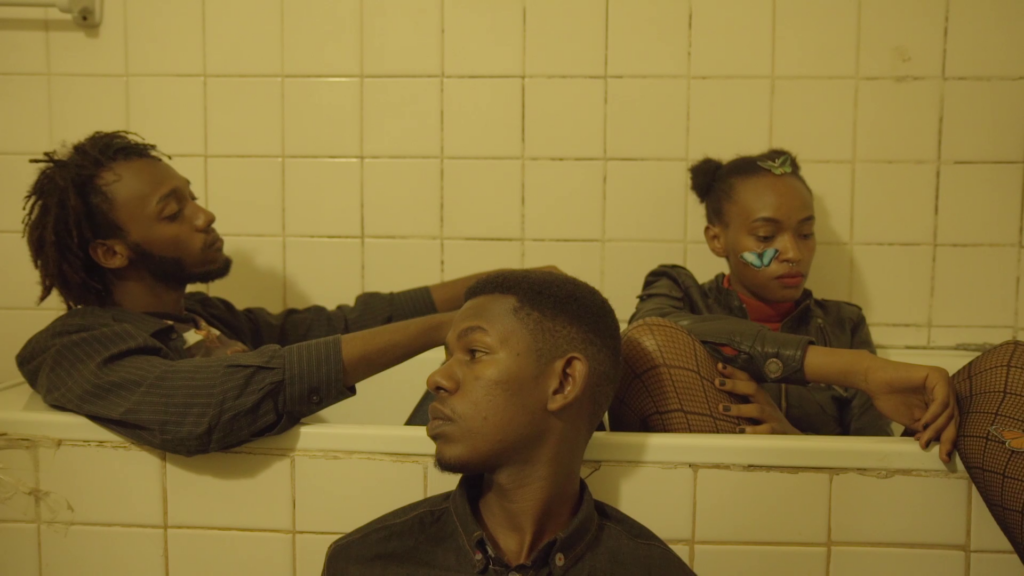 I Got My Things and Left
Eric is no more. On the eve of his burial, his friends meet at his house to spend the night together—finding solace, sharing stories, and bringing to life memories of their dear friend: a once-singular being in a conformist world.
His coterie of friends gathers in Rwanda's capital of Kigali, communing in the glow of iridescent light and around fires, reciting Eric's poetry, meditating on their dear friend's creative legacy and, ultimately, their own paths through life. Personal conversations turn into spirited existential debates before falling into weighted silences in this often-languid and intimate elegy. Mbabazi Sharangabo's finely-tuned quietude takes us through ritual acts of remembrance and collective acts of mourning, conjuring an emotional universe that rails against an empty solemnity. And like Dambudzo Marechera's The House of Hunger—the short story collection from which it derives its title—I Got My Things and Left reaches beyond the flatness of unalloyed melancholy into the depths of the human condition. — Tendai John Mutambu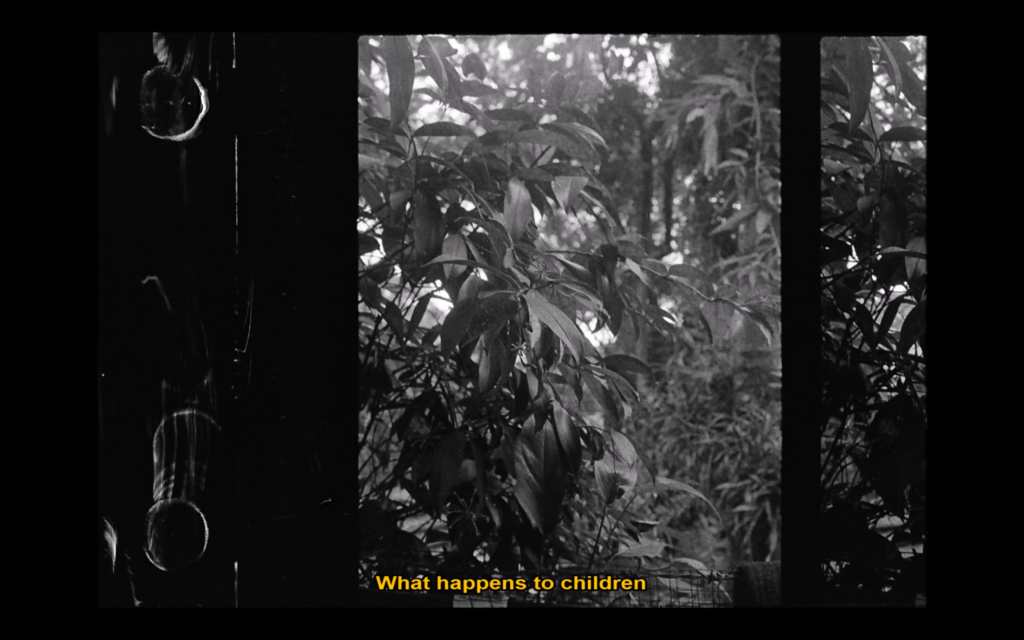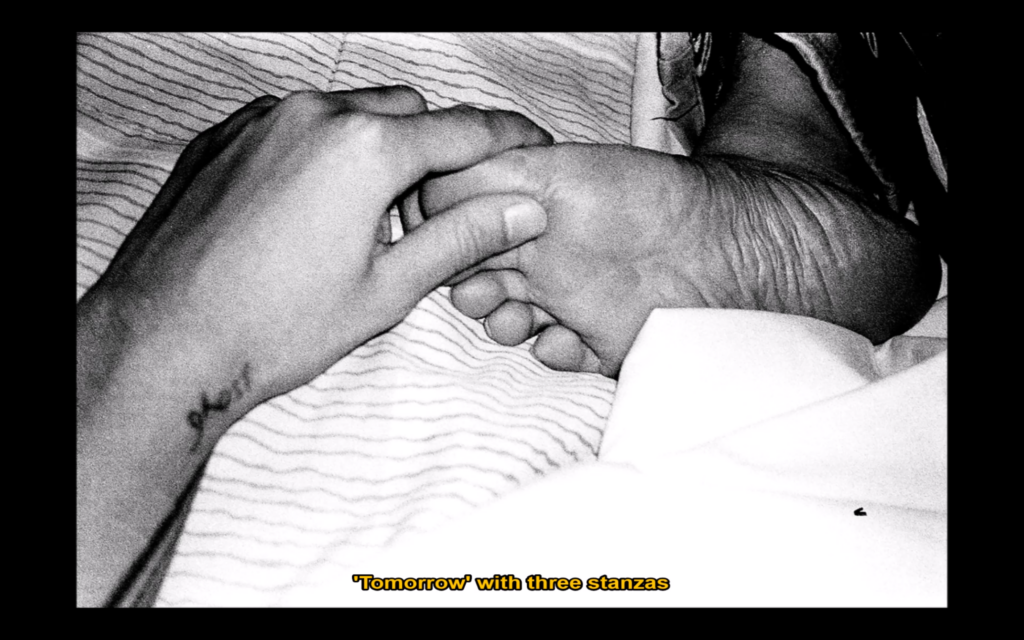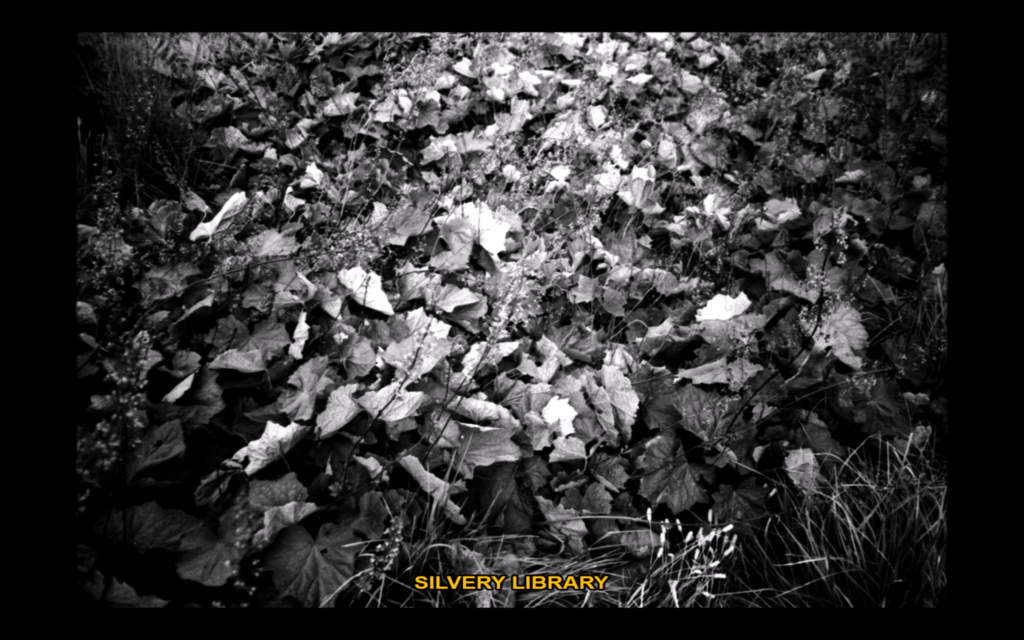 Subtitles or a love poem in plain language
Subtitles or a love poem in plain language is about creative acts and their origins, both subconscious and deliberate, from childhood and in what comes after. A silent, single-channel video, it operates on miscombinations of text and image. The text is a series of personal narrations, the images are b/w analog photographs taken over the last few years, and there is no audio to make space for the viewers' own voices reading in their own heads. —Lesley-Anne Cao
A silent video of analog black and white images, Subtitles or a love poem in plain language is a meditation on the origins of creative acts. Each of its four-second frames contains a line and a photograph; neither illustrates the other. And so, with this mismatch, we are thrown into a dilemma: read the text or interpret the image (which says nothing of an attempt to draw connections, however unintended by the artist). Subtitles began as a response to Édouard Lévé's celebrated memoir Autoportrait before transforming into an auto-fictional foray into the artist's creative origins and personal histories. Cao delves, with poetic brevity, into what she calls 'proto-practices', or the unassuming creative acts performed in our youth: like the writing and photography of Cao's childhood, neither of which have, until now, made it into her artistic practice. —Tendai John Mutambu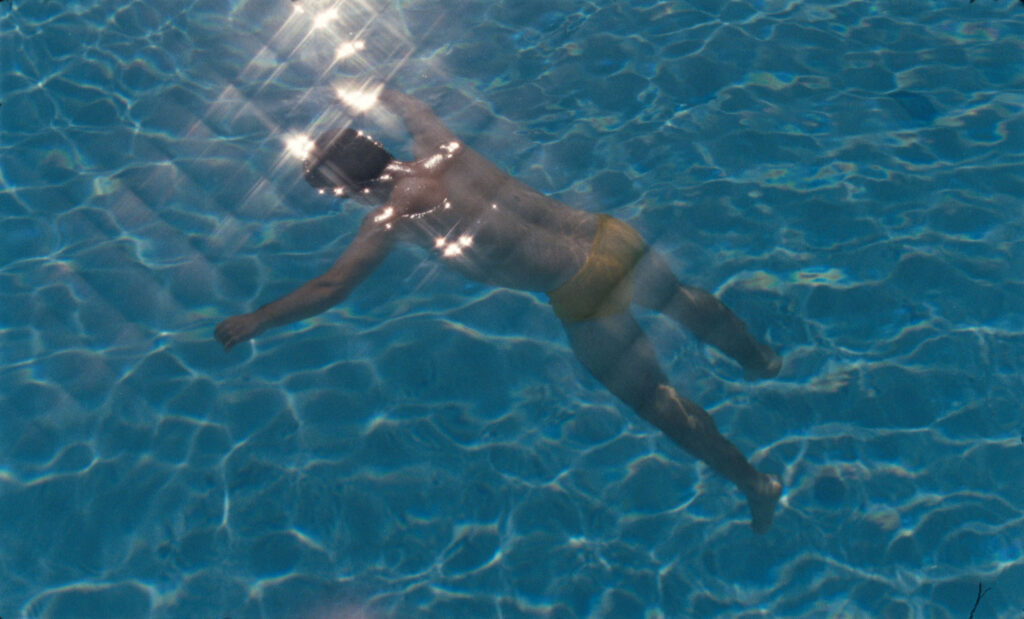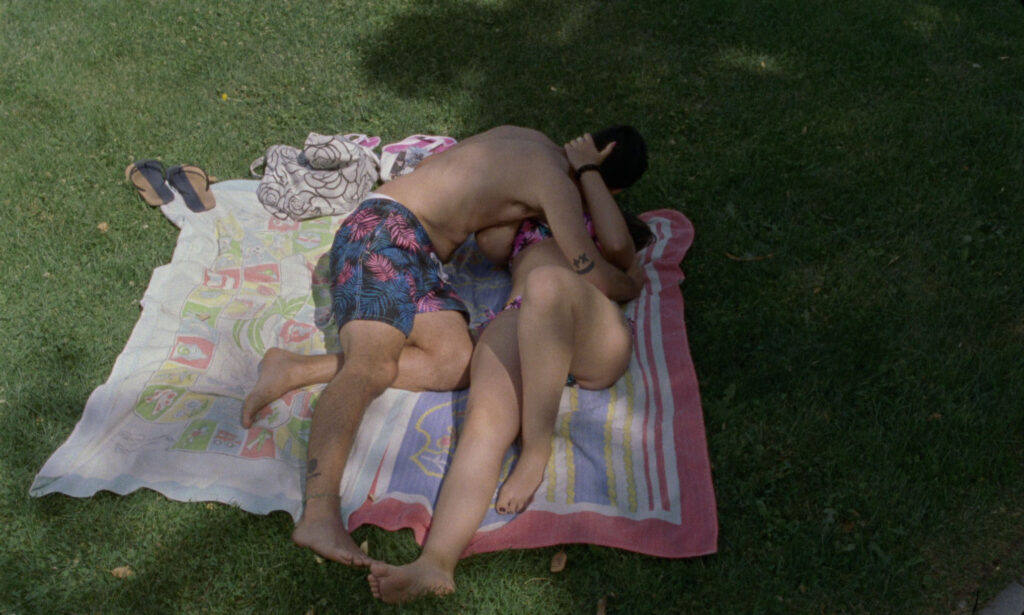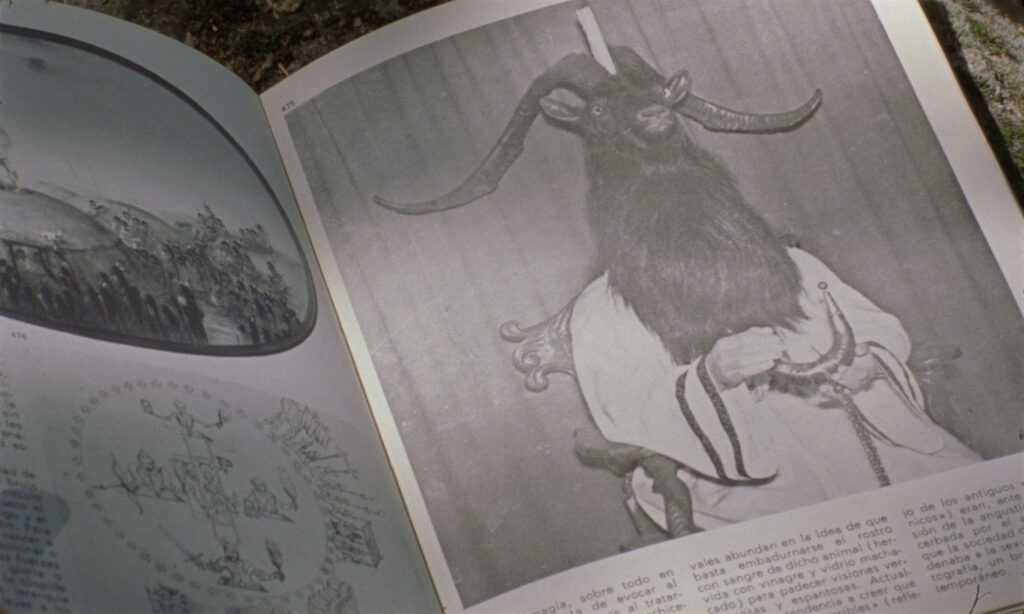 The Golden Legend
(Leyenda dorada)
A summer day at the swimming pool of the village of Montánchez, Spain. From above, Our Lady of Consolation of the Castle keeps her watchful gaze. —Chema García Ibarra & Ion de Sosa
The Golden Legend is a playful ode to a social institution sometimes taken for granted: the public swimming pool. Chema García Ibarra and Ion de Sosa's narrative short takes place at the piscina municipal de Montánchez, a setting so achingly commonplace that the filmmakers easily transform it into a fictional, comical and subtly fantastical location. Here we find typical pool scenes: children playing with things they're not supposed to, pool-goers stuffing their faces at the snack bar and sundry beach towels with gaudy illustrations. This is the scene for multiple legends to be told through anecdote, conversation and song, and it's against this din of normalcy that we witness a divine miracle take place.
Towards the end of the film, a pale, almost invisible rainbow is shown. It's a good metaphor for García and de Sosa's film. For such a short work, The Golden Legend creates an enchantingly alluring atmosphere that is as rich and tasty as a piece of Montánchez jamón. The worst part of any kid's day at the pool is when it closes. And likewise, the film ends abruptly and prematurely, the manager locking up and rolling away on his four-wheeler. Over crystal blue water, a canary yellow, black metal-style title card flashes on-screen, and it's everybody out of the pool. We're left dreaming of another day and another pool, though we'll have to promise to wait 30 minutes after eating before jumping back in next time. —Herb Shellenberger