Translating unspoken words: On death, the erotic, and translation in Lisa Spilliaert's N.P
by Ren Scateni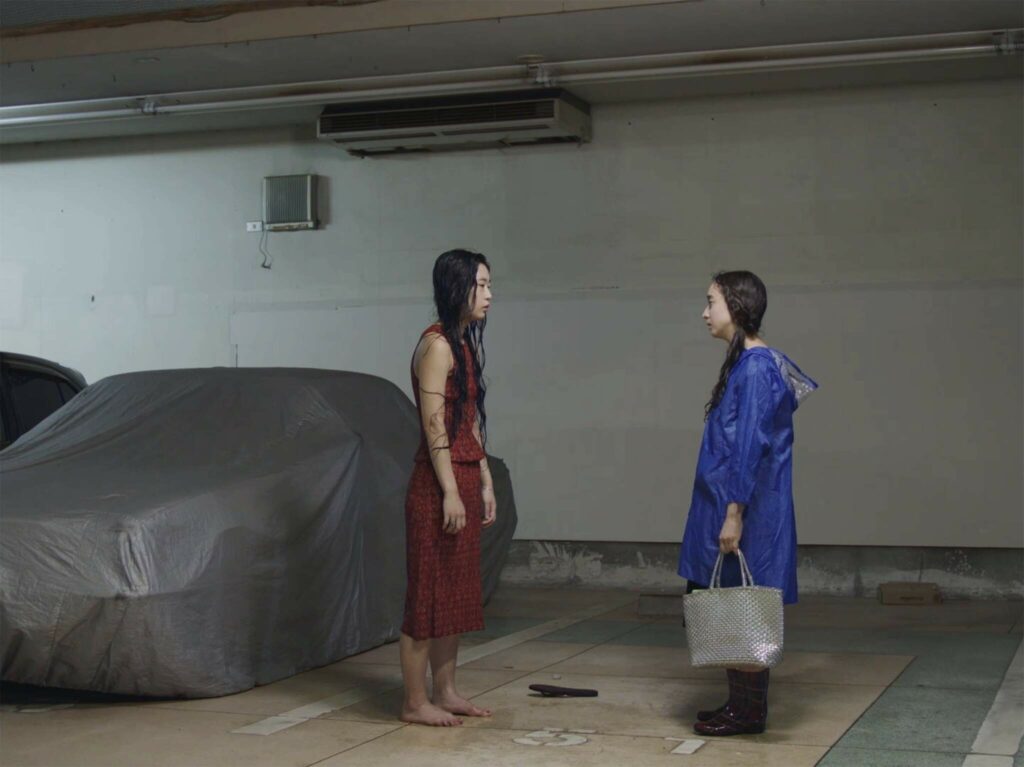 Between manga and anime, there was Yoshimoto Banana. Memories are a bit hazy now, but I was twelve—or perhaps fourteen—when I met with her books. The calming, alluring pastel-coloured covers of Yoshimoto's Italian translations immediately roped me in. To my mother, these were quirky books from the Far East that suddenly had popped up on my bookshelf. To my father—I'm not sure he actually cared about what I was reading at the time. To me, these were a portal to Japan for grown-ups. Thinking back to those days spent diving into Yoshimoto's worlds, the things I remember are few and resemble fleeting images rather than coherent strings of thought. Eerie young women starved for human contact. The burden of absence. And death, which often permeated the pages but its presence felt just natural, soothing even.
Filmmaker Lisa Spilliaert owes her directorial debut, N. P, to a similar fascination. After reading Yoshimoto's book when she was a teenager, she nurtured this project and brought it to life more than a decade later. Spilliaert's N. P is more than just a simple adaptation. It is a rumination on the nature of translation. A metacritical experiment challenging the expectations that the cinematic medium brings with it. By stripping her actors' voices, Spilliaert makes what is virtually a silent film. And yet sound is vital to N. P. From the evocative music tracks spelling out the film's nodal—and most violent—points, to the diegetic, minimalistic soundscape, the noises of everyday life are almost tumultuous when spoken words are not in the way.
Thanks to crisp lines of dialogue and a few intertitle cards N. P's story is slowly disclosed to the viewers. Takase Sarao, a Japanese writer who lived in America, committed suicide after publishing a book containing ninety-seven stories he wrote in English. A ninety-eighth story about the writer's incestuous relationship with his daughter was later discovered by the book's Japanese translator, Toda Shoji (Fujita Kyosuke), who eventually committed suicide. Did Shoji take his life because Minowa Sui (Kawamura Mikiko), the story's protagonist and Takase's daughter, was once his girlfriend? Or, perhaps, the book is indeed cursed, as Sui ominously suggests to Kano Kazami (Clara Spilliaert), Shoji's girlfriend at the time he took his life? To these many questions, N. P hardly offers an answer leaving its characters to drift aimlessly in the course of a hot Japanese summer.
Framed by the first shot, Sui is the film's throbbing core. Often clad in light, tight-skin dresses she exudes an almost feral allure. Her charisma is transfixing, her attitude sinister and sensuously threatening. From the first, over-the-top encounter with Kazami in a toilet, the two strike a visceral relationship whose nature eludes easy classification. It might be that Kazami, who is now attempting to translate the ninety-eighth story herself, wants a bite of that ecstatic condition in which you cannot tell fiction and reality apart and you are one with the text you are working on. Or, the two women might just be cautiously exploring the territories outside of the heteronormative path society laid out for them. Never really explicitly stated, there's a subdued yet pulsating erotic tension between the two whose possibilities are sadly truncated by Sui's pull to conformity.
Following no real linear timeline, flashbacks of a conversation between Kazami and a publisher pop up at different times throughout the film. Their purpose is twofold: they offer insightful views into the totalising nature of translation while also doubling as pieces of a larger puzzle picturing Shoji's involvement with the Takase family. Despite such a cerebral composition, N. P is a film that flows rapturously although this is visually contrasted by static medium shots that hardly allow for kinetic fractures. In between these polarising forces, there lies the urgency of Sui's young soul to devour love and to be devoured in return.
Ren Scateni is a writer, curator, and programmer whose work focuses on the cinema of East Asian countries. Their writing has been featured in Hyperallergic, Art Review, MUBI Notebook, Sight & Sound, among other publications. They are a graduate of the 2019 BFI Critics Mentorship Programme, the 2020 Barbican Emerging Film Curators Lab, and the 2021 IFFR Young Film Critics Programme. Ren has recently curated a short film programme on filmmaker Yoshigai Nao for the Barbican and sat on the submissions panel for the 2021 edition of the Glasgow Short Film Festival. Ren is currently curating a programme on contemporary Japanese documentary practices to be delivered later this year.