BFMAF 2021 Programme Announced!
BFMAF 2021 Programme Announced!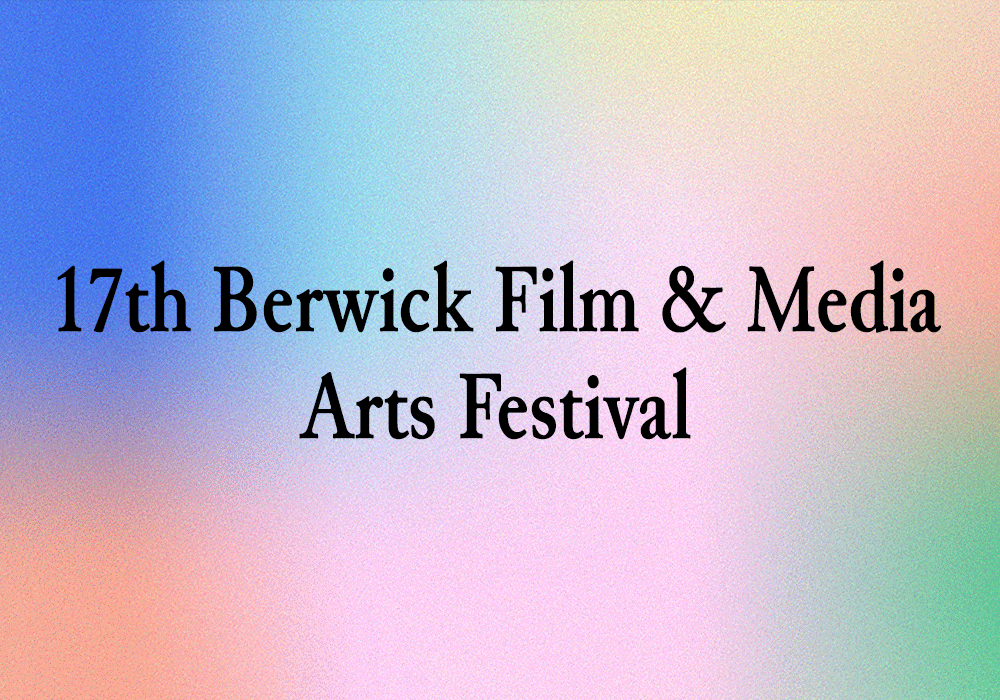 On behalf of our programming team Christina Demetriou, Jemma Desai, Alice Miller, Myriam Mouflih, Herb Shellenberger and Peter Taylor, Berwick Film and Media Arts Festival is proud to announce the programme of its 17th edition, taking place in Berwick-upon-Tweed from Friday 10 to Sunday 12 September 2021 and also available digitally via our website unfolding from Friday 10 to Thursday 30 September.
For Festival Pass information, please click here.
2021 Berwick New Cinema Awards
The Berwick New Cinema Competition becomes the Berwick New Cinema Awards – a non competitive prize that is shared between the filmmakers. The strand encompasses a selection of work that has most spoken to our group of programmers this year and includes what we feel is some of the most distinctive works of new cinema and artists' moving image being made around the world today. 2021's Berwick New Cinema awardees are:
Sophia Al-Maria ∙ Tender Point Ruin ∙ UK ∙ 2021 ∙ 26min ∙ World Festival Premiere
Abdessamad El Montassir ∙ Galb'Echaouf ∙ Western Sahara ∙ 2021 ∙ 19min ∙ UK Premiere
Salad Hilowle ∙ Passion of Remembrance ∙ Sweden ∙ 2020 ∙ 26min ∙ World Festival Premiere
Ane Hjort Guttu ∙ Manifest (Manifesto) ∙ Norway ∙ 2020 ∙ 27min ∙ UK Premiere
Adam Lewis Jacob ∙ ইদ্রিস (Idrish) ∙ UK, Bangladesh ∙ 2021 ∙ 31min ∙ World Premiere
Tim Leyendekker ∙ Feast ∙ The Netherlands ∙ 2021 ∙ 1h24min ∙ UK Premiere
Jordan Lord ∙ Shared Resources ∙ US ∙ 2021 ∙ 1h38min ∙ International Premiere
Fox Maxy ∙ Maat Means Land ∙ US ∙ 2020 ∙ 30min ∙ UK Premiere
Cat & Éiméar McClay ∙ a body is a body is a body ∙ UK ∙ 2021 ∙ 13min ∙ World Premiere
Carlos Maria Romero ∙ La Nave ∙ Colombia, UK ∙ 2021 ∙ 52min ∙ World Festival Premiere
Suneil Sanzgiri ∙ Golden Jubilee ∙ US ∙ 2021 ∙ 19min ∙ World Premiere / At Home but Not at Home ∙ US, India ∙ 2020 ∙ 11min / Letter From Your Far Off Country ∙ US ∙ 2020 ∙ 18min
Fern Silva ∙ Rock Bottom Riser ∙ UK ∙ 2021 ∙ 1h10min ∙ Joint UK Premiere with Open City Documentary Film Festival
Camara Taylor ∙ suspiration! ∙ UK ∙ 2021 ∙ 23min ∙ World Festival Premiere
Amalia Ulman ∙ El Planeta ∙ Spain ∙ 2021 ∙ 1h22min ∙ UK Premiere
Rehana Zaman ∙ Alternative Economies ∙ UK ∙ 2021 ∙ 28min ∙ World Festival Premiere
The Berwick New Cinema Awards are supported by Berwick-upon-Tweed Town Council.
Focus Programmes
Our 2021 Focus programmes draw attention to artists and filmmakers whose work speaks strongly of, to and beyond this moment, testament to the resilience and creativity of global moving image including:
A programme of Cambodian production company Anti-Archive, bringing together a number of documentary and fiction films produced by the collective over the past decade for the first time.
Nguyễn Trinh Thí, Hanoi-based filmmaker, documentarian, and video artist, featuring the World premiere of How to Improve the World in partnership with CREAM (Centre for Research and Education in Arts and Media), University of Westminster.
Sri Lankan artist Rajee Samarasinghe, presents a selection of his films including Misery Next Time, The Eyes of Summer and the International Premiere of Show Me Other Places.
A focus on the films of SPS Community Media, part of Samaj Pragati Sahayog (SPS), a grassroots initiative for water and livelihood security, in Madhya Pradesh, India, shown for the first time in the UK.
Propositions
Propositions is the Festival's hybrid of discussion and online screenings, interactive games and performances. The artists in this strand share discoveries encountered through their research, experience and practice. With no physical exhibitions in Berwick this year, Propositions artists expansively demonstrate the possibilities of online presentation.
This year the strand includes:
Back Inside Ourselves, an online exhibition in response to S. Pearl Sharp's Back Inside Herself (recently digitised by Cinenova and playing in our Essential Cinema strand) that is accompanied by an in-person workshop. The presentation takes as a point of departure the filmmaker's poem on which the film is based which calls for African-American women to reject images placed on them … 'from people who don't hear her need and don't need her here.' Featuring recent work by filmmakers Tako Taal (DUMP_outthroughthemouth), Rhiana Bonterre (Rhythms of my Silence) and Ufuoma Essi (Bodies in Dissent) and accompanied by a Cinenova commissioned poem by London based poet Sarah Lasoye and a written response piece by writer Jamila Prowse.
Two special online commissions from artists committing to world building beyond the walls of the gallery space:
Seema Mattu presents BERWICKWORLD an online commission in collaboration with New Art City including the World premiere of the film NO BLASPHEMIES.
Danielle Brathwaite-Shirley presents "When Amongst Our Own" an online work produced and commissioned by Berwick Film & Media Arts Festival, Circuit NZ, New Zealand and Spike Island, Bristol.
The Festival will also showcase the ongoing research and performance practices of:
Sharlene Bamboat whose If From Every Tongue it Drips is co-presented with Open City Documentary Film Festival, in a new captioned version in collaboration with Collective Text in Glasgow. The programme features a specially commissioned video performance by Toronto-based musician Nick Dourado and writer-programmer Aaditya Agarawal, who trace the cultural lineages of music in the film spanning geographies, language and social movements.
Sung Hwan Kim who presents Hair is a Piece of Head, the first part of "A Record of Drifting Across the Sea" (2017–ongoing), a multi-part research work comprising short films, books, and installations, grounded in the artist's exploration of the histories of Korean immigration to the United States at the turn of the twentieth century.
Zia Anger and movement artist Monica Mirabile will create a performative conversation, looking at their collaborative practice and towards a hypothetical future work.
Essential Cinema
Essential Cinema is our pluralist retrospective series that provides a revisionist view of what might be considered canonical works of cinema. This year our selection brings new restorations and digitisations that evoke connections between political and spiritual awakenings, taking in projects from India, Cuba, USA and Palestine.
John Abraham ∙ Amma Ariyan (Report to Mother) ∙ 1986 ∙ India ∙ 1h55min ∙ Recently restored, with thanks to the National Film Archive of India for their generosity in allowing us to present
Sara Gomez ∙ De cierta manera (One Way or Another) ∙ 1974-1977 ∙ Cuba ∙ 73min ∙ Restored in 2021 by Arsenal – Institut für Film und Videokunst
S. Pearl Sharp ∙ Back Inside Herself ∙ 1984 ∙ US ∙ 5min ∙ Newly digitised by Cinenova
The ongoing restoration efforts of The Void Project's founder Azza el Hassan is spotlighted through her selection of films produced by the Palestine Film Institute in Jordan and Lebanon during the revolutionary years of Palestinian Cinema.
Work in Progress
Returning for a second edition, Work in Progress is a Berwick Film & Media Arts Festival programme strand highlighting forthcoming feature-length films.
For 2021's Work in Progress, we will focus on Congolese director and visual artist Nelson Makengo's Rising Up at Night (2022), his feature film debut currently in production. Rising Up at Night is a co-production between Democratic Republic of the Congo, Belgium, Germany and Burkina Faso. We will discuss the work in progress while also sharing a previous short directed by Makengo as part of the Festival's online programme.