Submissions for the 17th Berwick Film & Media Arts Festival are now open!
Published
28 January 2021
Submissions for the 17th Berwick Film & Media Arts Festival are now open!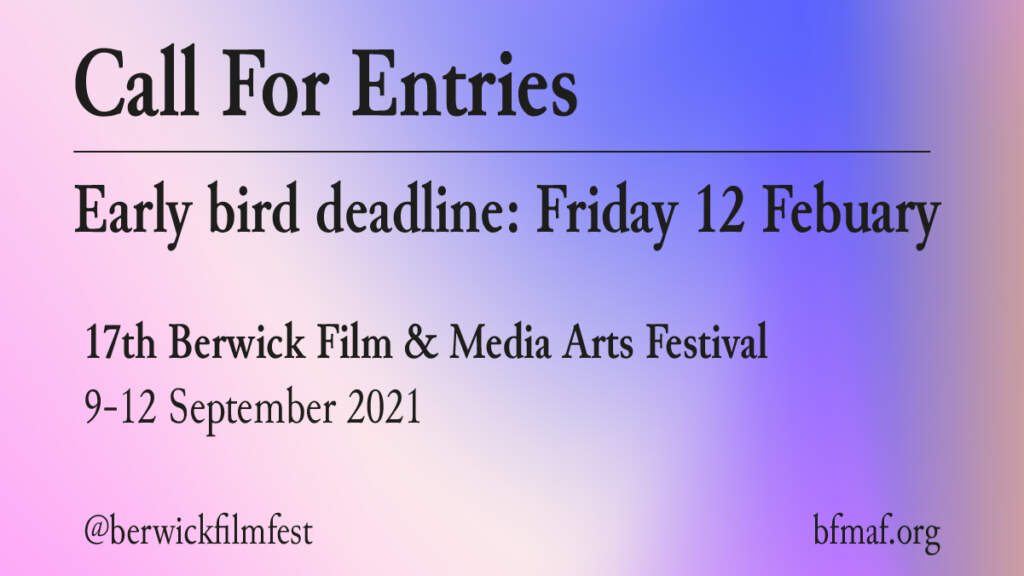 Submissions for the 17th Berwick Film & Media Arts Festival (BFMAF) are now open! The festival is looking for moving image works that disregard boundaries set by genre, form, convention and expectation. Feature, medium and short-length films are all welcome.
The 17th edition is planned to take place in Berwick-upon-Tweed from Thursday 9 to Sunday 12 September 2021, depending on restrictions as a result of Covid-19.
Named by FilmFreeway and Moviemaker magazine as one of the 25 Coolest Film Festivals in the World, its premiere online edition took place over the course of three weeks last autumn. Alongside on-demand screenings of 53 titles (including world premieres, retrospective titles and works-in-progress), the festival hosted live conversations with artists and filmmakers as well as music events and special presentations. Pre-recorded podcasts and commissioned essays completed the extended online edition.
Selected submissions for this year's edition will compete in its New Cinema Competition strand. Encompassing the festival's view of the most distinctive works of new cinema being made around the world today, two cash  prizes of £1000 will be awarded. All selected filmmakers will receive a £400 fee.
Past Jury members include:
Callum Hill (filmmaker); Hyun Jin Cho (programmer, London Film Festival), Julian Ross (programmer, International Film Festival Rotterdam), Sky Hopinka (filmmaker), Sonali Joshi (film producer and distributor, Day for Night), Gail Pickering (filmmaker), Camilo Restrepo (filmmaker). Amal Khalaf (Director of Programmes, Cubitt), Joanna Raczyńska (film programmer, National Gallery of Art, USA), Shama Khanna (curator, Flatness), Rehna Zaman (filmmaker), Sebastian Buerkner (filmmaker), Beatrice Gibson (filmmaker), Salomé Lamas (filmmaker) and Fatos Üstek (curator).
Eligible entries must have no previous or scheduled UK film festival screenings prior to October 2021. The primary presentation format for BFMAF is single screen moving image work. However, the Festival also welcomes proposals of artists' moving image work for live performance and site-specific exhibition settings in Berwick-upon-Tweed.
The 17th edition of the Festival is currently planned to go ahead in Berwick-upon-Tweed. If for any reason the Festival cannot take place in person, the Festival will still go ahead in an online format. Any changes to the festival format will be discussed with participating artists.
Submissions are accepted via the festival's portal on FilmChief or FilmFreeway. For further information about deadlines, fee, rules & regulations please check the submissions page.
We look forward to receiving your works!