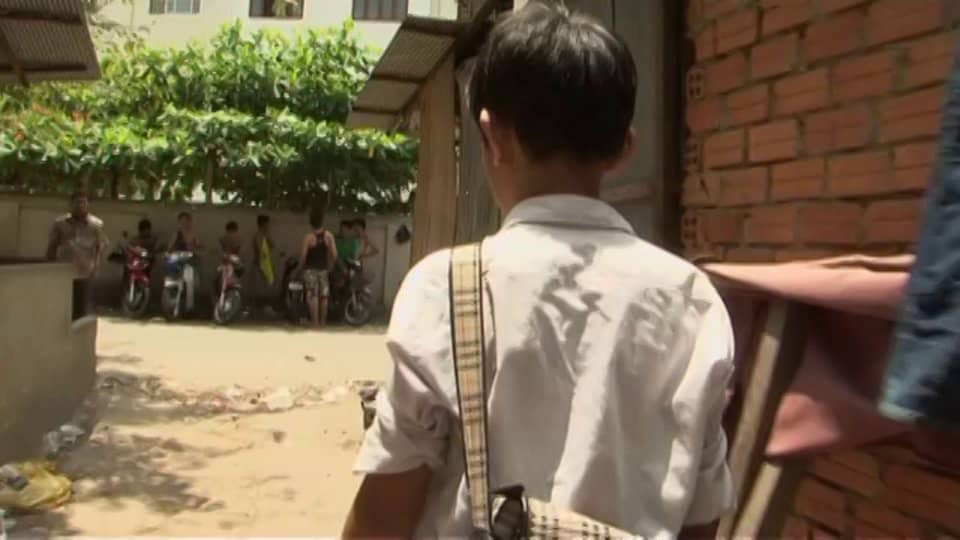 Kavich Neang's first film is a short documentary following Sory Chan, a 14-year-old boy who is living in Phnom Penh apart from his family. A student of Cambodian classical music, Sory lives with his mother's friend after his mother fled a debt she couldn't afford to pay back. Each evening after class, he carries a scale outside in a popular part of the city and asks people to weigh themselves for a small amount of money. In this urgent film, we witness Sory's day in class, his nightly routine and a particularly difficult conversation with his mother who he meets on the street.
Programmer's Note

A Scale Boy was produced by Rithy Panh, one of the most acclaimed Cambodian directors whose films have won awards internationally at BAFICI, Berlinale, Cannes and Yamagata IDFF, to name a few. The legacy of Panh's socio-political documentary filmmaking can be found in Neang's debut, which follows its protagonist closely, filming him directly and without intervention.

The film shows Sory's daily scenes without narration and without patronising; though he is a young teen, the viewer understands he has had to take care of himself for some time. We also are confronted with the fact that his story is not unique but symptomatic of a country where urban poverty is at a high level. The film ends with its subject walking off into the distance, without direction, a charged image that we hope will lead to better conditions in the future. —Herb Shellenberger
Director Biography

Kavich Neang (1987, Phnom Penh, Cambodia) graduated from the Asian Film Academy in 2013 after originally studying Music and Dance. In 2014, he co-founded the Cambodian production company Anti-Archive. Kavich has been part of Talents Tokyo, Visions du Reel's Docs-in-Progress and Cannes Cinéfondation Residency. Since 2010, he has directed five short films.
Director Filmography

White Building (2021), Last Night I Saw You Smiling (2019), New Land Broken Road (2018), Goodbye Phnom Penh (2015), Three Wheels (2015), Where I Go (2013), A Scale Boy (2011)