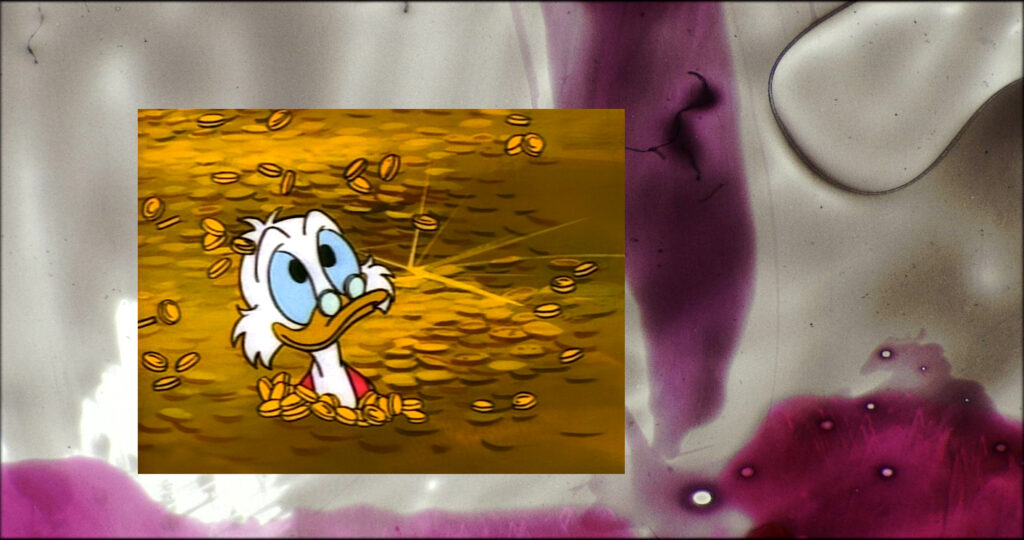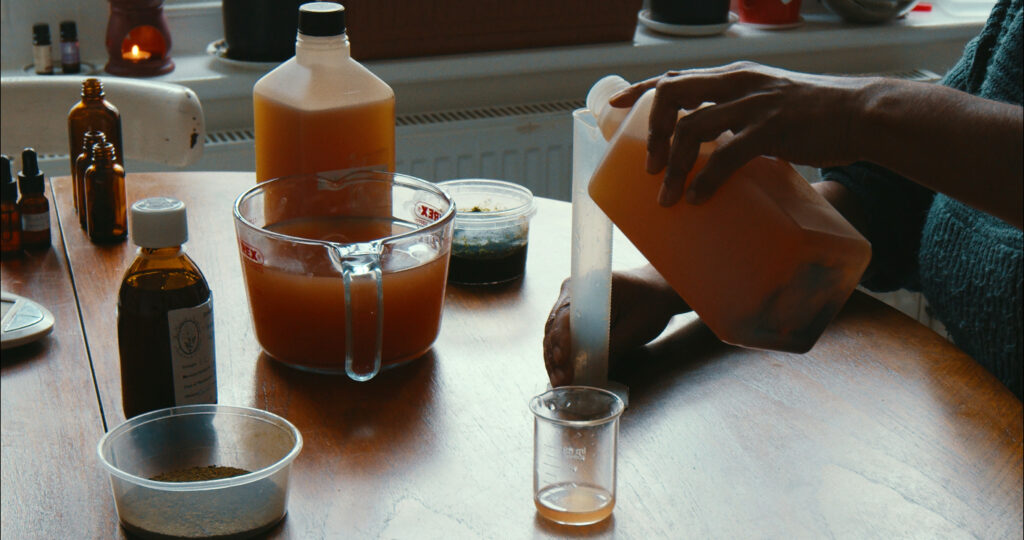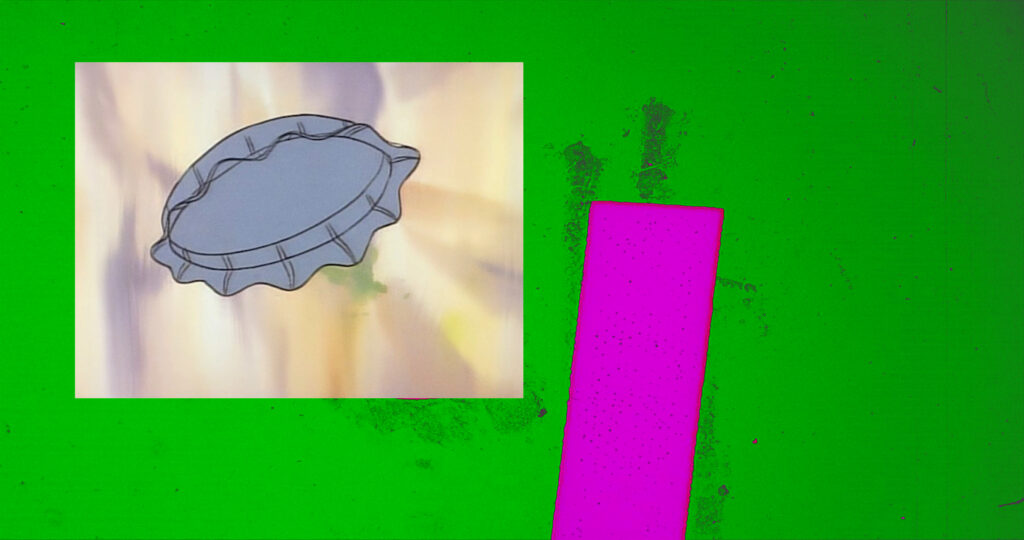 Alternative Economies
Alternative Economies was made in conversation with herbalist Rasheeq Ahmad and financial services regulator Rachel Bardiger. The film discusses the imperialist exploits of the Disney character Scrooge McDuck, and the apparently radical yet deeply compromised promises of crypto­currency. Between these two strands, possibilities for an alternative network of exchange and subsistence are sought.
Programmer's Note

Conversation and cooperative methods sit at the heart of artist and filmmaker Rehana Zaman's practice. This latest work was commissioned for the Borås Art Biennial, which convened around the theme 'deep listening'. The film feels like the clearest distillation of a long-term and ongoing interest: the ways socio-political concerns not only provide content, but actively structure the assembly of an artwork. In the film, disembodied voices speak about Bitcoin as a speculative alternative to existing banking systems. Later a crypto-economics researcher waxes lyrical about peer-peer connections. While one of the speakers describes it as a "pyramid scheme", another responds, "if you want to learn about it, you've got to own it."

These ideas of faux promises of collectivity and capitalist knowledge exchange meet with a sudden flash of green. Through a series of conversations with Zaman, all bathed in sage tones, Ahmad shares their knowledge of herbal medicine. This gestures to the ongoingness of "peer to peer" technologies of sharing. As the artist and the herbalist share time and strain herbs, they produce a tincture. Later, they distribute them for free. They do this via community-led spaces and grassroots actions in solidarity with asylum seekers at Napier Barracks.

In ayurvedic medicine, green is the colour to calm anxiety and stress. But, in the hyper-capitalist world of Scrooge McDuck's 'Tralla La', it is the breakdown inducing the colour of money. The excerpts of the comic duck provide an absurdist visualisation of the possibility of utopian banking. But, they also provide an unarticulated personal connection. Tralla La was conceived by writer Carl Bank after he read an article on the Hunza River Valley in Pakistan, in the October 1953 issue of National Geographic. This site appears in Zaman's recent work Your Ecstatic Self which speaks to the possibilities of reading alternative epistemologies and kinship structures, against the grain.

More colours enter the frame, through a series of direct animations. These were produced through a correspondence between the artist and an old friend James Holcombe at ORWO film processing, connected through the legacies of LFMC, no-where film lab and not-nowhere artist workers cooperative.

On top of these animations, the gentle dissent of a financial services regulator is offered via voice note. As these connections emerge, Alice Coltrane's harp begins to play. Zaman's hand painted film dances on the screen. Its forms merge and separate, unencumbered, free and constantly in relation. —Jemma Desai
Director Biography

Rehana Zaman is an artist from Heckmondwike based in London. Her work speaks to the entanglement of personal experience and social life, where moments of intimacy are framed against cultural orthodoxies and state coercion. Conversation and cooperative methods sit at the heart of her practice.

She has exhibited widely in the UK and Internationally. Presentations include British Art Show 9 (Touring), Trinity Square Video, Toronto (Solo), Borås International Sculpture Biennial (Sweden), Berwick Film & Media Arts Festival; Artist Film International Whitechapel, London, Dhaka Art Summit, Bangladesh, Bergen Kunsthall, Norway; Kochi-Muziris Biennale 2018; Sheffield Doc/Fest; Oberhausen Film Festival and Serpentine Projects, London, (forthcoming 2022). In 2019 she co-edited Tongues with Taylor Le Melle, published by PSS and was shortlisted for the Film London Jarman Award. She is currently a board member of not/nowhere artist workers cooperative and LUX who also distribute her films.

Zaman's film How Does an Invisible Boy Disappear was screened in collaboration with Liverpool Black Women Filmmakers at BFMAF 2018, and her short film 5 was screened at BFMAF 2015.
Director Filmography

Alternative Economies (2021), Your Estatic Self (2019), How Does an Invisible Boy Disappear (2018), Lourdes (2018), Tell me the story Of all these things (2017), Sharla Shabana Sojourner Selena (2016), 5 (2014), Some Women Other Women and all the Bittermen (2014), I, I, I, I and I (2013), Netball (2013), What an artist dies in me/Exit the Emperor Nero (2013), Iron Maiden (Ambridge) (2011), Like an Iron Maiden Trapped Between a Rock and a Hard Place (2010)