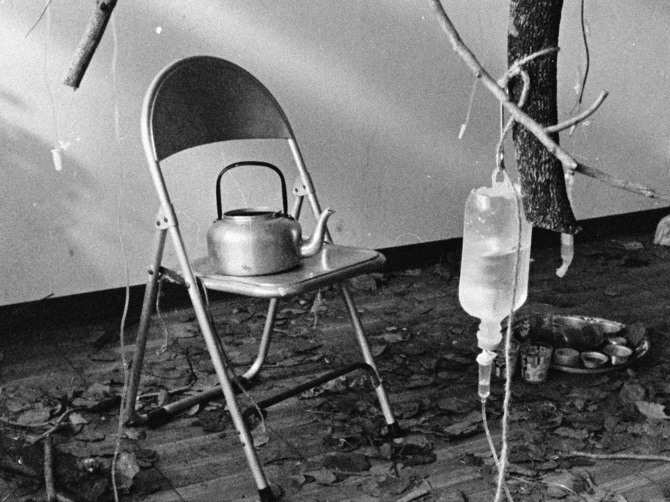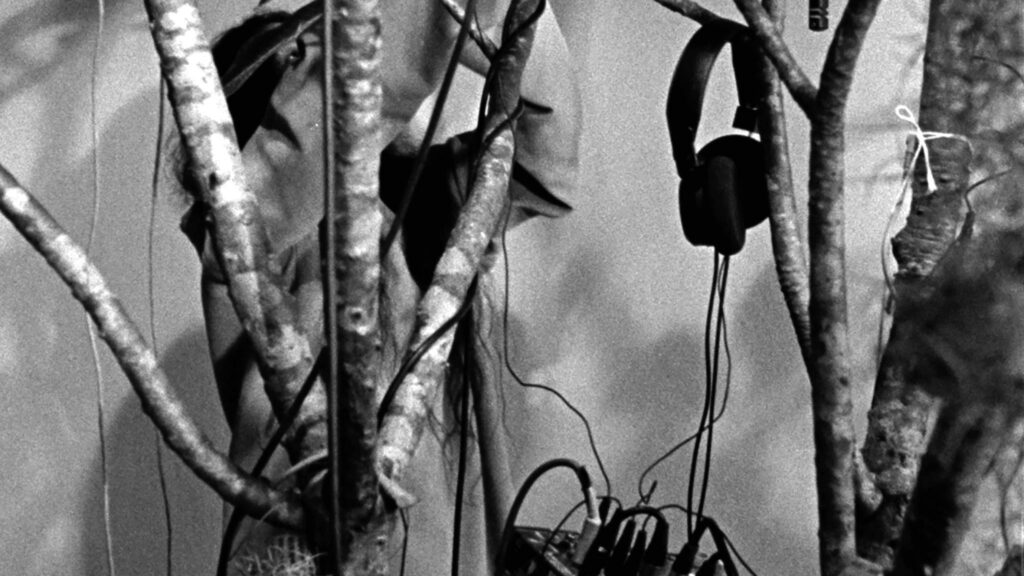 Confusion Is Next
In Confusion is Next, filmmaker Mont Tesprateep focuses his lens on nomadic musician Thom Assajan-Jakgawan, who appears as a fictionalised version of himself. Living in a fragile state, a collapsed country, Thom solitarily confines himself in a bare room filled with tree branches hovering above a leaf-covered ground. Through meditative exploration—and the loops and layers of his sounds—he creates a powerful mantra of protection.
The 'real' Thom Assajan-Jakgawan was— along with Tesprateep—a member of the Thai underground band Assajan Jakgawan. Formed more than a decade ago, the band members have since gone their separate ways, one bandmate sadly passing away. But Thom continues to make music under the name Thom AJ Madson, utilising guitar, mics, loop machines and other objects in his two current projects: Sap ('bewitched') and Vimutti, which means 'liberation' in the Pali language.
A continuation of Tesprateep's unique body of surreal, black-and-white 16mm films depicting subjects at the fringes of Thai society, Confusion is Next is inspired by Endel Tulving's hypothesis on 'mental time travel', in which mechanisms of memory can evoke the future. The film's raw atmosphere, along with its confrontation of different selves and personas, leads toward an ambiguous but still threatening finale. —Herb Shellenberger & Peter Taylor
Director Filmography

A portrait of a nomadic musician Thom Assajan-Jakgawan. In the film, he appears as a fictionalized version of himself living in a fragile state, a collapsed country. He solitarily confines himself in an unoccupied room, continuing the meditative rhythms of his music.

The word 'mare lu ze=i' is not a real word. Thom accidentally heard it from the repetitive layers of the loop of his sounds. It slips out of nowhere and makes its own sound, in his head, which he then utters, a mantra for protection transporting him into a meditative trance. This is all part of his project, Sap (bewitched).

After getting together to make music since they were young, the bandmates of Bangkok rock band Assajan Jakgawan took a break and went different directions. One of the bandmates also passed away. But Thom, one of the members, continues to make music through his personal projects and live performances under Thom AJ Madson. His performances, with marvelous rhythms and melody, utilize guitars, a microphone, a loop, delayed pedal, and sometimes objects. Currently, Thom is working on the project Sap ('bewitched') and another project Vimutti ('liberation' in the Pali language).