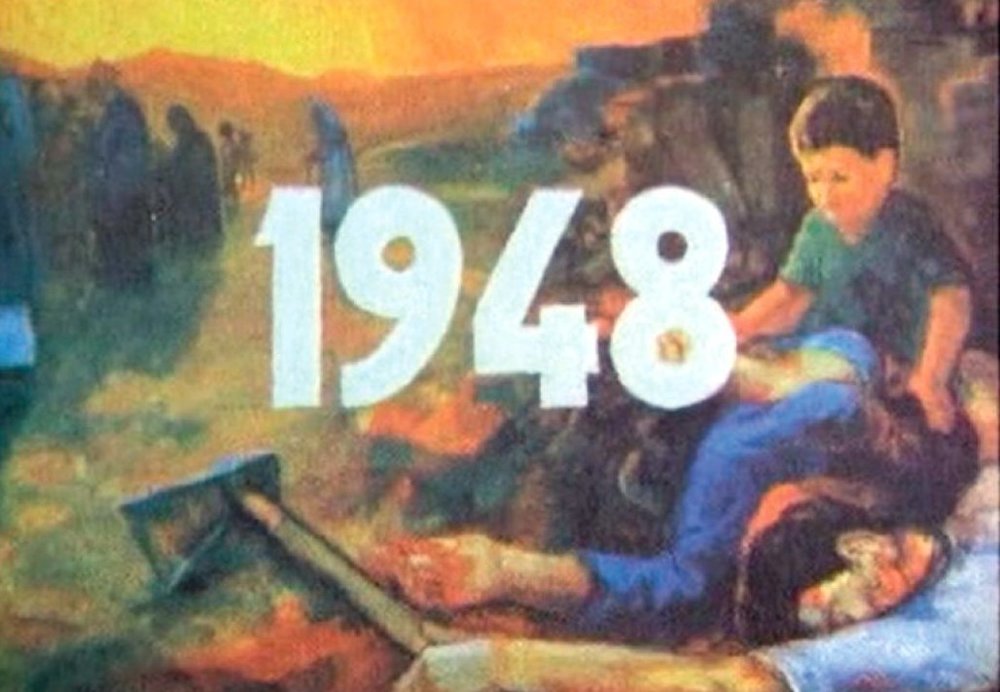 Glows of Memories
Zikriat wa Nar
Ismail Shammout, a Palestinian painter, also served as director of the Cultural Arts Section of the PLO and worked with the organization's Film Unit in the 1970s. In this one of his few film works he unravels the memories within his painting Memories and Fire.
Programmer's Note

Using a non verbal style utilised by early Soviet filmmakers, comprising archival photographs and Shammout's own paintings, a story of Palestinian experience and resistance is communicated across language boundaries. —Jemma Desai
Director Biography

Ismail Shammout (1930 – 2006, Palestine) was a painter, art historian and filmmaker. He is known as a pioneer of modern Palestinian art. Living through the 1948 Palestinian exodus (Nakba) and facing exile from Palestine, Shammout depicted the many struggles he faced throughout his artistic career. Shammout and his family marched from his hometown, Lydda, to the Khan Younis camp in Gaza when the artist was eighteen. This experience shaped the life of the artist as he became actively involved in regional politics. He graduated from the College of Fine Arts in Cairo (1950) and later from the Academia De Bella Arti in Rome (1954). Shammout was part of the Palestine Exhibition of 1954 in Cairo, inaugurated by president Gamal Abdel Nasser. Shammout became the Director of Arts and National Culture for the Palestine Liberation Organization (PLO) in 1965. The PLO awarded him the Revolutionary Shield for Arts and Literature, the Jerusalem Medal for Culture, Arts and Literature, and The Palestine Prize for the Arts. The Arab Thought Forum awarded him The Creative Prize for Arab Painting. An annual prize in his name is awarded for excellent Palestinian painting. His works have been acquired by several Arab and international museums.
Director Filmography

Glows of Memories (1975), The Urgent Call of Palestine (1973)