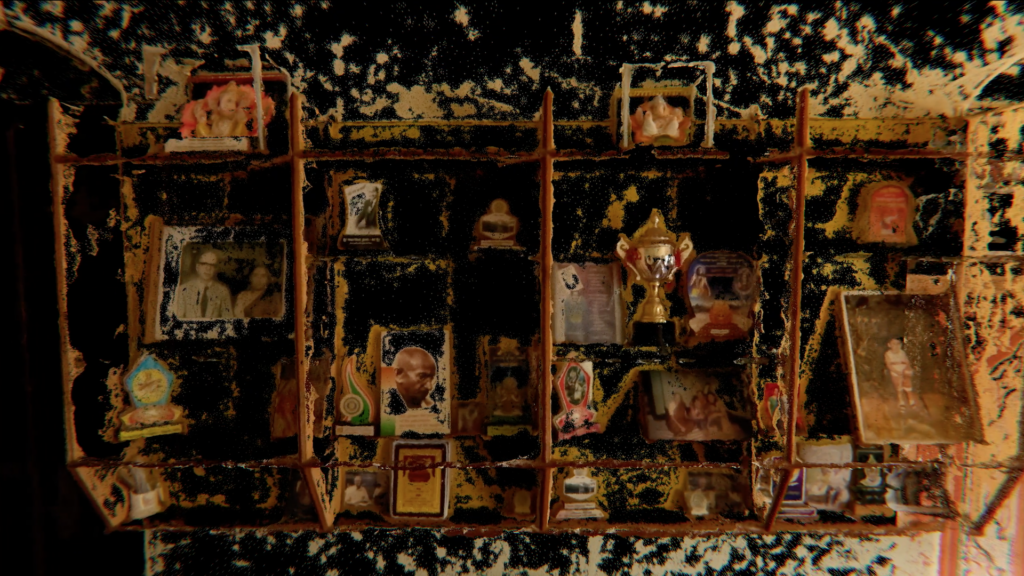 Golden Jubilee
Suneil Sanzgiri's recent video trilogy is shown here, in full, for the first time. The series is bookended by his attempts to recreate the landscapes of his father's birth place in Curchorem, Goa. All three films utilise an aesthetics of distance and proximity to gesture to tensions, possibilities and replications when we search for ourselves in the remnants of colonial histories.
Programmer's Note

In Golden Jubilee, the final part of the trilogy, Sanzgiri reconsiders ideas of freedom, loss and recovery in the wake of colonial and neo-colonial theft. The film asks us to consider "what is liberation when so much has been lost?" Reflecting on the contradictions in the pursuit of 'preservation', the filmmaker creates a 3d virtual rendering of his father's home in Goa using the same technologies of surveillance that mining companies use to extract iron ore in the region.

The title "Golden Jubilee" refers to both a forgiveness of debt and the 50th anniversary of liberation. This final chapter of the trilogy moves with a sense of palpable urgency. It underlines both the losses in our personal quests for repair in the shadow of imperial legacies and compels us to look further than the ancestral in our shared pursuit of collective liberation. —Jemma Desai
Director Biography

Suneil Sanzgiri is an artist, researcher, and filmmaker working to understand how systems of oppression are informed and reinforced by trauma, history, and memory. His work spans experimental video, animations, essays, and installations, and contend with questions of identity, heritage, culture and diaspora in relationship to structural violence. He graduated from the Massachusetts Institute of Technology (MIT) with a Masters of Science in Art, Culture and Technology in 2017 and was a 2016 resident of the SOMA program in Mexico City. His work has been screened at festivals and galleries nationally and internationally. Sanzgiri was also selected as a co-programmer of the Flaherty Seminar NYC 2020.
Director Filmography

Golden Jubilee (2021), Letter From Your Far-Off Country (2020), At Home But Not At Home (2019)