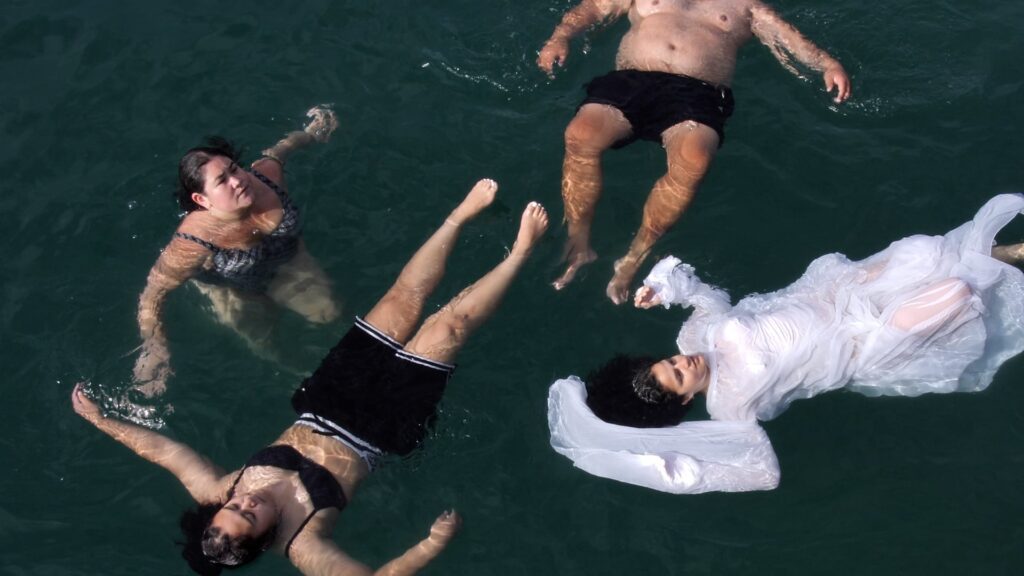 Hidden Amongst Clouds
Drawing on the filmmaker's real-life experiences growing up in a large Samoan family in the largely Pākehā populated region of Nelson, Hidden Amongst Clouds newly imagines stories of Samoan mythology and questions the moral virtues that they uphold. The work embraces a 1990's aesthetic, harking back to supernatural fantasy television series and their embedded symbolisms, reflecting Ulutupu's ongoing interest in themes of belonging and the importance of recontextualising and reimagining narratives of colonial stereotypes.
Programmer's Note

Across two screens, Hidden Amongst Clouds unfolds in an unhurried manner that feels radically resistant to the pressures of twenty-first century life. A river runs through the work and a community surrounds it, with people swimming and fishing in the water. It's the epitome of tranquility but things take an eerie turn once the smoke starts to roll in. The atmospheric shift gives permission for the cast to succumb to the supernatural and unleash what's buried deep down, with rapid candlelit freestyles performed and dramatic poses struck against the billowing backdrop. Like cinematic tradition, once the haze clears, normality resumes and the work culminates with a serenade to a group calmly floating in the water. 'Don't they know it's the end of the world?' — irregardless, the cycle continues.

~ Dan Guthrie
Director Biography

Christopher Ulutupu is an artist of Samoan/Niuean/German descent currently residing in Wellington. His research and practice is autobiographical by nature, referencing personal experiences to offer critiques about Colonisation through video and performance. Through a richly pop, queer and celebratory Pacific lens he creates new narrative forms opening up conversations around collaboration, connection, and disconnection. He had been collaborating with family, friends and non-actors since the start of his video practice, including for solo exhibitions Be Happy/Be Still (2019) and Lelia (2018) and is keen to explore collaborative practice beyond the New Zealand context.

Recent exhibitions include Gus Fisher Gallery (2021), Suter Art Gallery (2021) The Dowse Gallery (2021), Pataka Art Gallery and Museum (2021), Shanghai Duolan Museum of Modern Art (2021), A Space Gallery Toronto (2021) and Jhana Millers Gallery (2021) amongst others.