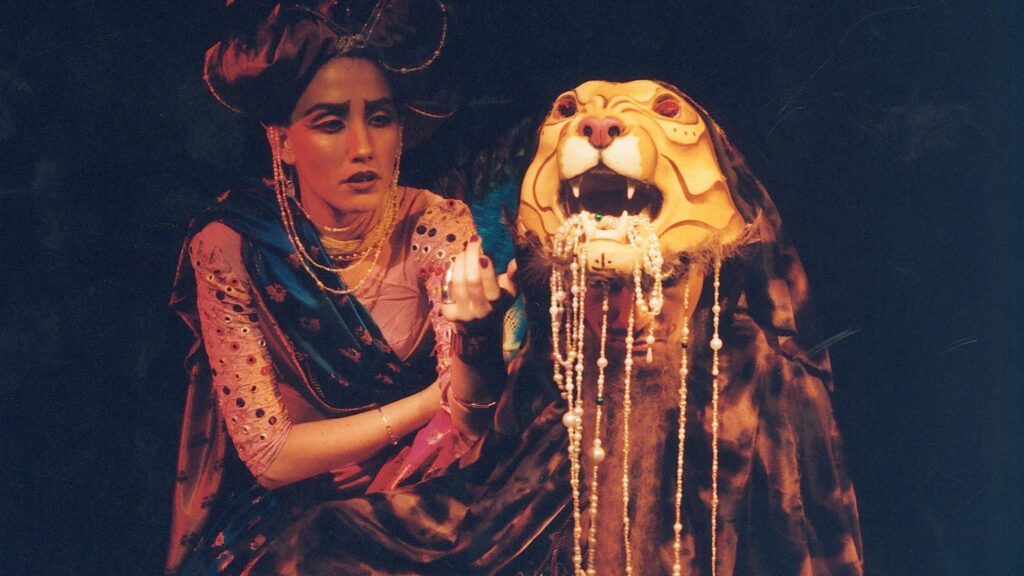 Impressions from Rustaveli
Impressions from Rustaveli is inspired by the 12th century Georgian poet Shota Rustaveli, whose epic poem The Knight in Panther's Skin is considered a masterpiece of Georgia's national literature. The poem is dedicated to King Tamara, the first female ruler of the Kingdom of Georgia at the height of its power in the Middle Ages, and is a chivalric romance which nonetheless emphatically affirms equality between women and men.
Georgian artist Nana Tchitchoua's film reinvigorates Rustaveli's writings, infusing them in a film collage with painting, drawing, costume and the performative cinematic language of filmmakers like Sergei Parajanov and Jack Smith. Actors in both traditional and ornamental costume gesture to the camera, frontally posed and holding objects, or otherwise interacting with each other while frame separations, solarisations and other analogue film techniques produce blurry, overlapping, impressionistic images. The filmmaker describes the work as a "glorification of love, beauty, friendship and nobility. It portrays the heroes and heroines whose radiant loveliness is represented in terms of bright celestial light". A ghastly quality of image emerges, with actors' bodies haloed with bright light.
What emerges in Tchitchoua's exotic, Byzantine images is an encounter between Western and Eastern cultures. Impressions from Rustaveli is more than a simple adaptation of a folk legend, the film expresses through image, sound, erotics and emotion what can't quite be represented by words or painting. The language of the film is light in all its beauty and complication. —Herb Shellenberger