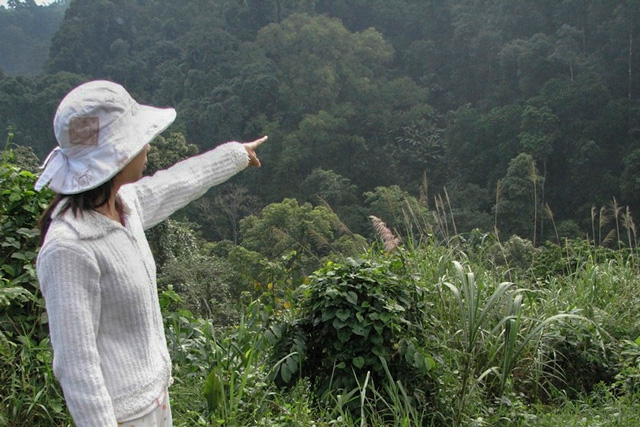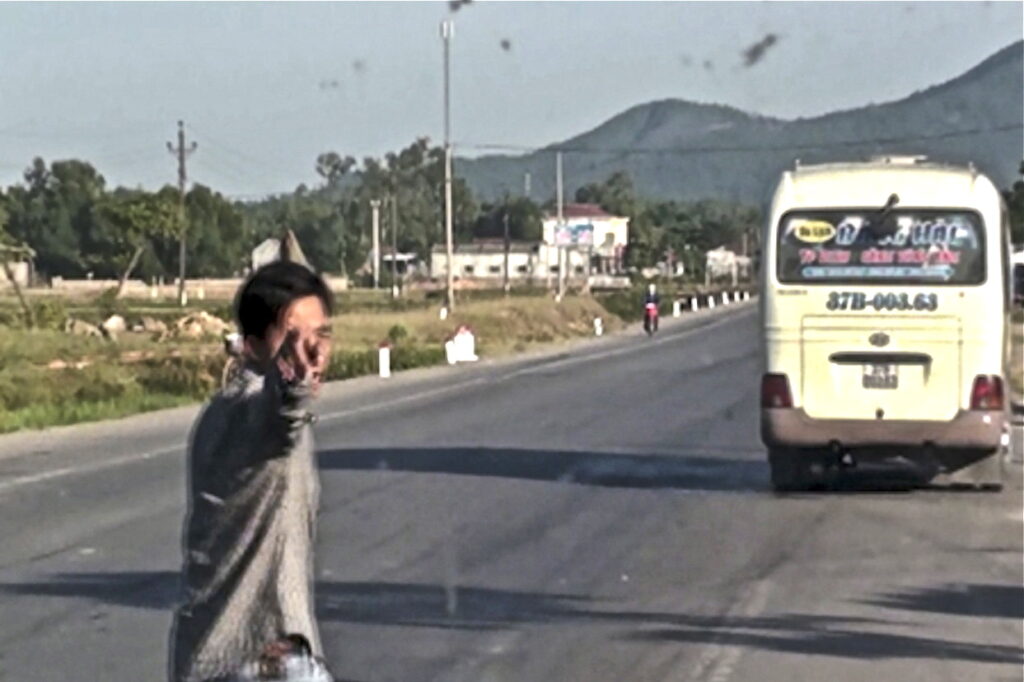 Landscape Series #1
(Phong cảnh #1)
As the journey starts, wide empty landscapes make one wonder what one is looking for. A mysterious object? A crime scene? Something horrifying? The scenes are getting more and more specific, but they do not lead to any concrete solution—only an injury in place of a metaphor. —Nguyễn Trinh Thi
An outstretched arm, a hand, a finger, pointing; the body's way of saying "look". Yet we see and know nothing about what is being pointed at. It remains unseen and unspoken, only sensed through the repeated gesture (a tradition practiced by local photojournalists) in the found images of Landscape Series #1. The only sound, the click of the projector as each image slides into the next, makes a quiet absence beyond the visual felt.
What is being looked at is gone, hidden or missing. What is left is the embodied act of looking; the relational movement which connects the people in the images to the natural landscapes, the buildings, roads and wounded skin. Cultural and affect theorists have argued that gestures are movements through which structures of power are embodied, produced, reinstated and, also, potentially interrupted.
What connects the wound to the natural landscape? The repeated sameness in the images creates a sense of uneasy presence. As May Adadol Ingawanij notes[1], the repetition allows these previously intimate moments from the "private domain" of the individual photographs—the subjects and creators of which we find out nothing—to become something bigger and shared, perhaps passed along. There is a sense of history both personal and collective, starting from the subjects and photographers of these images, but continuing through their surroundings, out of the frame of one image and into the next.
Nguyễn writes "I am interested in the idea of landscapes as quiet witnesses to history". The film listens to this quietness, to the phantom traces of the past, and in the gesture of pointing to the unseen there is an invitation to the uncertain, the not-yet-defined, the potential of something new. —Christina Demetriou
[1] May Adadol Ingawanij, Roaming Assembly # 4 FAILURE TO TRANSMIT: "Not I: Nguyen Trinh Thi's essay films" (talk), 20/03/2016
Director Biography
Nguyễn Trinh Thi (1973, Vietnam) is a Hanoi-based independent filmmaker and video/media artist. Nguyễn studied journalism, photography, international relations and ethnographic film in the United States. Her diverse practice has consistently investigated the role of memory in the necessary unveiling of hidden, displaced or misinterpreted histories; and examined the position of artists in the Vietnamese society. Nguyễn is the founder and director of Hanoi DOCLAB, an independent centre for documentary film and the moving image art in Hanoi since 2009. Her films and video art works have been shown at festivals and art exhibitions including Jeu de Paume (Paris); CAPC musée d'art contemporain de Bordeaux; the Lyon Biennale 2015; Asian Art Biennial 2015 (Taiwan); Fukuoka Asian Art Triennial 2014; Singapore Biennale 2013; Jakarta Biennale 2013; Oberhausen International Film Festival; Bangkok Experimental Film Festival; Artist Films International; DEN FRIE Centre of Contemporary Art (Copenhagen); and Kuandu Biennale (Taipei).
Nguyễn's film Eleven Men (Mười một người đàn ông) screened at BFMAF 2016.
Director Filmography
How to Improve the World (2021), Fifth Cinema (2018), Everyday's the Seventies (2018), Eleven Men (2016), Vietnam The Movie (2016), Letters from Panduranga (2015), Landscape Series #1 (2013) SOLO for a Choir (2013) Que Faire (2012), Jo Ha Kyu, (2012) I Died for Beauty (2012), Song to the Front (2011), Unsubtitled (2011), Chronicle of a Tape Recorded Over (2011), Terminal (2009), Spring Comes Winter After (2009), 93 Years, 1383 Days (2008), Love Man Love Woman (2007), A Chungking Road Opening (2005)