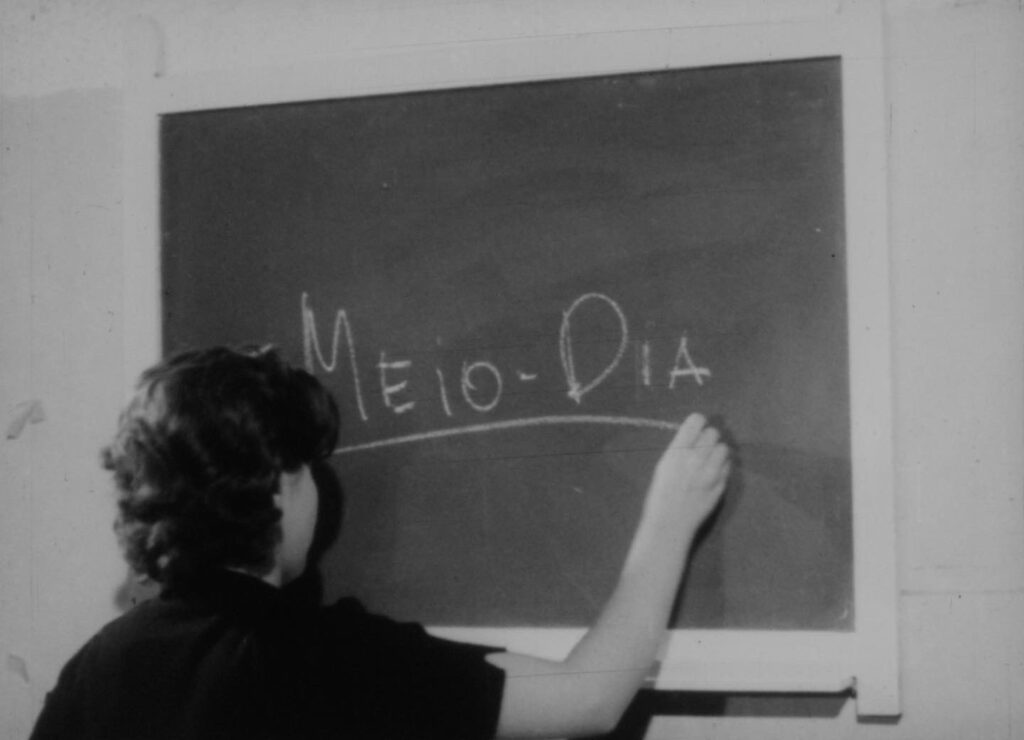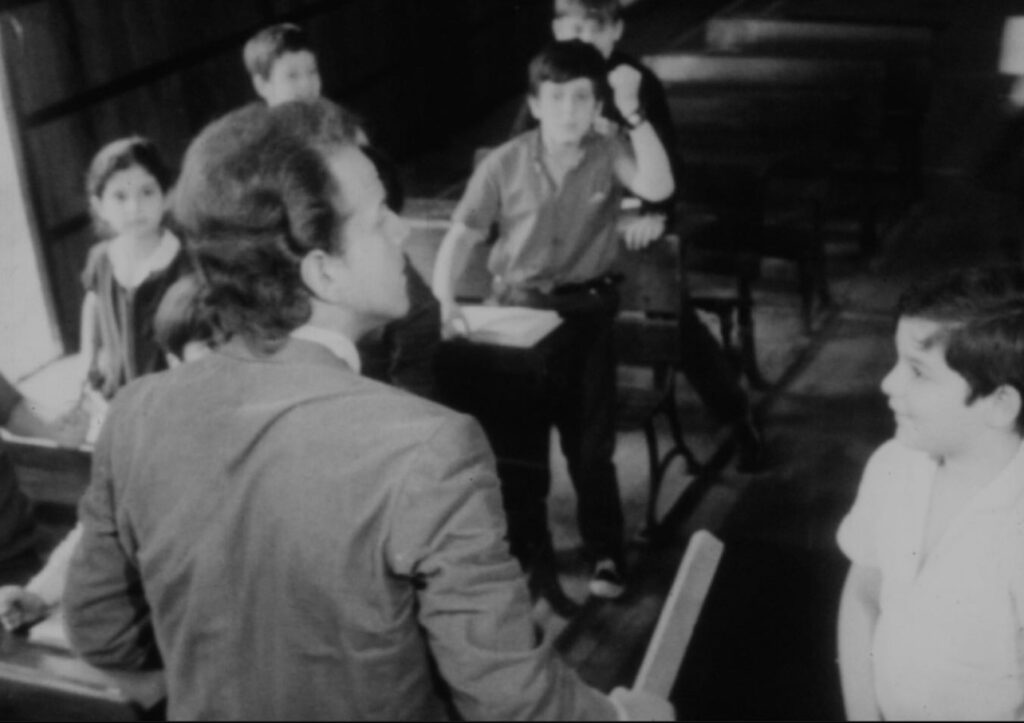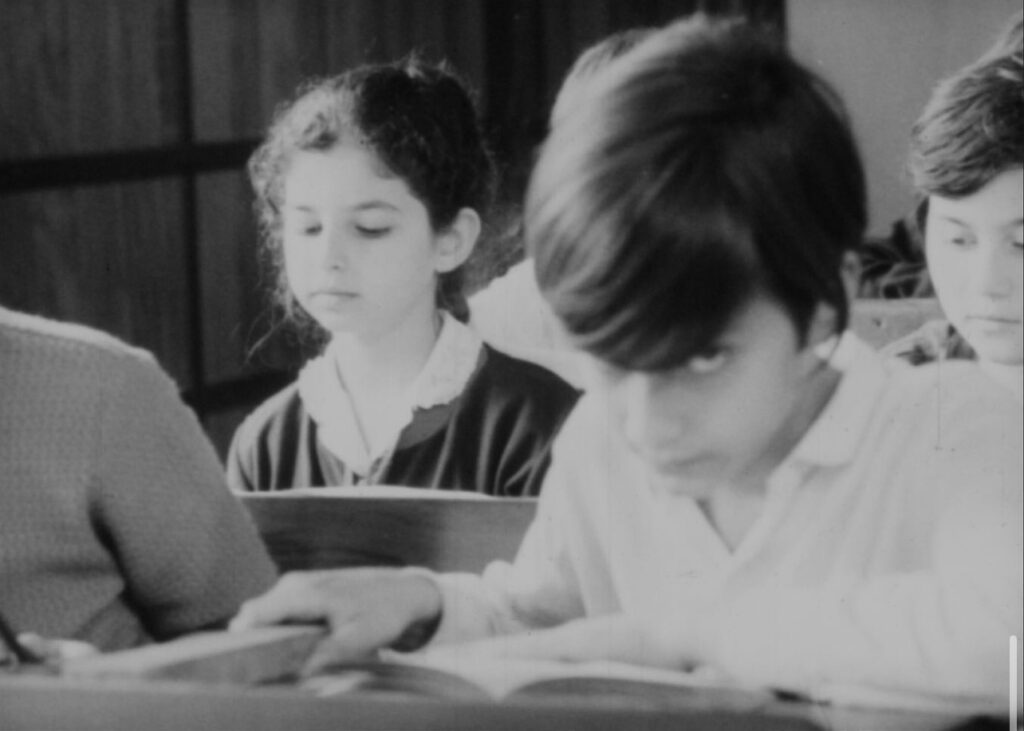 Noon is the first fiction film from Helena Solberg, a pioneer and rare feminist presence in the Cinema Novo movement in Brazil in the 1960s. Made during one of the most socially and politically repressive moments of the Brazilian military dictatorship, the film portrays the uprising of a group of children at their day school.
Programmer's Note

Shot in São Paulo in 1970, Solberg made Noon with a modest budget and using non-professional actors. The film follows a young protagonist, reminiscent of Antoine Doinel in Truffault's Les Quatre Cents Coups (1959), as he skips school and whiles away the time during a morning wandering through the city. From this depiction of individual escape and defiance, the action shifts to the institutional space of the school, where a violent collective revolt takes place in the classroom, followed by a euphoric playground celebration. Indebted to Jean Vigo's Zéro de conduite (1933), Noon sits within the established cinematic tradition of representations of child rebellion, whilst also evoking the spirit of the May 1968 uprisings and its associated cinema.

Despite its compact running time, Noon makes a vivid impact as a potent rallying cry for solidarity under repressive regimes. With the school setting serving as a microcosm of Brazilian society, Noon can be read as an allegory for the tensions building among the population and a rejection of the unlivable conditions experienced by communities under oppression. The topic of insurrection will be revisited by Solberg in her documentary feature From the Ashes: Nicaragua Today, also featured in this programme.

~ Alice Miller
Director Biography

Helena Solberg is a pioneer of political documentary and a rare feminist presence to emerge from the Cinema Novo movement in Brazil in the 1960s. Born in São Paulo, Solberg began her career in the late 60s with two short films that would become defining depictions of the era, before going on to produce a seminal body of work concerned with the interconnected social, political, and representational issues facing women and the Latin American diaspora.

Her debut short, The Interview (1966), now considered the first Brazilian feminist film, and second short fiction film Noon (1969) garnered Solberg international recognition, with invitations to film festivals in Europe and abroad.

Since moving to the United States in 1970, she has directed and produced several feature-length documentaries. Throughout the 1980s, she directed several films broadcast nationally on the PBS network, and continued to make work between the Unites States and Brazil up until 2017. Her work has won numerous prizes and been selected for festivals internationally including in Melbourne, Rio, Nyon, Havana, Chicago, and MOMA, New York amongst others.
Director Filmography

Meu Corpo Minha Vida (2017), A Alma da Gente (2013), Palavra (En)cantada (2009), Vida de Menina (2005), Brasil em Cores Vivas (1997), Carmen Miranda: Bananas is my Business (1995), The Forbidden Land (A Terra Proibida) (1990), Made In Brazil (1987), Home of the Brave (Berço dos Bravos) (1986), Portrait of a Terrorist (Retrato de Um Terrorista) (1986), Chile: By Reason or By Force (1983), The Brazilian Connection (A Conexão Brasileira) (1982), From the Ashes: Nicaragua Today (Nicarágua Hoje) (1982), Simplesmente Jenny (1978), The Emerging Woman (A Nova Mulher) (1975), The Double Day (La Doble Jornada) (1975), Meio Dia (1970), A Entrevista (1966)