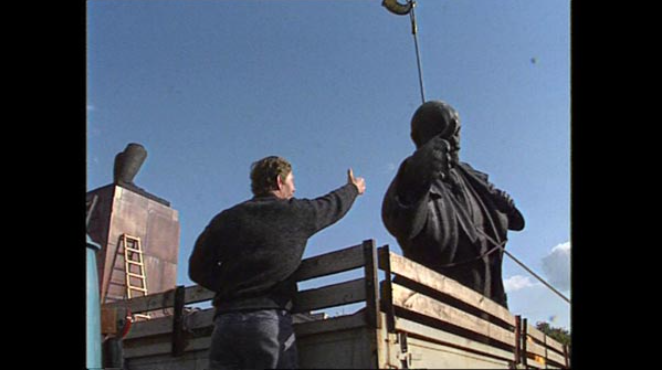 Once in the XX Century
This film is based on pre-existing video material. The material which I acquired from the Lithuanian National TV archive documents the action of the taking down the statue of Lenin. In addition, I have bought video footage of the same event from a freelance video reporter. So, there is a two-camera perspective on the event. | The images of the taking down the statue of Lenin in Vilnius are in fact familiar, as the materials were widely broadcast by CNN and some other major media networks. The images of Lenin hanging above the crowd and waving his hand had been repeated thousands of times by CNN during the last decade as a symbol of the disintegration of the Soviet Union and a failure of the idea of communism. In this work, the materials are edited in such a way that it looks as if the crowd were preparing, and then celebrating, the erection of the statue of Lenin.
Programmer's Note

A two-camera perspective on the destruction of the statue of Lenin in Vilnius. These are images that became familiar due to their widespread use by broadcast news services such as CNN. Narkevičius' edit, however, looks as if the crowd were preparing, and then celebrating, the erection of the statue of Lenin.
Director Biography

Deimantas Narkevicius was born in 1964 in Utena, Lithuania and lives and works in Vilnius. He graduated from the Art Academy in Vilnius as a sculptor and spent a year in London in 1992/93. On his return to Lithuania he was concerned with site-specific objects but a strong interest in narrative led him to record interviews and conversations with artists. This process evolved into an exploration of different narrative structures through film and video, the work for which Narkevicius is now best known.Narkevicius is one of the most consistent and widely recognised Lithuanian artists on the international art scene. He represented his country at the 49th Venice Biennale in 2001 and exhibits at the 50th Venice Biennale in 2003 in 'Utopia Station' curated by Molly Nesbit and Hans Ulrich Obrist.

Since 1992 he has exhibited extensively around the world in group shows at many significant contemporary art venues and events. He showed at Manifesta II in Luxemburg in 1998 and has exhibited in London, Paris, Brussels, Vilnius, Manchester, Dublin, Vienna, Brussels, Helsinki, Stockholm, Zurich, Rotterdam, Melbourne and many other cities. Solo shows include 'Either true or fictitious', at FRAC Pays de la Loire in France in 2003 and 'Deimantas Narkevicius Project' at the Munchner Kunstverein, Munich in 2002.