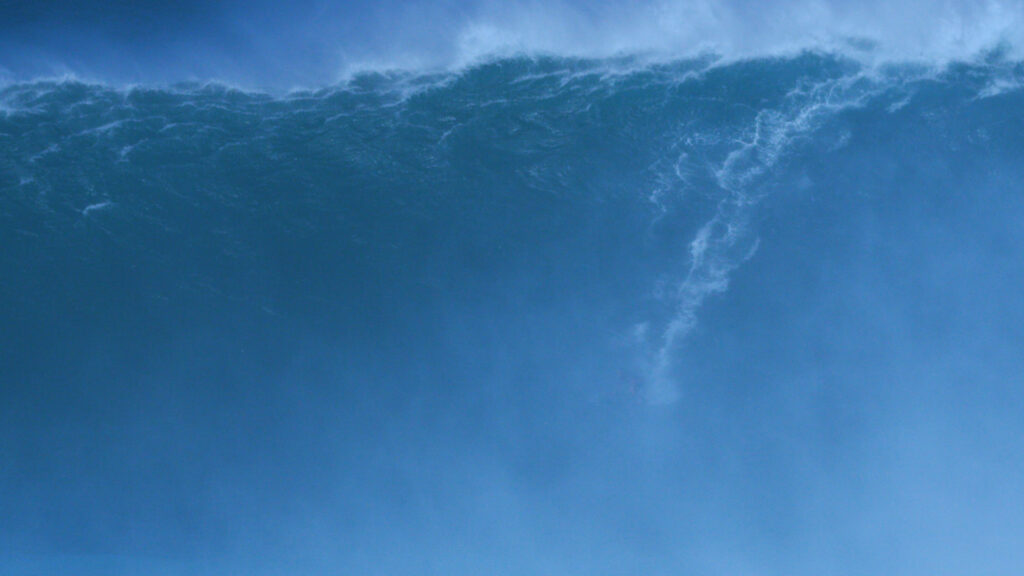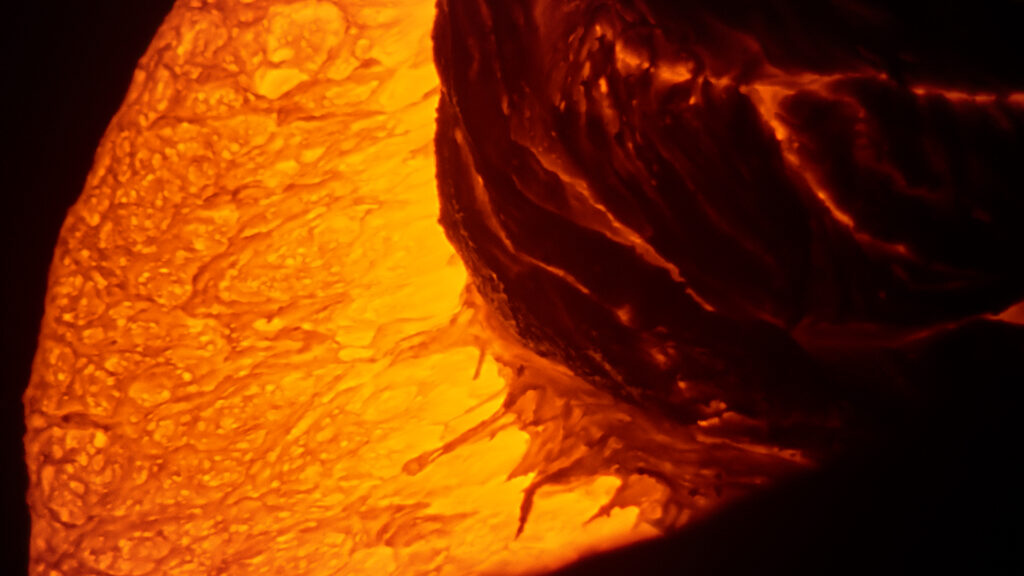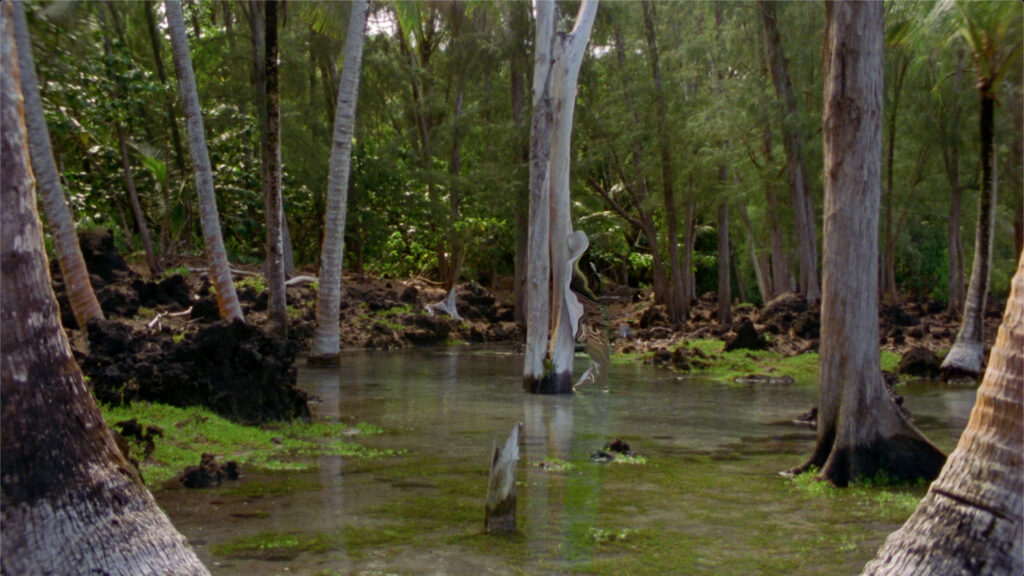 Rock Bottom Riser
Rock Bottom Riser is an immersive, exploratory and deeply inquisitive study of an island world at sea. The film fashions a layered and heterogeneous portrait of Hawaii through its cosmogony, its uncertain future and the scattered lens of the present. Through a combination of research, observation of the islands' landscape and conversation with many different people who call it home, artist-filmmaker Fern Silva highlights the complexity and contradictions of a place which can be understood as beautiful and serene but also under constant existential threat.
Programmer's Note

Building on a foundation of short-form work that stretches back to 2007, Fern Silva has regularly trained his inquisitive artistic vision towards portraits of place that emphasise their unseen, sublimated qualities through external phenomena. Notes From a Bastard Child (2007) gives external shape to Silva's patrilineal connection to Portugal, while Wayward Fronds (2014) brilliantly expresses the seductively creeping beauty of the Florida Everglades.

Rock Bottom Riser, Silva's feature debut, allowed him to draw on the many filmic techniques he honed over past works in addressing a topic larger than he previously could. Interviews and meetings with people across the islands are presented, usually without introduction, building a tapestry of voices to express a plural and heterogeneous viewpoint. Alternating with these sections are observations of the landscape: the ocean and waves, trees and greenery, mountains and valleys, the ominous presence of solid lava or the awe of yellow-orange-red molten flows.

Resisting a singular narrative, through-line or perspective, Rock Bottom Riser lets these scenes and encounters build upon each other. In the process, the film touches on the deep impacts that colonialism, religion, capitalism, activism, technology and environmentalism have had on the Hawaiian land, state and people. While these important topics are approached thoughtfully, Silva also works diligently to accentuate the film's formal qualities, mixing the topical with stunning visuals and a rich sonic palette. As a result, Rock Bottom Riser offers an exciting proposition both to those looking to think through the complexity and contradictions of Hawaii's past, present and future, as well as those looking for a surprising and immersive cinematic experience. —Herb Shellenberger
Director Biography

Fern Silva (1982) is an artist and filmmaker who works primarily in 16mm. He studied film at the Massachusetts College of Art and Bard College and is a fellow at the Film Study Center at Harvard University. His early films centered on his relationship to Portugal and have since expanded, underlining the influence of industry on culture and the environment. For over a decade, his 16mm films have been screened widely in festivals, museums, and cinematheques including the Media City, Toronto, Berlin, Locarno, Rotterdam, New York, London, Melbourne, and Hong Kong International Film Festivals, MOMA PS1, Anthology Film Archive, and the Harvard Film Archive. He's taught filmmaking at various institutions including the University of Illinois at Chicago, Bard College, and Bennington College. Silva's short film The Watchmen was presented at BFMAF 2017 and his film Rock Bottom Riser, as a work in progress debut feature, was part of BFMAF's 2020 inaugural Previews programme, newly renamed for BFMAF 2021 as our Work in Progress strand.
Director Filmography

Rock Bottom Riser (2021), The Watchmen (2017), Ride Light Lightning, Crash Like Thunder (2017), Scales in the Spectrum of Space (2015), Wayward Fronds (2014), Tender Feet (2013), Concrete Parlay (2012), Passage Upon the Plume (2011), Peril of the Antilles (2011), In the Absence of Light, Darkness Prevails (2010), Servants of Mercy (2010), Sahara Mosaic (2009) After Marks (2008), Spinners (2008), Notes from a Bastard Child (2007)