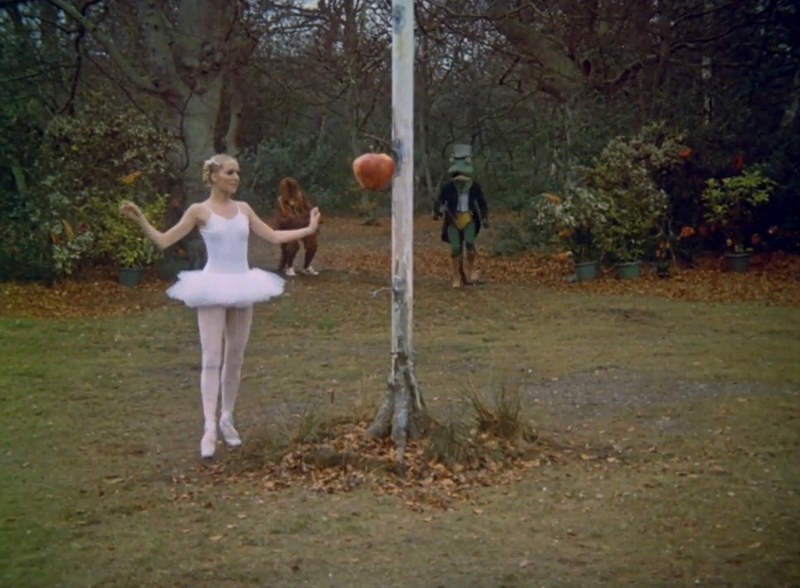 Story of the Hare Who Lost His Spectacles
Part-pagan ritual, part-fairytale, this dance around the Maypole produced by venerable English progressive rock stalwarts Jethro Tull is a fantastical, psychedelic happening. With music and spoken word taken from the group's 1973 album A Passion Play, the film was made as a visual component of their elaborately-produced tour for the album. As such, it is rarely considered on its own outside of the band's context, but the short film is an exhilarating and humourous work that touches on many aspects of fairytale and folklore.
The film begins with a forest dance. We see two ballerinas emerge from the wood into a field where a maypole is surrounded by potted plants. One eats a giant apple and streamers come flowing down from the top, while a rushing instrumental track builds. The girls are joined by a number of dancing animals, each weaving around the other in a joyous dance.
The second sequence is the story itself: Tull bassist Jeffrey Hammond serves as the narrator, or rather commentator, relating the story to the camera with a microphone. Dressed in a green Houndstooth suit and with an exaggerated Lancashire accent, our host relates an absurd fable, in which anthropomorphic animals try to help the hare find his missing spectacles. All the while during these first two sections, deft little filmmaking touches keep the clip interesting, especially when the action cuts seamlessly from the outdoors to the painted theatrical stage and back again.
With his spectacles finally recovered, the final sequence is—you guessed it—yet another forest dance. This time, the action moves completely outdoors and at night, our ballerinas and animals carrying torches for the surely impending bonfire. The familiar rushing refrain heard at the beginning returns, with the animals and humans dancing around a strange cupcake fountain. Revelry turns into a mosh pit and the action suddenly stops with an abrupt musical finale. —Herb Shellenberger