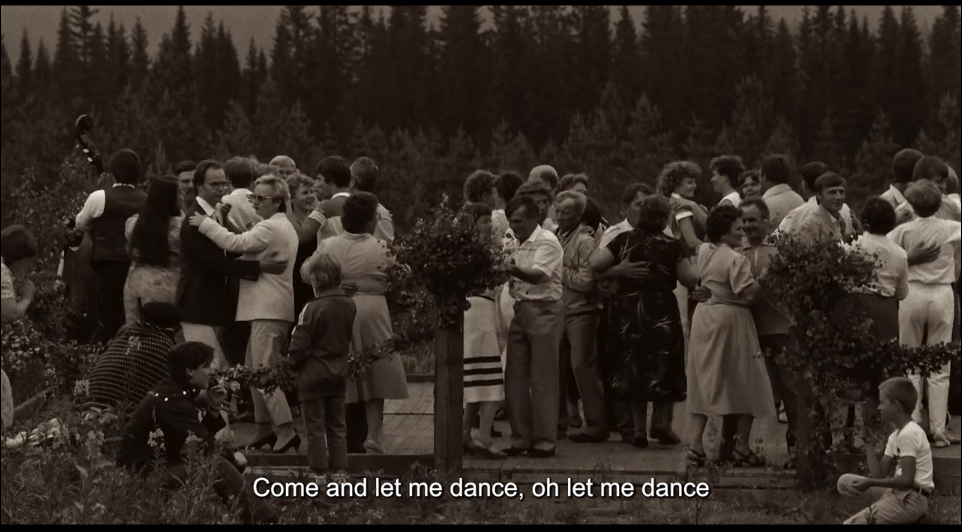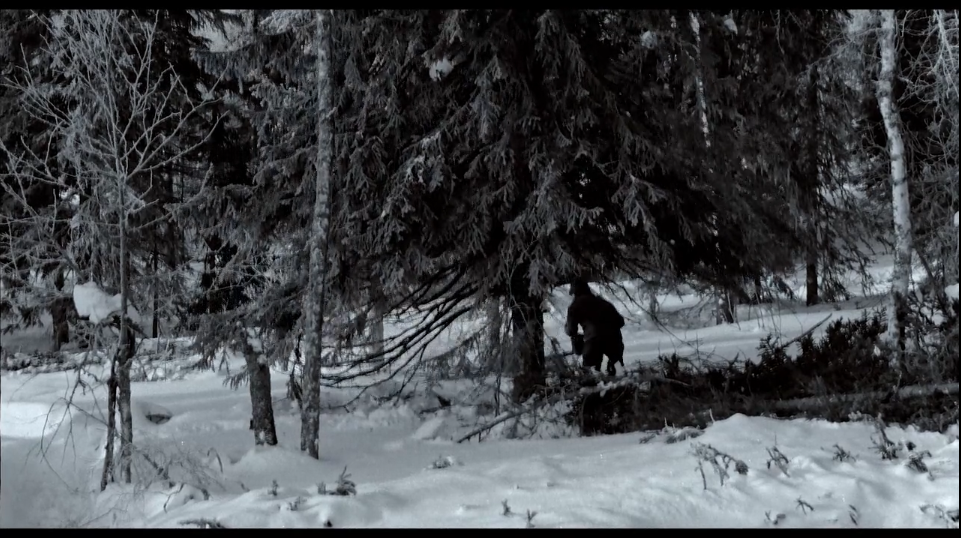 The Blue Mammy
Sininen Imettäjä
With understated precision, Markku Lehmuskallio's The Blue Mammy focuses on the sensitive interplay between sound and image while unfurling a story surrounding Joel, a deaf painter who lives in a small village in Lapland. While he has trouble fitting in with the community of people around him, Joel communes with nature and speaks nonverbally with a spirit. The film distils a wealth of provocative ideas—around artistic creation, alternative forms of communication and the importance of the natural world to human animals—into a stunning filmic tone poem.
Programmer's Note

The Blue Mammy was Markku Lehmuskallio's third feature film, following The Raven's Dance (1980) and Skierri – Land of the Dwarf Birches (1982). During this early phase of his filmmaking, following his nature documentaries and industrial films of the 1970s, his filmmaking is still largely concerned with ecology and how man fits into the landscape in conversation with nature. The tone and atmosphere of these films is what today we might refer to as 'slow cinema', and one can sense a kinship with Ukrainian poetic cinema (and filmmakers such as Yuri Ilyenko or Leonid Osyka) or other maverick Soviet filmmakers of the era, from Sergei Parajanov to Ali Khamraev. Ultimately, Lehmuskallio's arthouse fiction films of the 1980s would lead him toward a return to documentary in the 1990s and – alongside the beginnings of his collaborations with Anastasia Lapsui, who started as an editor and recording engineer on In the Shape of a Reindeer Across the Canopy of Heaven (1993) – alter the course of his filmmaking greatly.

~ Herb Shellenberger
Director Biography

Markku Lehmuskallio is a film director and cinematographer born in 1938 in Rauma, Finland. His entry point into filmmaking began while working as a forester in Finland, where he created instructional films for farmers to teach them how to plant pine seedlings. This ecologically focused practice continued, and while filming in the Arctic regions of the former Soviet Union he met Anastasia Lapsui. They have since collaboratively produced numerous documentaries about the lives of Indigenous peoples in the Arctic Circle and around the world. Lehmuskallio's films have been exhibited widely at venues around the world, including the Berlinale, International Film Festival Rotterdam, Docpoint Helsinki, Dok Leipzig, Midnight Sun Film Festival, Toronto International Film Festival, and Karlovy Vary International Film Festival, among many others. He is the recipient of numerous awards including Jussi Awards for Best Short Film (1973), Best Cinematography (1975), and Best Documentary Film (2003); an Honourable Mention from the Berlinale (1980); the Aho & Soldan Lifetime Achievement Award (2002); the Jury Prize Région de Nyon from Visions du Réel (2020); and the Finland Award (1998).
Director Filmography

Markku Lehmuskallio filmography: Anerca, Breath of Life (with Johannes Lehmuskallio, 2020), Pyhä (with Johannes Lehmuskallio and Anastasia Lapsui, 2017), Tsamo (with Anastasia Lapsui, 2015), Eleven Images of a Human (with Anastasia Lapsui, 2012), Pudana – Last of the Line (with Anastasia Lapsui, 2010), Earth Evocation (with Anastasia Lapsui, 2009), Travelling (with Anastasia Lapsui, 2007), The Sami (with Anastasia Lapsui, 2006), Fata Morgana (with Anastasia Lapsui, 2004), A Bride of the Seventh Heaven (with Anastasia Lapsui, 2003), Mothers of Life (with Anastasia Lapsui, 2002), Shepherd (with Anastasia Lapsui, 2001), Seven Songs from the Tundra (with Anastasia Lapsui, 2000), The Sacrifice – A Film about a Forest (with Anastasia Lapsui, 1998), Anna (with Anastasia Lapsui, 1997), A Farewell Chronicle (1995), A Paradise Lost (1994), In the Shape of a Reindeer Across the Canopy of Heaven (1993), I Am (II) (1992), I Am (I) (1992), Inuksuk (1988), Finnish Mobile (1985), The Blue Mammy (1985), Skierri – Land of the Dwarf Birches (1982), The Raven's Dance (1980), Mikä mies matsuri (1977), Elämän tanssi (1975), Tapiola (1974), The Swan (1974), Big Silence (1973), Muuttuva E-myymälä (1971), Ilta-Sanomat (1970)