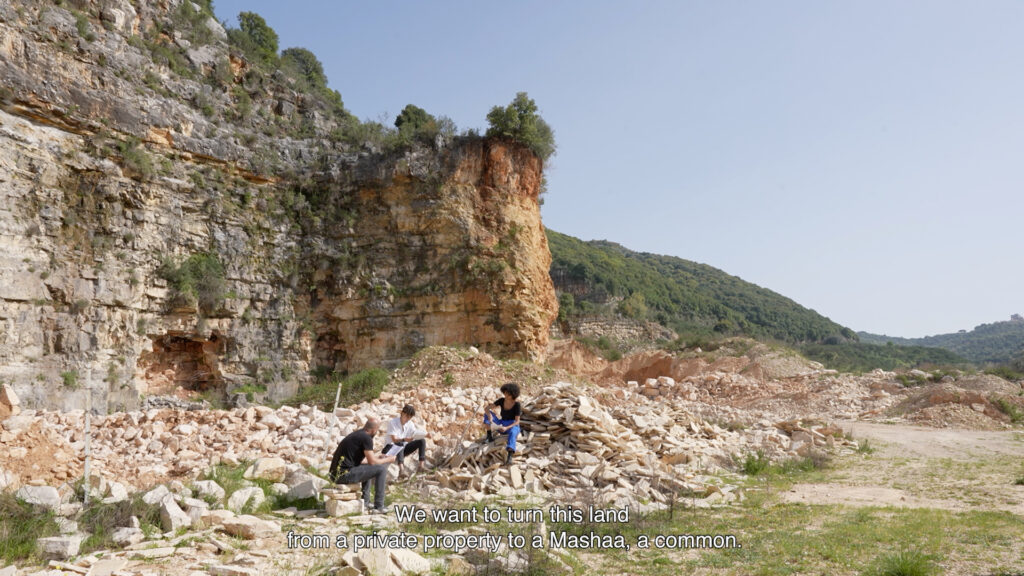 Who Is Afraid of Ideology? Part 4: Reverse Shot
This fourth chapter of Arsanios' Who is Afraid of Ideology? series continues a collaborative investigation of anti-capitalist ideas around property and land ownership in Lebanon. The film's figurative reverse shot reflects land as an autonomous, living object that inherently resists notions of property. Instead, matter and land become witness to the interconnectedness of the geological, the historical, the legal and the agricultural – generating an ecology of thought centred around land as a site of communalisation and rehabilitation.
Director Biography
Marwa Arsanios is an artist, filmmaker, and researcher who reconsiders mid-twentieth-century politics from a contemporary perspective. Her collaborative, interdisciplinary research practice often focuses on gender relations, collectivism, urbanism and industrialization. In recent years, Arsanios has been attempting to think with a feminist, new materialist and a historical materialist lens – looking at questions of property, law, economy and ecology from specific plots of land; to the extent that the main protagonists of the work become the lands themselves and the people who work them.
Her films have screeded widely, including at Cinéma du Réel, Rotterdam Film Festival, Film Fest Hamburg, and Berlin International Film Festival. Solo exhibitions have included: Skuc Gallery Ljubljana, Beirut Art Center, Hammer Museum Los Angeles, and Witte de With Rotterdam. Group exhibitions have included: Documenta 15, 11th Berlin Biennale, Gwangju Biennial, Lülea Biennial, and SF Moma, San Francisco.
Director Filmography
I've Heard Stories (2008), I've Heard 3 Stories (2009), Have You Ever Killed a Bear or Becoming Jamila (2014), Learning to Dance (2015), Falling is not collapsing falling is extending (2016), Amateurs Stars and Extras or the labor of love (2018), Who is Afraid of Ideology? Part1&2 (2017/2019), Who is Afraid of Ideology? Part3 (2020), Who is Afraid of Ideology? part 4 Reverse shot (2022)