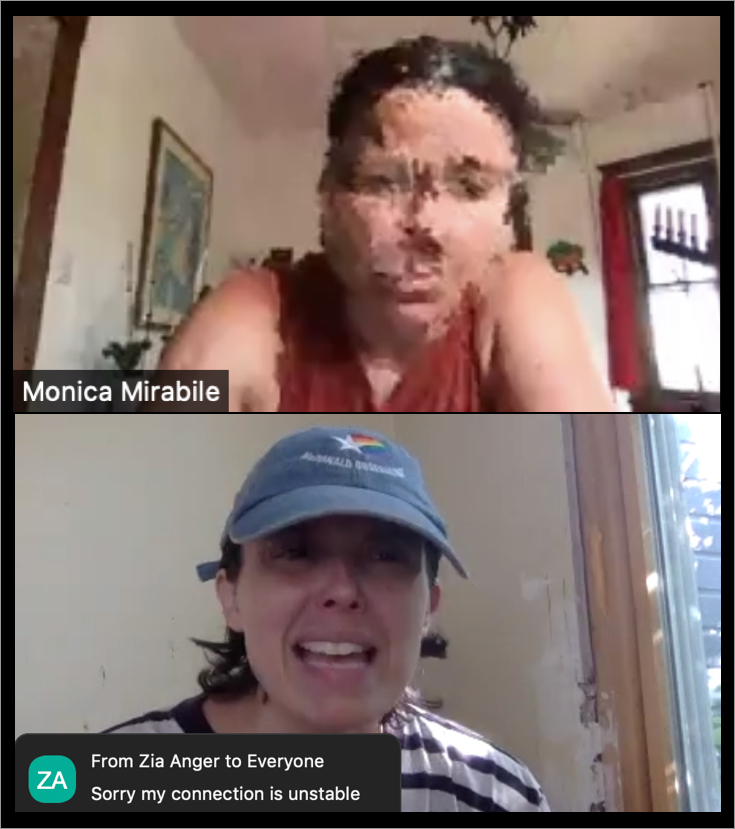 Zia Anger & Monica Mirabile
Filmmaker Zia Anger and movement artist Monica Mirabile present a performative conversation, working through their collaborative practice and a hypothetical future work.
Programmer's Note

The conversation will both be about and be the work itself, where process and collaboration are as important as the finished outcome. Inspirations, experiences and plans are shared, deconstructed and worked out in real time. Starting with performance and movement, Zia and Monica draw on the performances of family, ritual and lived experience, to inspirations in opera, mimic gestures, accidental macro dosing and the internet.

Their ongoing conversation thinks through a more physical experience of moving-images, screens, audience, and the negotiations in between. Embracing the not-yet-figured-out-ness of a future project, their practice goes against the outcome centred ideals of the film industry and the individual storyteller.

Both artists, via different mediums, have been working with storytelling through the body. Zia Anger's unique screening-performance My First Film rearranged the formal expectations of documentary and first-person narratives. Questioning the idea of where a film begins and ends (and the distance between the situated filmmaker and their "body of work"), My First Film redefined narrative as an unfixed entity; shifting in relation to the world around it, lived experience, and relationship between the screen, filmmaker and audience. In this work, failure, possibility and movement were in constant conversation—questioned and redefined with each "screening".

Mirabile's work also engages with what happens at the edges, in the unplanned and the collaborative, expanding expectations of dance as a form in the making rather than predefined. Through FlucT, Mirabile's collaborative dance-performance-duo with Sigrid Lauren, movement and gesture are explored as both manifestations of social power dynamics, as well as the means of forming relationships which can undo or remake into something new.

This live virtual event is a playful iteration of these artists' relationship and process-based practice, where the behind-the-scenes is as much a part of the story as what is in the frame. What also comes to the foreground is the value of friendship; of collaboration and the togetherness of thinking through work, significant in ways beyond what is valued as "productive". The togetherness of sharing, humour, care and provocation; the relationships that sustain and build a practice, beyond fixed finished works.

A live audience is required to ask questions in real time. Whether we are getting closer to the actual or deeper into the hypothetical will be revealed. EG: "where will I sit?", "who is this about?", "what are your references?" —Christina Demetriou
Director Biographies

Zia Anger works in moving images. Her short films have screened at festivals such as New York Film Festival, Festival del Film Locarno, New Directors/New Films, AFI Fest, Maryland Film Festival, Ann Arbor Film Festival, and Vienna Independent Shorts. She has made music videos for various independent artists including: Angel Olsen, Mitski, Julianna Barwick, Beach House, Maggie Rogers, and Jenny Hval; the latter of whom she also toured with as a performer and stage director. In 2018 she began touring a new solo performance that traces the last ten years of her lost and abandoned work, titled My First Film (2015).

Monica Mirabile is a New York based artist whose work explores the physical vocabulary of authority existing at the intersection of choreography, visual art and group dynamics. She is one half of the performance duo FlucT, a collaboration with Sigrid Lauren exploring the psychology of capital obedience in American consumerism through sound and choreography. For 8 years Mirabile has operated a performance studio in Brooklyn called Otion Front Studio, a rehearsal space and performance residency organised with a fluctuating community of artists working through movement.
Director Filmographies

Zia Anger

My First Film (2015), I Remember Nothing (2015), Lover Boy (2008), Thanks For Calling, Baby (2005)