Content Warnings
Blood / gore
Mild nudity
Mild physical violence
Mild sexual references
Strong language / swearing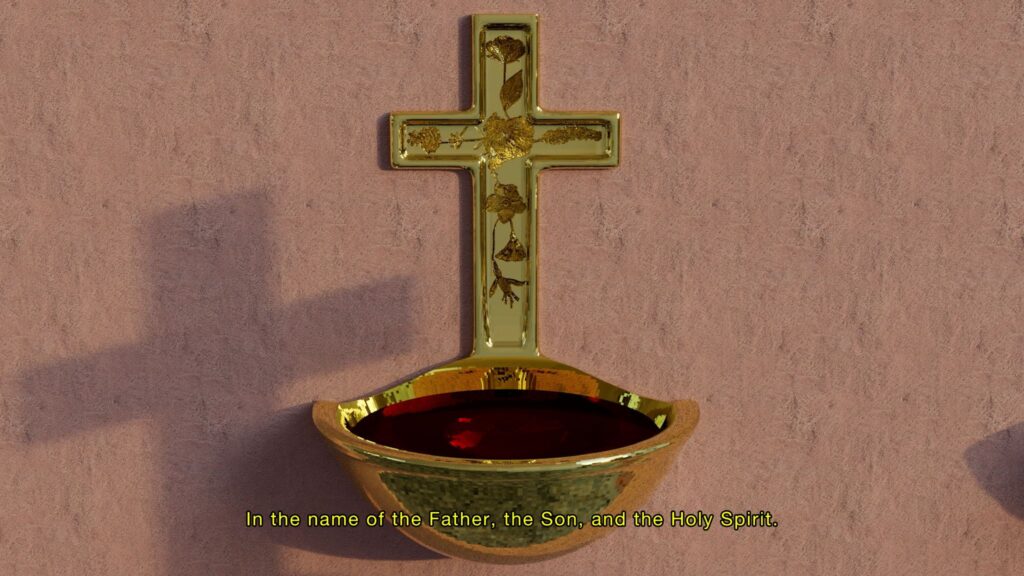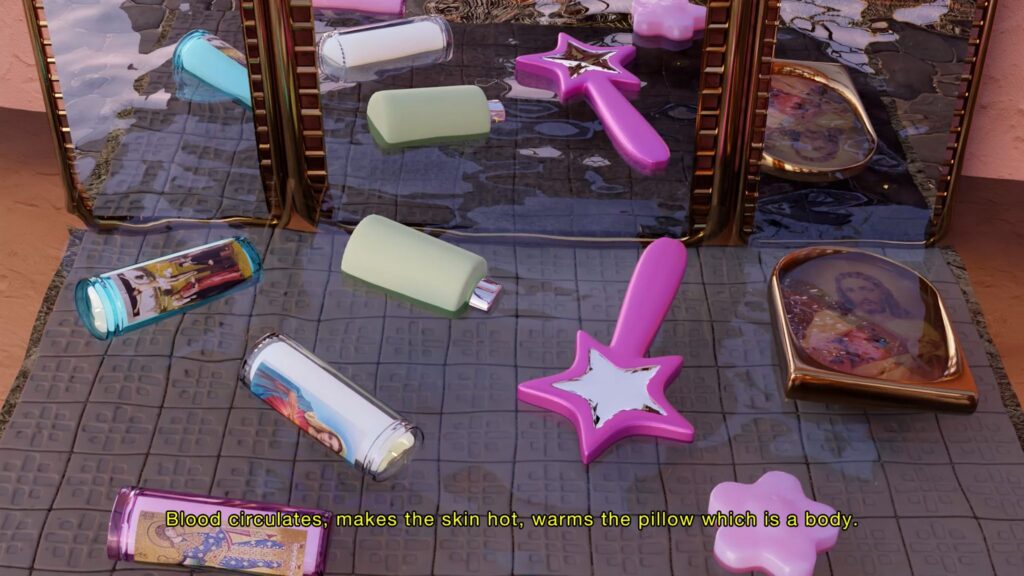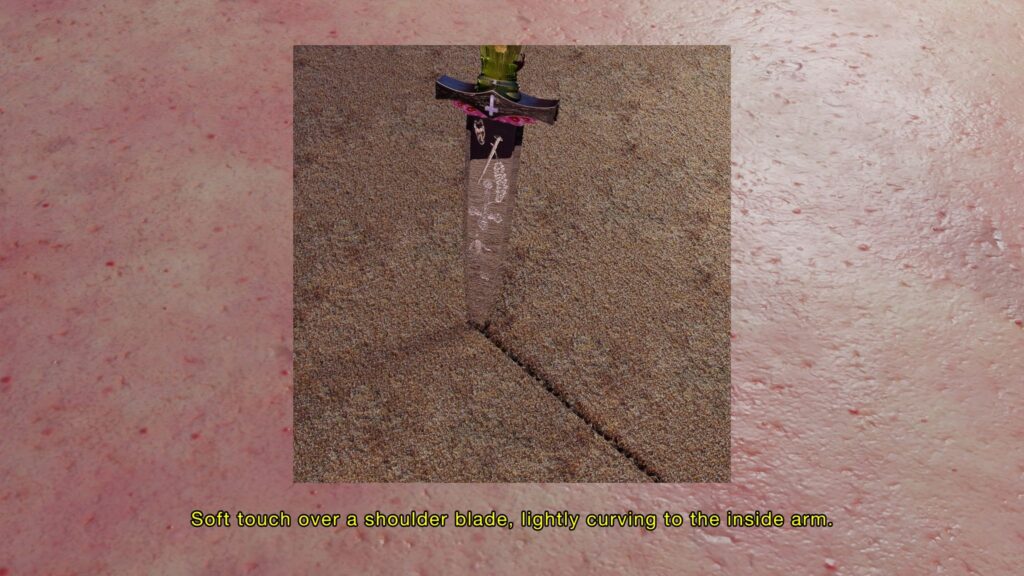 a body is a body is a body
a body is a body is a body
Language folds and falls in on itself in this new video work by artist duo Cat and Éiméar McClay. Animated 3D tableaus of Catholic paraphernalia and strikes of elemental weather accompany the words. Together, they enact the historically fraught relationship between queerness and the Catholic church.
Programmer's Note

How is a body—particularly a queer body—narrated? a body is a body is a body deals with the coexisting forces of lived experience and the external structures that shape it. The subtitle text haunts the video like a spirit; unspoken yet uncannily close and corporeal in its depictions. Elusively, it slips from the body of a twin to the body of a lover, from pleasure to violence, from pious to unrepressed. Imbued with a power of their own, these words create and suppress, get close and push away. In an amalgamation of experimental literature, prayers and queer erotics, the text curls in on itself; repeating, re-telling and undoing.

Digitally imaged scenes, which begin as religious still lifes, are taken over by a different kind of supernatural power. Closer to witchcraft and magic, Catholic icons and ornaments hover and float. Rain, fire and flood—both biblical and spell-like—disrupt and break through the images.

Like these objects, the bodies also float in a disembodied nowhere. Invisible but formed in the video's silent narration. Between desire and language, tradition and awakening—slippery and wet in their anguished specificity. a body is a body is a body weaves between the abject, spiritual, violent and tender. It is a surreal, unsettling look at the legacies of Catholicism and witchcraft, revealing the capacity of queer desire to undo and retell what a body can be. —Christina Demetriou
Director Biographies

Cat and Éiméar McClay are Irish-born collaborative artists currently based in Edinburgh. They both graduated in Intermedia Art from Edinburgh College of Art in 2020. Their collaborative practice considers ideas of queerness, abjection and patriarchal systems of power and oppression through an interdisciplinary body of work comprising video, 3D models, installation and digital collage. It draws on and seeks to examine the historical narration of the queer body within heteronormative society. Recent exhibitions and awards include Trading Zone 2019 at Talbot Rice gallery (Edinburgh), Futurelab, West Bund Centre (Shanghai), Bloomberg New Contemporaries 2020 Selected Artists, Friends of the University of Edinburgh Visual Art Award 2020, RSA New Contemporaries 2021 and CCA digital residency participants 2021.
Director Filmographies

I Guess I Need You Baby (2021), a body is a body is a body (2021), MAGIC ISN'T WORKING (2020), Queer Use (2020), You Couldn't Tell the Difference Between a Snowflake and a Star (2019)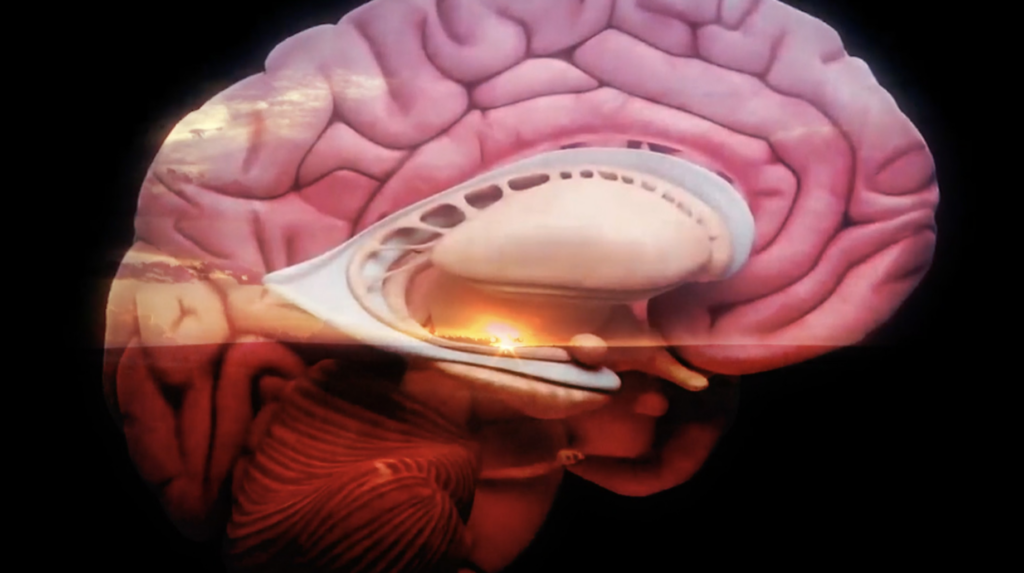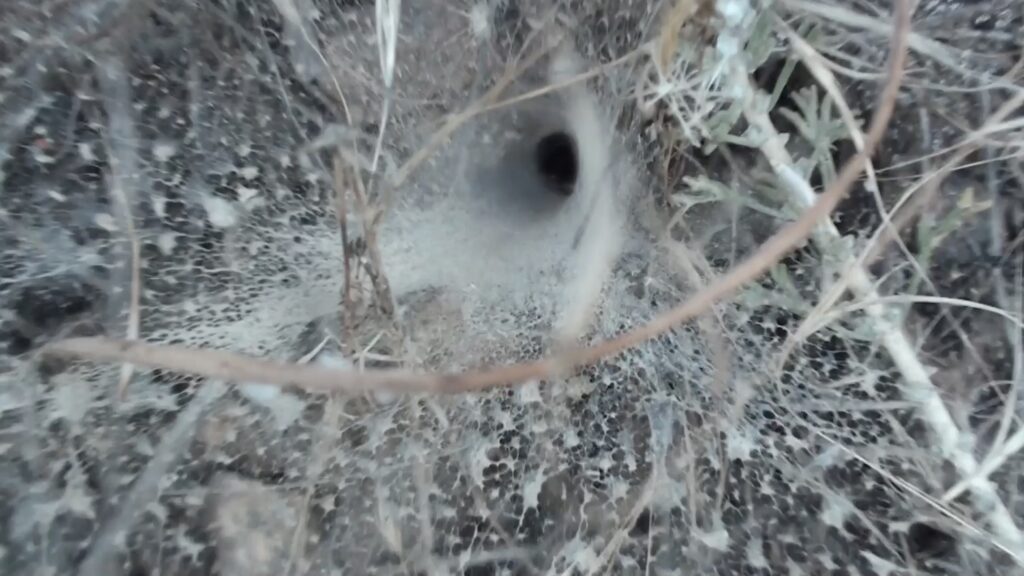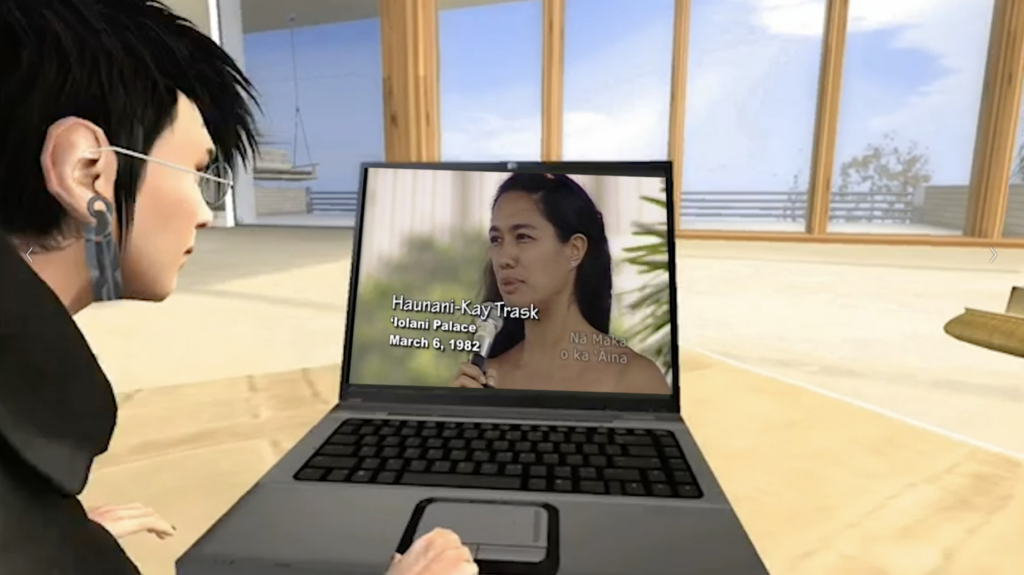 Maat means Land
In Maat means Land, Fox Maxy (Ipai Kumeyaay and Payómkawichum) has created an intoxicating and urgent film collage that gives invigorating expression to contemporary Indigenous identity, culture and experience. Exploring the question, "what does it mean to come from somewhere?", Maxy pays homage to the land and his surroundings, whilst challenging us to think about the painful and multi-layered histories that exist within territories scarred by settler colonialism.
Programmer's Note

Eschewing dominant forms of representation, Maxy constructs a playful and rebellious film language from a self-archive of films, phone videos, found footage and computer game screen recordings. They are all threaded together with a near-continuous soundtrack of emotive music and sounds. The result is the creation of a filmic space both intensely personal and defiantly radical. A diaristic stream of consciousness, the film evokes the experience of a world mediated through digital interfaces and social media feeds.

The political underpinning of the film quickly emerges, first through the voiceover of Hawaiian activist and scholar Haunani-Kay Trask. It then appears later through footage that conveys violence and resistance in the landscape, such as news reports on the California wildfires, film of a border checkpoint and clips of protest marches. Maat means Land shifts between temporalities and travels across urban, natural and digital terrains. Filmed across many locations of Indigenous territory, Maxy juxtaposes instances of sociality, play, dance and activism.

Through the use of superimposition to layer real and virtual spaces and the insertion of found footage into computer game worlds, Maxy questions our sense of reality and our relationship to space. The concept of layered space is echoed in a clip of Native activist L. Frank Manriquez (Tongva and Ajachmem) who gives a powerful oral history on Tongva land, saying that "it's all one space in time." —Alice Miller
Director Biography

Fox Maxy (Ipai Kumeyaay and Payómkawichum) is a filmmaker and artist based in San Diego, CA. He has a film company called Civic Films that produces experimental films, artist profiles and music videos. He made 2 short films during quarantine in 2020. His work has screened at International Film Festival Rotterdam, Museum of Modern Art's (MoMA) Doc Fortnight, Los Angeles County Museum of Art (LACMA), AFI Docs (Washington), ImagineNative Film Festival (Toronto) and Camden International Film Festival (CIFF) among others.
Director Filmography

Gush (2021), Maat means Land (2020), San Diego (2020), Petroleum Jelly (2020), One Big Selfie (2020), Lil Nas X (2019), California Girls (2018), Muzzles Off (2018), Cheyenne Ziegler (2018)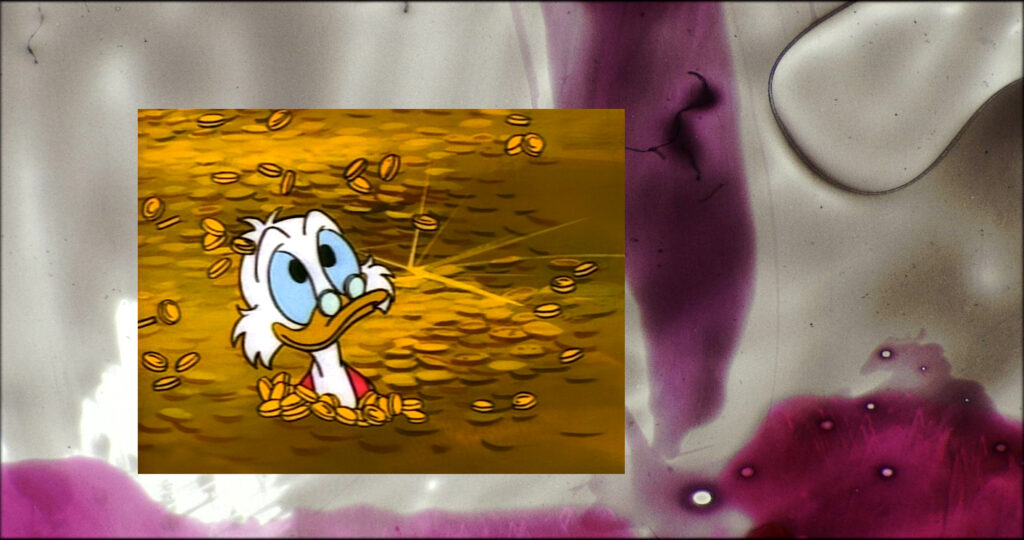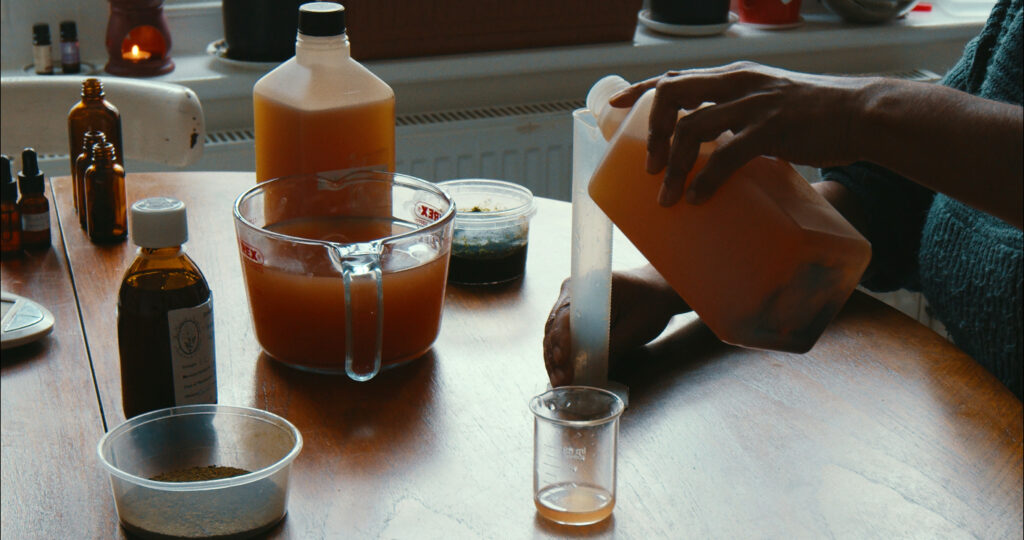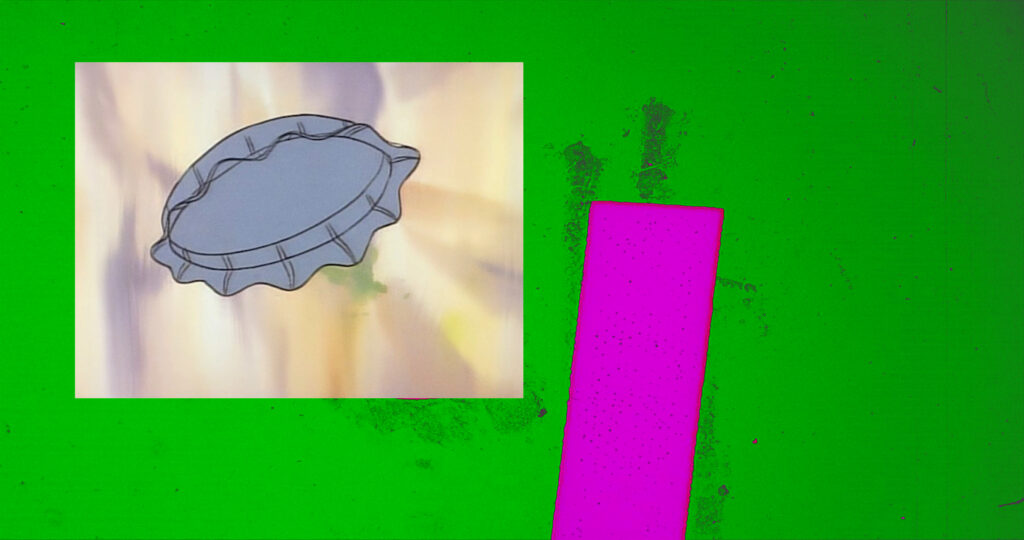 Alternative Economies
Alternative Economies was made in conversation with herbalist Rasheeq Ahmad and financial services regulator Rachel Bardiger. The film discusses the imperialist exploits of the Disney character Scrooge McDuck, and the apparently radical yet deeply compromised promises of crypto­currency. Between these two strands, possibilities for an alternative network of exchange and subsistence are sought.
Programmer's Note

Conversation and cooperative methods sit at the heart of artist and filmmaker Rehana Zaman's practice. This latest work was commissioned for the Borås Art Biennial, which convened around the theme 'deep listening'. The film feels like the clearest distillation of a long-term and ongoing interest: the ways socio-political concerns not only provide content, but actively structure the assembly of an artwork. In the film, disembodied voices speak about Bitcoin as a speculative alternative to existing banking systems. Later a crypto-economics researcher waxes lyrical about peer-peer connections. While one of the speakers describes it as a "pyramid scheme", another responds, "if you want to learn about it, you've got to own it."

These ideas of faux promises of collectivity and capitalist knowledge exchange meet with a sudden flash of green. Through a series of conversations with Zaman, all bathed in sage tones, Ahmad shares their knowledge of herbal medicine. This gestures to the ongoingness of "peer to peer" technologies of sharing. As the artist and the herbalist share time and strain herbs, they produce a tincture. Later, they distribute them for free. They do this via community-led spaces and grassroots actions in solidarity with asylum seekers at Napier Barracks.

In ayurvedic medicine, green is the colour to calm anxiety and stress. But, in the hyper-capitalist world of Scrooge McDuck's 'Tralla La', it is the breakdown inducing the colour of money. The excerpts of the comic duck provide an absurdist visualisation of the possibility of utopian banking. But, they also provide an unarticulated personal connection. Tralla La was conceived by writer Carl Bank after he read an article on the Hunza River Valley in Pakistan, in the October 1953 issue of National Geographic. This site appears in Zaman's recent work Your Ecstatic Self which speaks to the possibilities of reading alternative epistemologies and kinship structures, against the grain.

More colours enter the frame, through a series of direct animations. These were produced through a correspondence between the artist and an old friend James Holcombe at ORWO film processing, connected through the legacies of LFMC, no-where film lab and not-nowhere artist workers cooperative.

On top of these animations, the gentle dissent of a financial services regulator is offered via voice note. As these connections emerge, Alice Coltrane's harp begins to play. Zaman's hand painted film dances on the screen. Its forms merge and separate, unencumbered, free and constantly in relation. —Jemma Desai
Director Biography

Rehana Zaman is an artist from Heckmondwike based in London. Her work speaks to the entanglement of personal experience and social life, where moments of intimacy are framed against cultural orthodoxies and state coercion. Conversation and cooperative methods sit at the heart of her practice.

She has exhibited widely in the UK and Internationally. Presentations include British Art Show 9 (Touring), Trinity Square Video, Toronto (Solo), Borås International Sculpture Biennial (Sweden), Berwick Film & Media Arts Festival; Artist Film International Whitechapel, London, Dhaka Art Summit, Bangladesh, Bergen Kunsthall, Norway; Kochi-Muziris Biennale 2018; Sheffield Doc/Fest; Oberhausen Film Festival and Serpentine Projects, London, (forthcoming 2022). In 2019 she co-edited Tongues with Taylor Le Melle, published by PSS and was shortlisted for the Film London Jarman Award. She is currently a board member of not/nowhere artist workers cooperative and LUX who also distribute her films.

Zaman's film How Does an Invisible Boy Disappear was screened in collaboration with Liverpool Black Women Filmmakers at BFMAF 2018, and her short film 5 was screened at BFMAF 2015.
Director Filmography

Alternative Economies (2021), Your Estatic Self (2019), How Does an Invisible Boy Disappear (2018), Lourdes (2018), Tell me the story Of all these things (2017), Sharla Shabana Sojourner Selena (2016), 5 (2014), Some Women Other Women and all the Bittermen (2014), I, I, I, I and I (2013), Netball (2013), What an artist dies in me/Exit the Emperor Nero (2013), Iron Maiden (Ambridge) (2011), Like an Iron Maiden Trapped Between a Rock and a Hard Place (2010)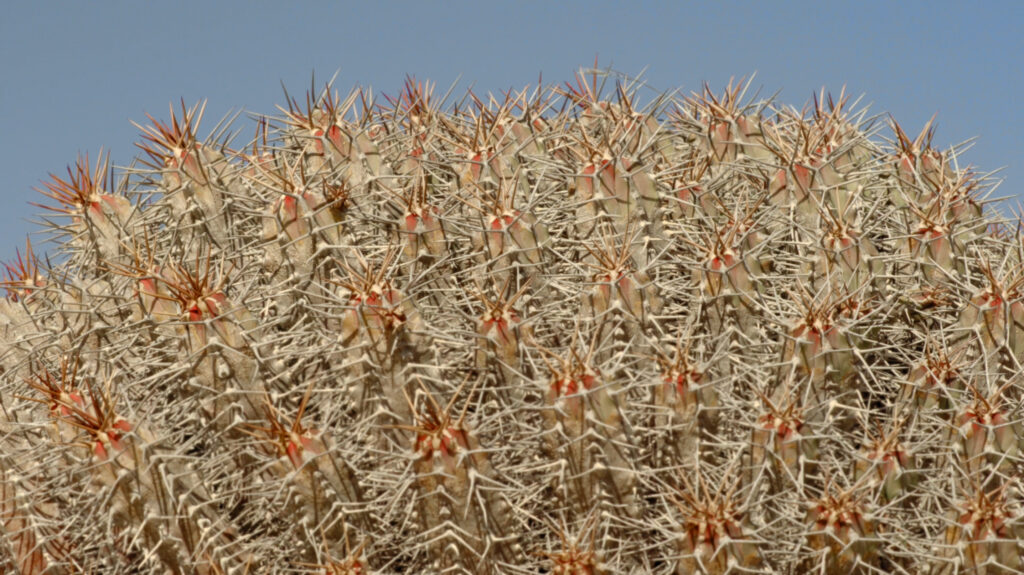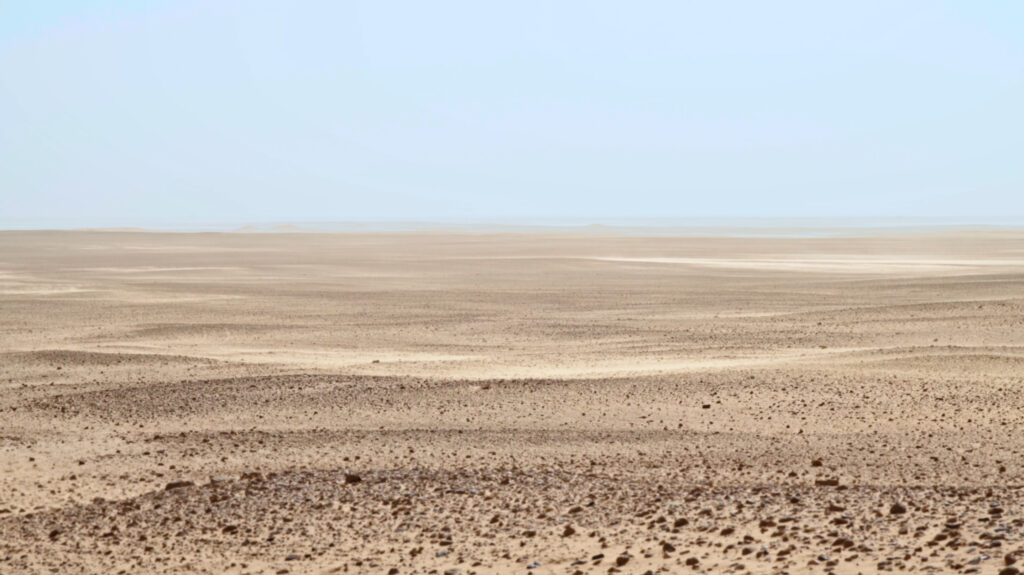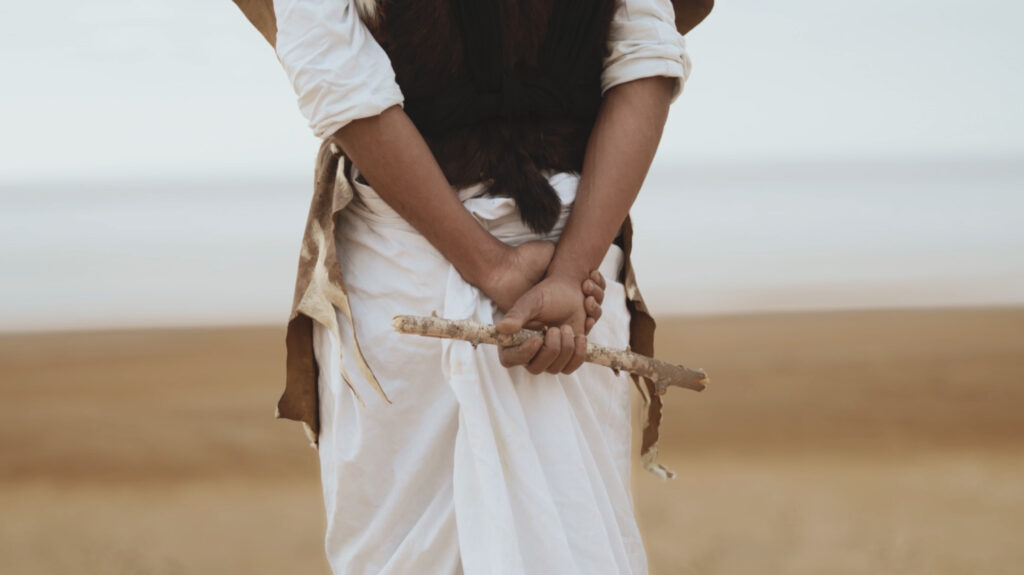 Galb'Echaouf
Galb'Echaouf
Galb'Echaouf delves into the idea of amnesia as the result of an extreme and destructive political context which generated shame and guilt. Conflicts put an end to freedom of movement, and most importantly, to the transmission of types of knowledge passed down over centuries. It is fuelled by the statements and silences of the inhabitants of the region, but also by non-human knowledge present in plants and landscapes.
Programmer's Note

How does one tell a story of displacement? The people present in Galb'Echaouf seem unable to talk about the trauma of the past. Perhaps, because there is nothing left that could possibly be said. Instead, Abdessamad El Montassir looks to the landscape for testimony, a landscape which has borne witness. The natural environment becomes a witness to warfare, holding knowledge that is too painful to be remembered by the land's human inhabitants. A woman who grew up in the desert tells El Montassir, "we cannot speak of all we have lived through there. Go and ask the ruins, the desert, its thorny plants, they saw and lived through everything and remained there."

Galb'Echaouf unfolds in the Western Sahara, a 266.000 km square territory yet to obtain legal status. From 1975 to 1991, the Western Sahara was the theatre of a long war between Morocco and the Polisario front which inflicted deep and lasting wounds on the Sahrawi civil society. Nomadic populations had to settle in urban areas to escape the conflicts taking place in the Sahara. To see the Western Sahara from the perspective of someone who was born there is rare. El Montassir's narration is poetry, detailing the loss of inter-generational knowledge in conflict. In this way, it also examines the complexity of amnesia, as the result of an extreme and destructive political context. —Myriam Mouflih
Director Biography

Abdessamad El Montassir (1989, Morocco) lives and works between Boujdour and Marseille. His research-based practice is anchored in a trilogy of concepts: the right to forget, visceral narratives, and the trauma of anticipation. In his body of work, El Montassir sets reflexive processes that invite us to rethink history through collective or fictional narratives and immaterial archives. He has participated in several national and international exhibitions, including Invisible curated by Alya Sebti for the 13th Biennale of Contemporary African Art of Dakar and for ifa-Galerie in Berlin, De liens et d'exils at La Villa Empain – Fondation Boghossian in Brussels, Al Amakine in the context of 11ème Rencontres de Bamako, Saout Africa(s) in the context of the documenta 14 at SAVVY Contemporary in Berlin, among others. El Montassir also participated in various artist residencies such as the Art, Science and Society program at IMéRA in Marseille, La Cité Internationale des Arts in Paris, the summer's lab at Le Cube – independent art room in Rabat and the Résidence Méditerrannée at La Friche La Belle de Mai in Marseille.
Director Filmography