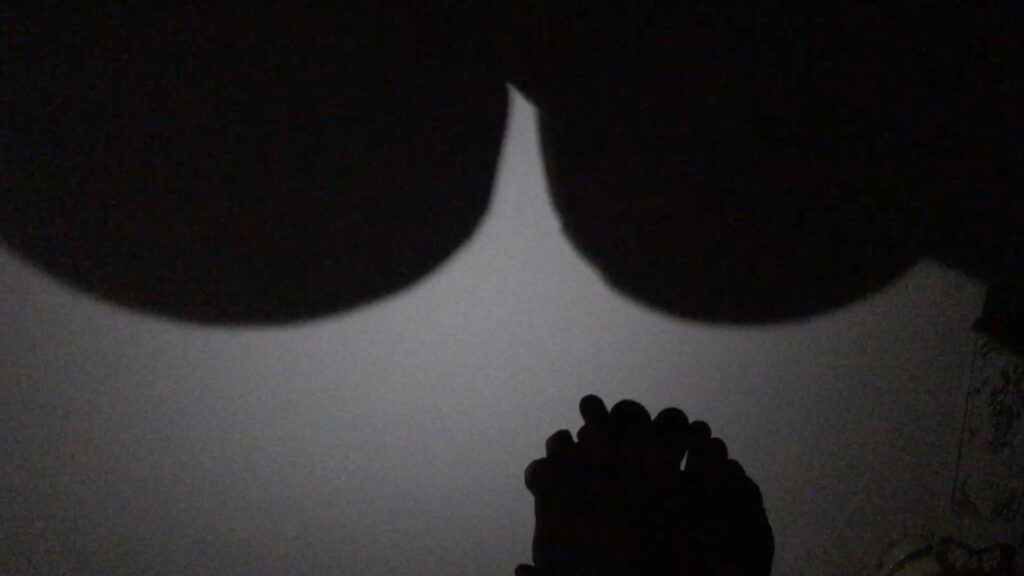 Come Coyote
Come Coyote is the second chapter in the trilogy Strangely Ordinary This Devotion (SOTD) by Dani and Sheilah ReStack. Come Coyote continues their investigation of environment, queer desire, motherhood, reproduction and collaboration. This eight-minute video brings together moments culled from our own life, fabricated scenes and footage from friends, artists and filmmakers. One of the central themes in this chapter is the idea of reproduction and its implications—the reality/fantasy of both the logistics and technology of queer reproduction, as well as the differences in our individual commitment and the energetic differentials this produces. —Dani ReStack & Sheilah ReStack
Come Coyote shows the continuing story of the ReStacks, whose creative and personal partnership has amplified frequencies brought forward from their individual practices into a newly-formed synergetic creative practice. This follows on from the first chapter Strangely Ordinary This Devotion (which screened in BFMAF 2017) in the trilogy of the same title, which we could consider the realisation of an implicit artistic manifesto or perhaps more simply a document of their lives.
Clocking in under eight minutes, the video is full of memorable images and sequences while at the same time not feeling overstuffed. The artists play with the ambiguity between documentary and fabulation, knowing that we might be inclined to receive the video with an assumption of verisimilitude. The heart of the work is a sequence on reproduction, which treats this act often solemn in consideration as a fun and playful act of creative ingenuity within the ReStacks' queer context. Their work as a whole doesn't shy away from irreverence, but rather sees life through moments of humour, joy and pain, emotions that puncture our equilibrium and remind us what it is to feel. In this way, Come Coyote is tender but not sentimental, unafraid of exploring conflict and difference, but mostly free to indulge in the pleasures and sensualities that unexpected meetings, situations and settings can bring. —Herb Shellenberger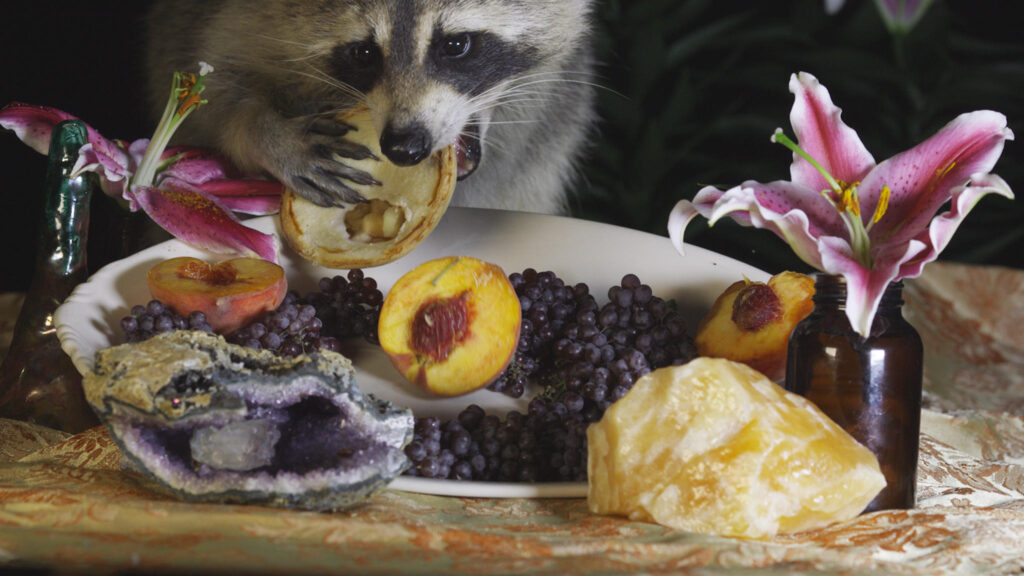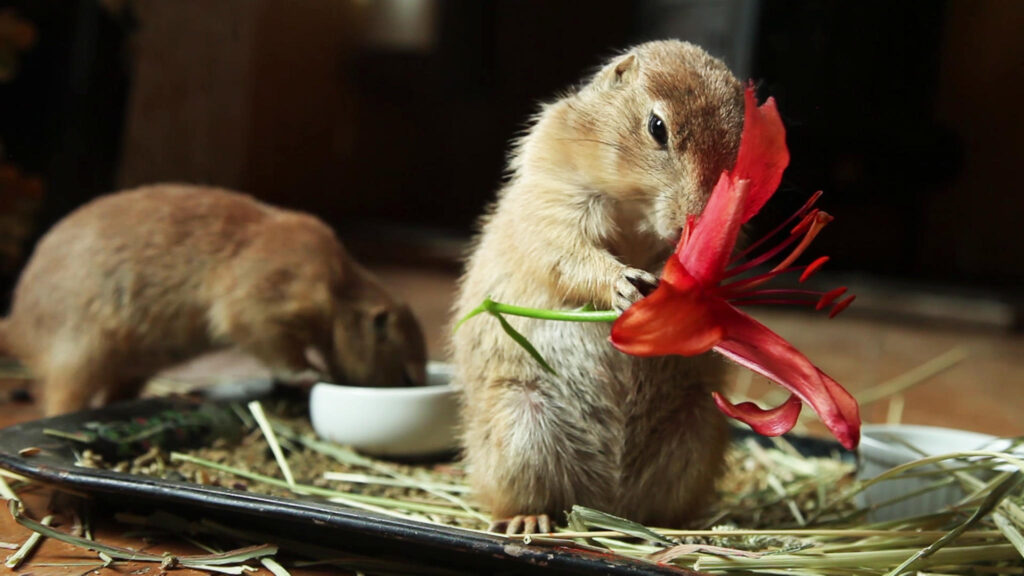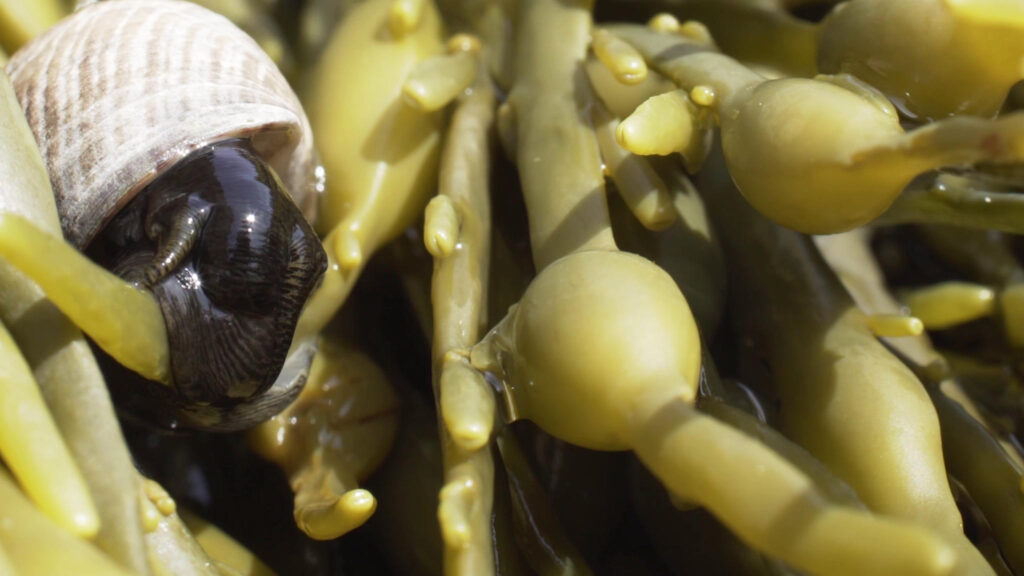 You Were an Amazement on the Day You Were Born
You Were an Amazement on the Day You Were Born is a visually rich film that follows a woman through a life characterized by damage and loss, but in which she finds humor, love and joy. With a score that follows the span of Lenore's life—from her birth in the early 1970s to her death in the 2040s—the film takes us from moments of harrowing loss to those of poignancy and dark humor. Her life is told through voice-over, narrated by performers who range in age from nine to sixty-nine, and is beautifully illustrated with images of animals (including humans), insects and landscapes.
The film features Rebecca Manley who has acted in Clio Barnard's The Selfish Giant, the series This is England 86, 88 and 90, and Channel 4's recent adaptation of Phillip K. Dick's Electric Dreams. —Emily Vey Duke & Cooper Battersby
The new film from Emily Vey Duke & Cooper Battersby has finally reached the end of its life cycle. If we go back and think about its constituent parts, maybe it started as a larva while they were gathering footage of the cats, prairie dogs, dog-dogs, insects and sundry other critters that we find in their work. The pupa stage is perhaps when they developed Le fabuleux destin d'Lenore, the elusive character at the center of the narrative whose life is related through snippets and vignettes. Finally, its full blossoming into adulthood occurred after repeated massaging, prickling and smoothing of these different stories, threads, images and sounds all into a congealed whole. —Herb Shellenberger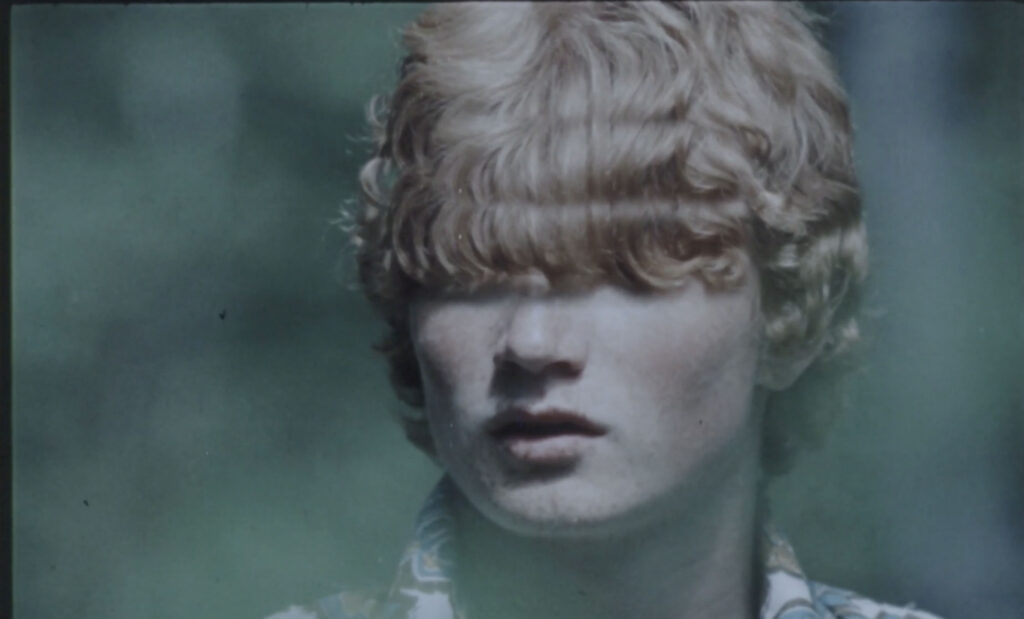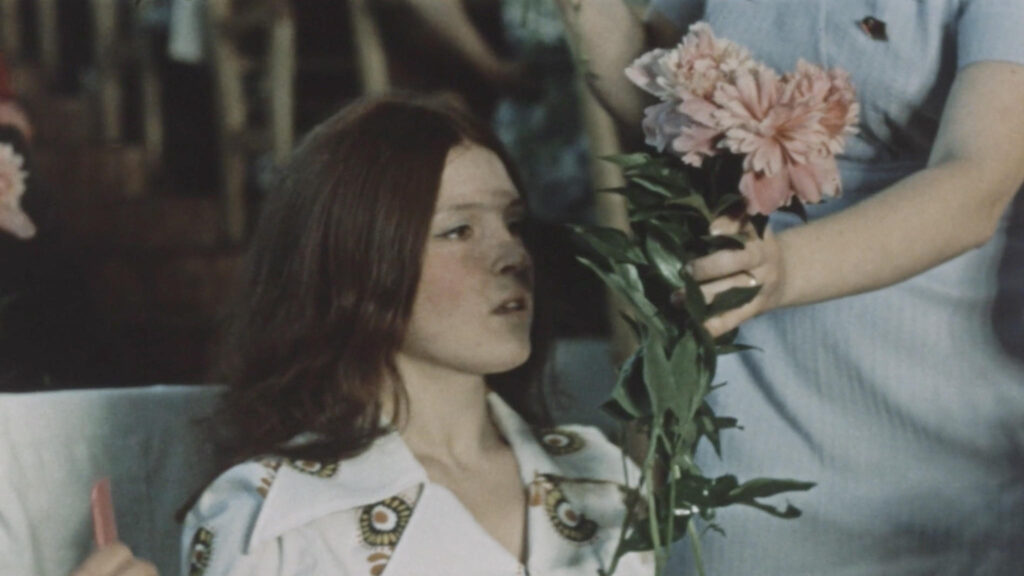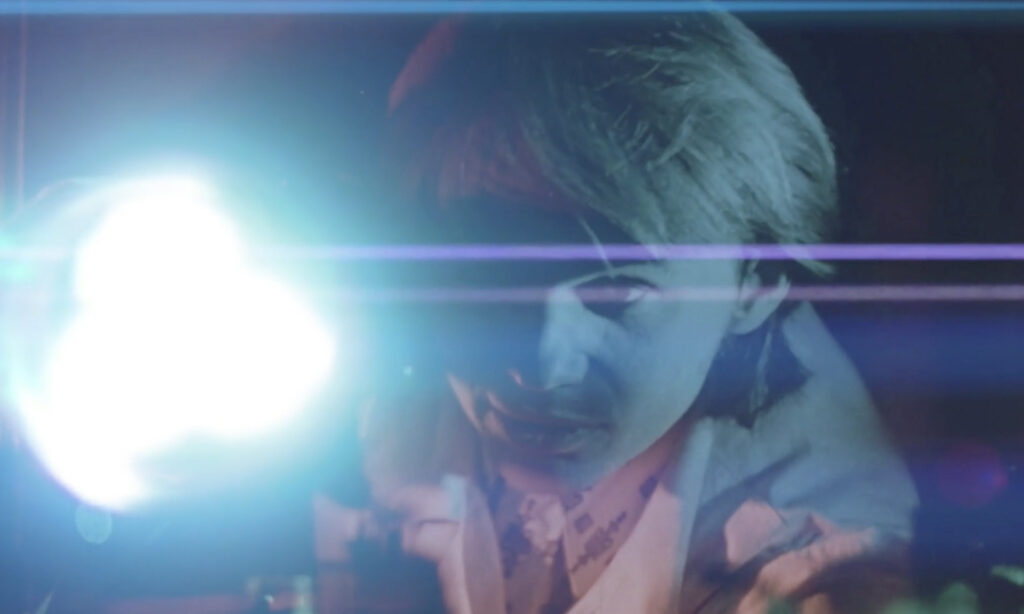 horizōn
'The moment we think of the world as disenchanted… we set limits to the ways the past can be narrated.' —Dipesh Chakrabarty
horizōn is a short work produced by Siberian-born filmmakers Anya Tsyrlina & Sid Iandovka, friends and collaborators over many years. While they are now based in Switzerland and the United States respectively, their most recent work investigates the unseen and perhaps imperceptible aspects of culture and life in the late Soviet period through moving images made during that time. As such, horizōn is a work of archival collage and repurposement, the filmmakers poring over its celluloid images with myriad digital technologies to produce something not from the past, nor from the future, but out of time completely.
The project was born out of frustration with archival access to images from this context, especially when it is impossible to answer the question of what one is looking for. The only workable solution was to pay a man who digitises a random collection of old film reels he found in the garbage, choosing one at random and forwarding the scan. The surprising images that we see all come from this short reel. There's the construction of what might be a rocketship, or an undersea vessel. Or are they building the world's largest film projector? Young women sit in an auditorium. A young man contemplates a caterpillar, the rungs of its body rhyming visually with his inexplicably wavy hair. Crumbling volumes of text are falling in on themselves in a shabby archive, perhaps suggesting that the knowledge accumulated cannot be properly utilised within the current systemic means.
These images are shuffled around, recombined, stretched out and continually visited by a ghostly light with which the people seemingly interact. horizōn certainly works at a level beneath language, its frisson a result of image, sound and light combining to form a compact treatise on the strangeness and beauty of this cultural context. It also provided a process through which their next work phenomenon was completed, though instead of found footage here the filmmakers cut their own archival video footage towards similar ends. —Herb Shellenberger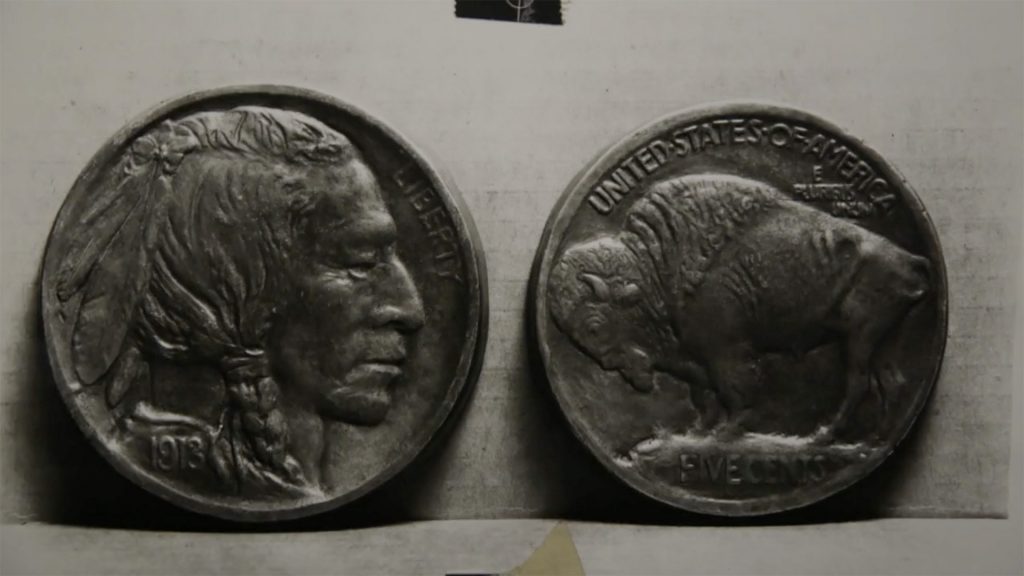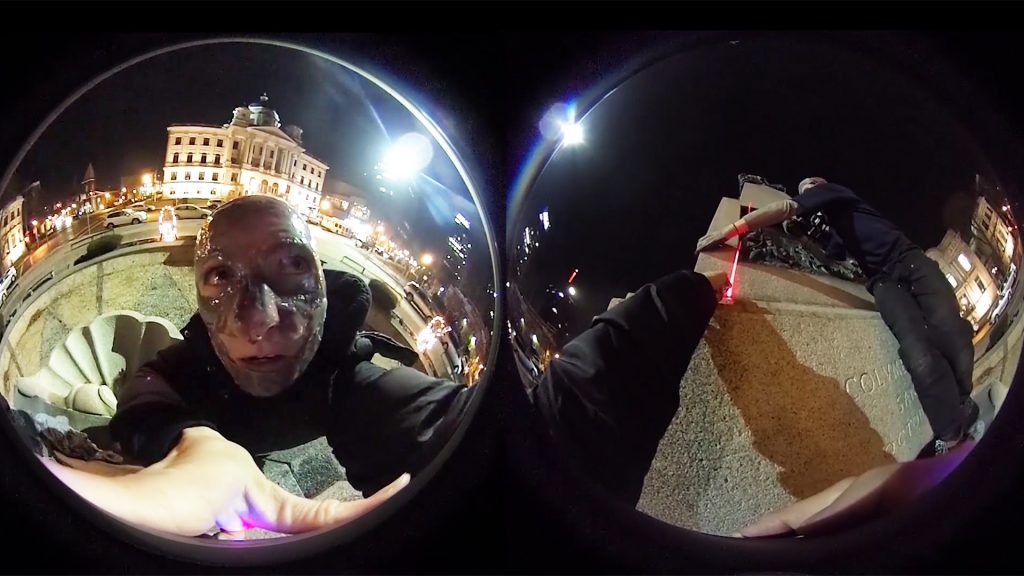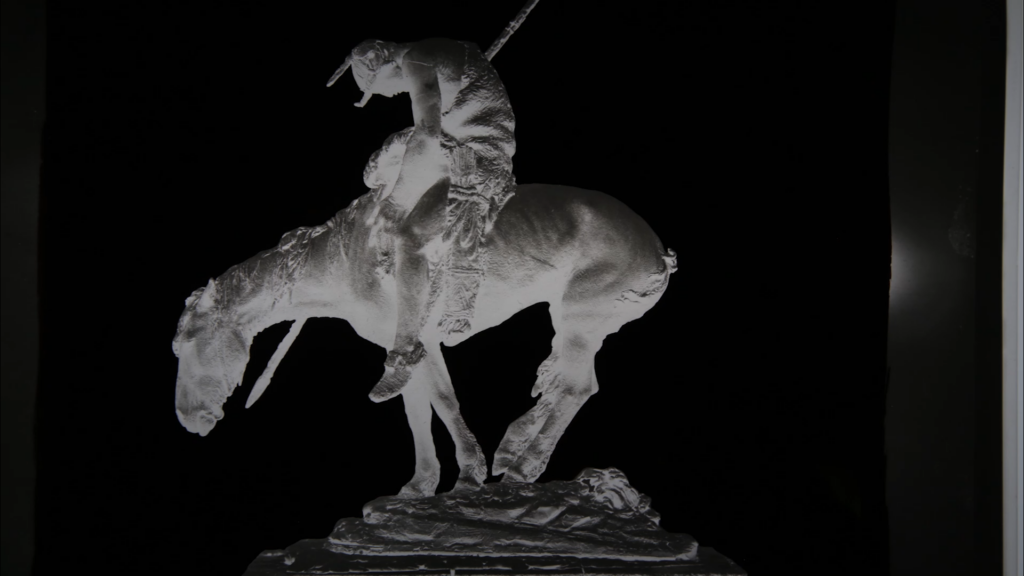 Culture Capture: Terminal Adddition
Half tongue-in-cheek absurdism and half deadly earnest, Culture Capture: Terminal Adddition continues the New Red Order's ongoing project of 'culture capture', recruiting viewers to participate in a program of practical strategies to counter the 'salvage mindset' which sets aside Indigenous culture and sovereignty by consigning it to the past.
These strategies include using new, accessible technologies, such as smartphone apps that produce 3D scans of objects, both of Indigenous material that museums and other institutions may hold and public monuments that celebrate and re-affirm the norms of European settler culture.
The title of the work—Terminal Adddition—highlights the difference between addition and removal. The concept of 'removal' is central to current debates about whether to remove problematic historical monuments, for example, Confederate war monuments in the South. It was also in the name of the Indian Removal Act, signed into law by President Jackson, which resulted in the displacement and death of thousands of Native peoples in what we now call the 'Trail of Tears'. Both present removal as a quick fix. With Culture Capture: Terminal Adddition, the NRO recognizes that acts of removal inevitably contain contradictions, and proposes an additive approach instead. —The New Red Order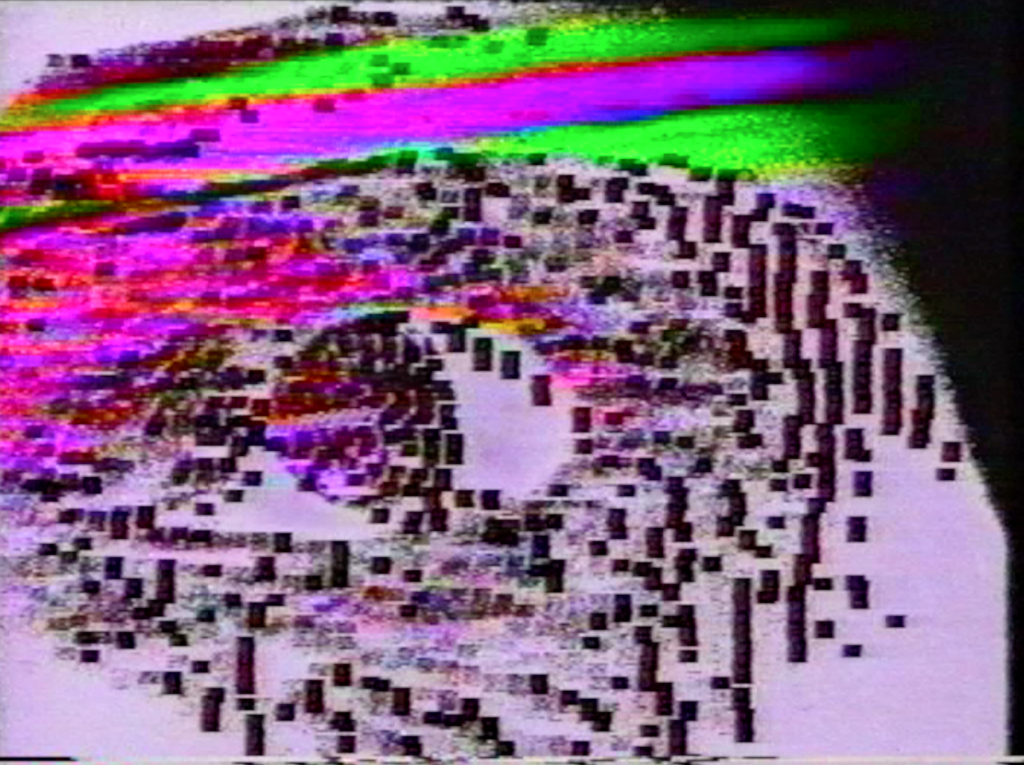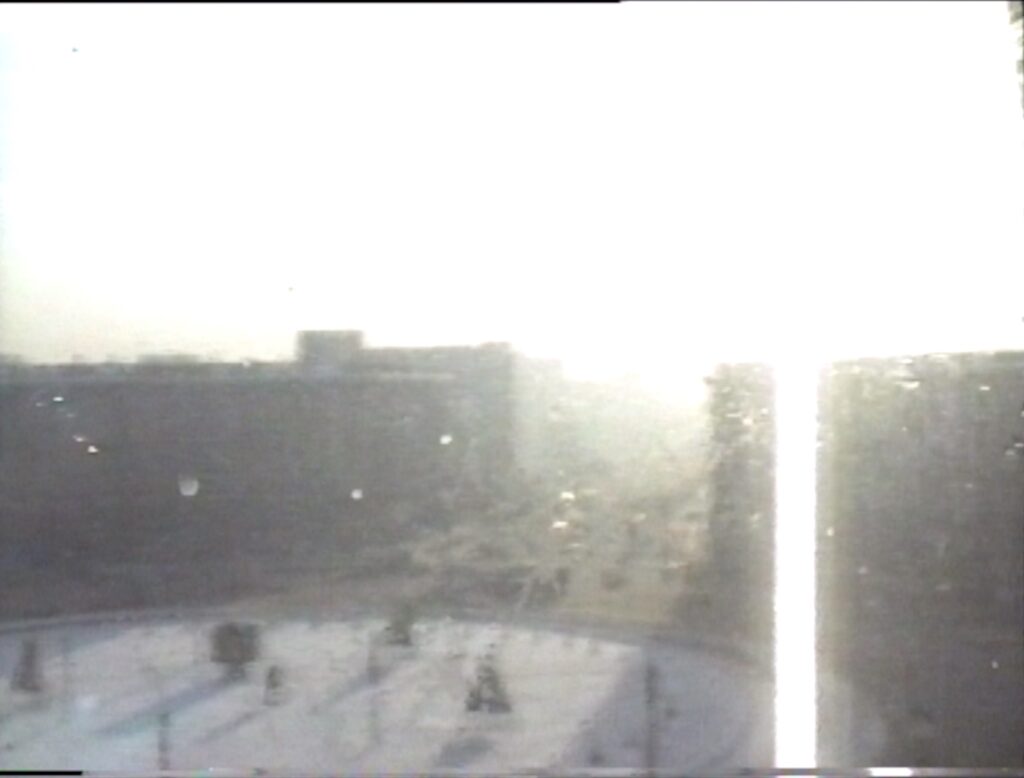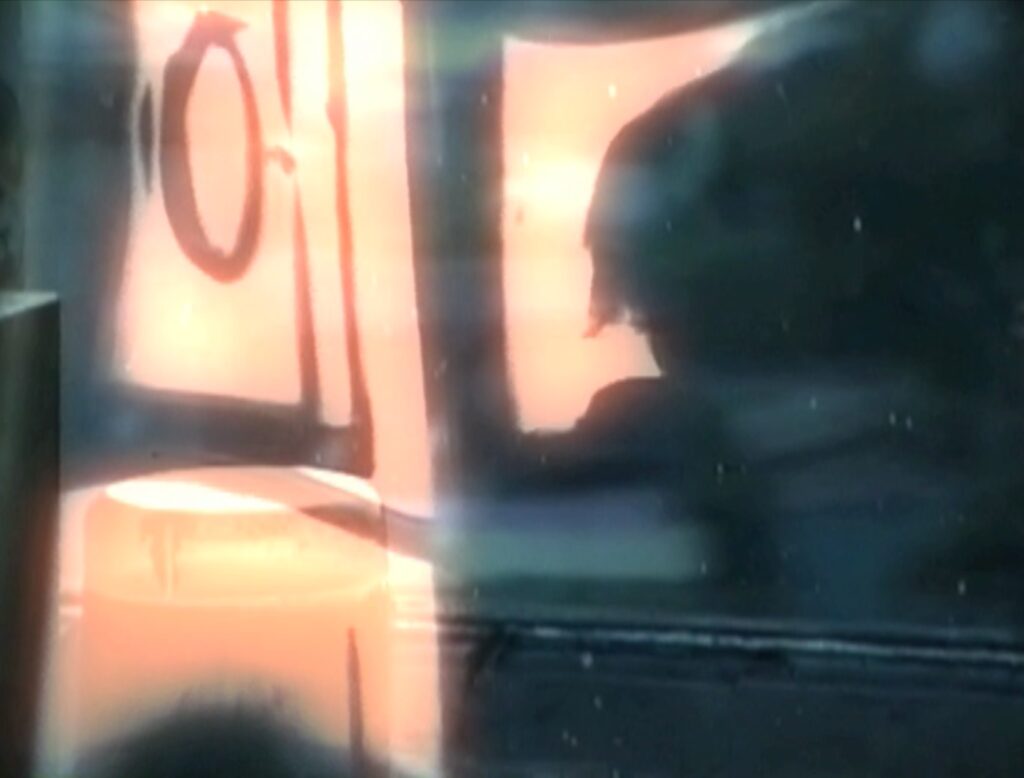 phenomenon
phenomenon is made from surviving early 1990s Hi8 videotape of 'schwimmen', a teenage industrial/noise band from the (then-Soviet) city of Novosibirsk. Comprised of footage shot from and within the seventh-floor apartment where they lived and worked communally, the video radiates a sense of cinematic immediacy, capturing the lost world of immanence of being. It ultimately taps into the vital, uncertain energy of the ephemeral 'paranormal' space—both historical and metaphorical—where the only metaphor is optical. The camera pans along frozen squares and zooms into details of the immediate surroundings, innocently reinventing tropes from video-art of the preceding two decades, in which 'what happens' is not an event but an experience. —Anya Tsyrlina & Sid Iandovka
phenomenon attends to the possibility of rendering sensible the psycho-somatic manifestations of a historical moment alongside its material support. The film indirectly maps the conditions pertaining to the imminent collapse of the Soviet Union and the infra-perceptible atmospheres surrounding it. It represents a coming into being of a specific time and place, as well as a conjuring of the ambiental tonalities of an obsolete material reality: the hi8 analog video format and the material conditions of socialism. Departing from the conception of the archival as disembodied, phenomenon resurrects the energetic fields embedded into its footage, animating the electrostatic vibrations immanent to the archival record, its residual excess of meaning as well as its resistant opacity. — Letitia Calin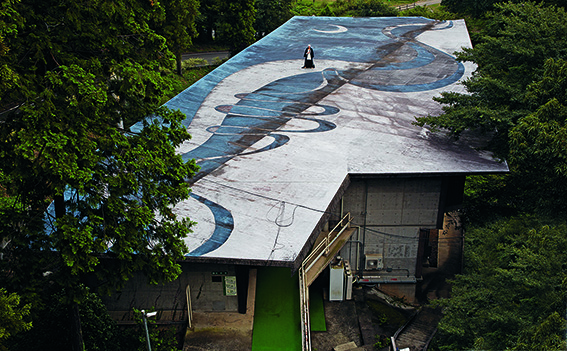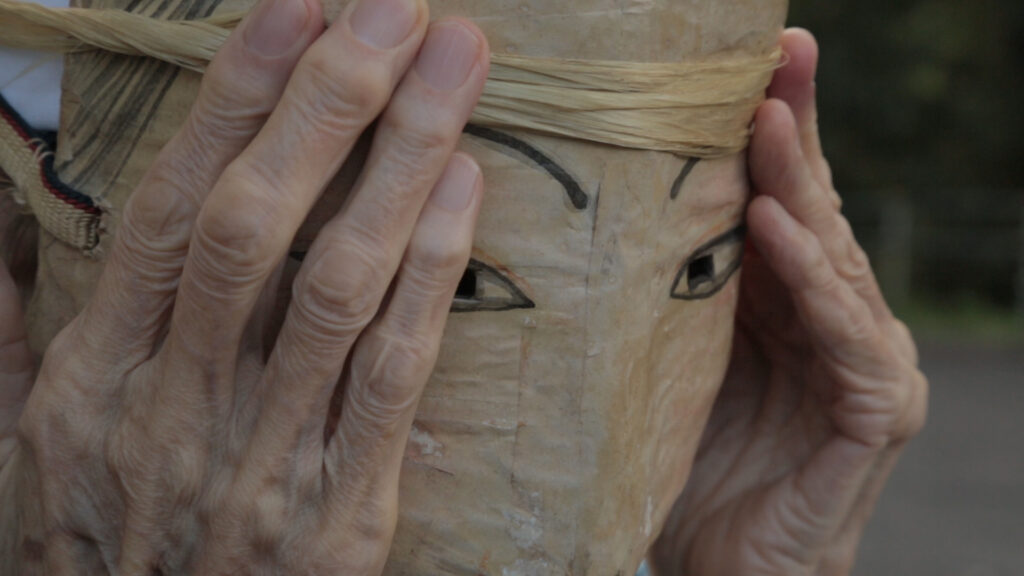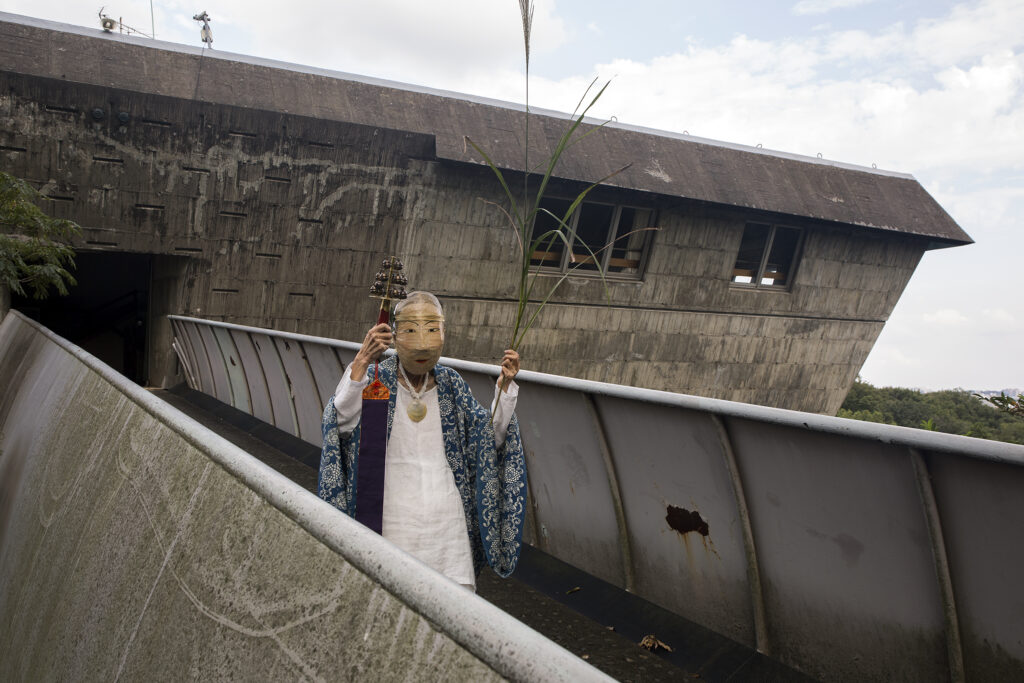 the time is now.
the time is now. is one of two films by Holzfeind about the Japanese shamanic improvisation duo IRO. The couple Shizuko and Toshio Orimo have worked together since 1981. Their music, their activism in the peace and anti-nuclear movement, and their free-spirited way of life reflect an animist and pantheistic worldview that rejects commercialism in all its forms.
The film shows performances of the duo in various locations in the Inter-University Seminar House in Hachioji, Tokyo. The unique modernist complex—whose main building has the shape of a pyramid turned upside down—was designed in 1964 by the Japanese architect and thinker Takamasa Yosizaka (1917–80). Yosizaka's ideas about the relationship between humans, nature and architecture, individuality and community, sustainability and peace, as well as his critique of Western civilization in many respects concur with the musicians' worldview. Holzfeind stages Yosizaka's extraordinary architecture as a set for IRO's performances, which combine improvisation on Noh and stone flutes, fan drum and kagura bells with their unique punk kagura version of ancient Shinto rituals, indigenous ceremonies and Korean mask theater.
In steady takes and rhythmic cuts, Holzfeind's film plays with the contrasts and interactions between the brutalist architecture, the surrounding nature, and the musicians' performance and instruments. Like the recurring motif of the eye, Holzfeind's colour filters and tinted shots refer to the film Phantom by Japanese experimental filmmaker Toshio Matsumoto (1932–2017). The soundtrack interweaves the instrumental sounds with Shizuko's chants and the sounds of nature and civilization. At times, it feels like the cicadas and crickets are in dialogue with IRO's instruments. —Heidrun Holzfeind