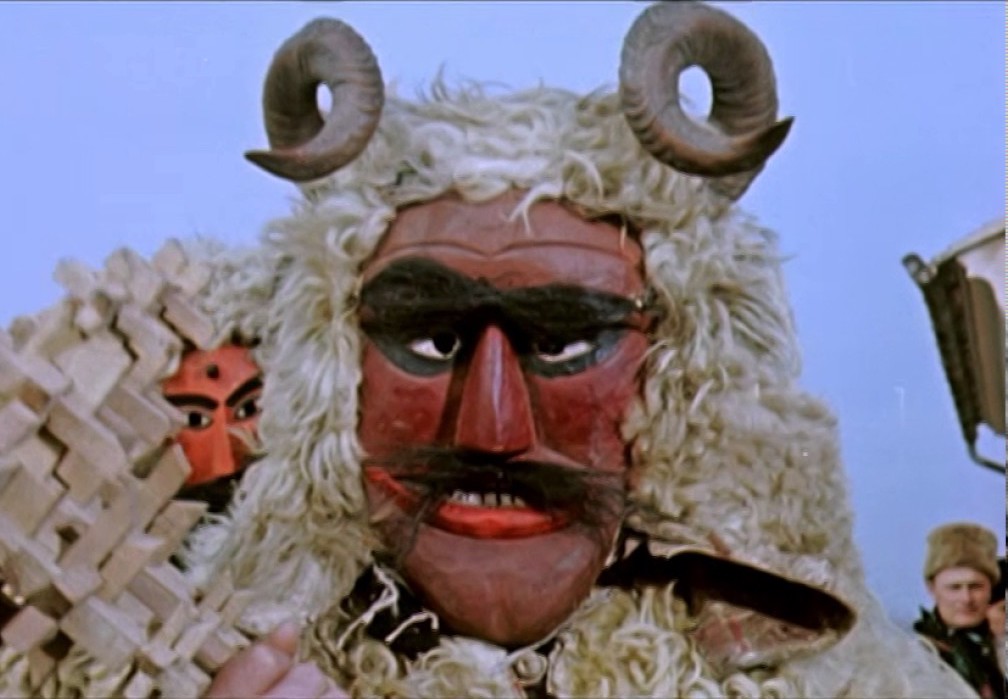 Busójáráskor
Busójáráskor is an ethnographic documentary on the celebration of Busójárás, a six-day festival in the southern town of Mohács, Hungary held each February to mark the end of Carnival season and the death of winter. Busójárás is a tradition of the Šokci people, a South Slavic ethnic group spanning parts of Croatia, Serbia and Hungary who self-identify as Croats. The celebration's mythology looks back to the 16th and 17th centuries, when the region was under Ottoman rule. The legend states that the Šokci left the town to avoid Turkish troops, living instead in the swamps and forest. One night, an old man suddenly appeared, telling them to carve scary masks and weapons, and that a knight would arrive to tell them when it was time to storm the troops. Wearing animal pelts and carved wooden masks, armed with pikes and spears, and carrying noise-makers, the Šokci stormed the Turks who ran away in fear.
Programmer's Note

The film shows what a traditional Busójárás celebration might look like, though it would be misleading to consider it a simple documentary. Though there is no dialogue, staged scenes are developed in a linear fashion, with the hazy outline of a love story threaded throughout the tapestry of a narrative. While the film's ethnographic and educational function is clearly fulfilled, the filmmakers' consistently breathtaking cinematography, the mixture of traditional Slavic outfits and fantastical monster costumes, and the interplay between humans and seemingly non-human monsters inject a sense of awe and wonder into what could have been quite standard documentary fare. —Herb Shellenberger.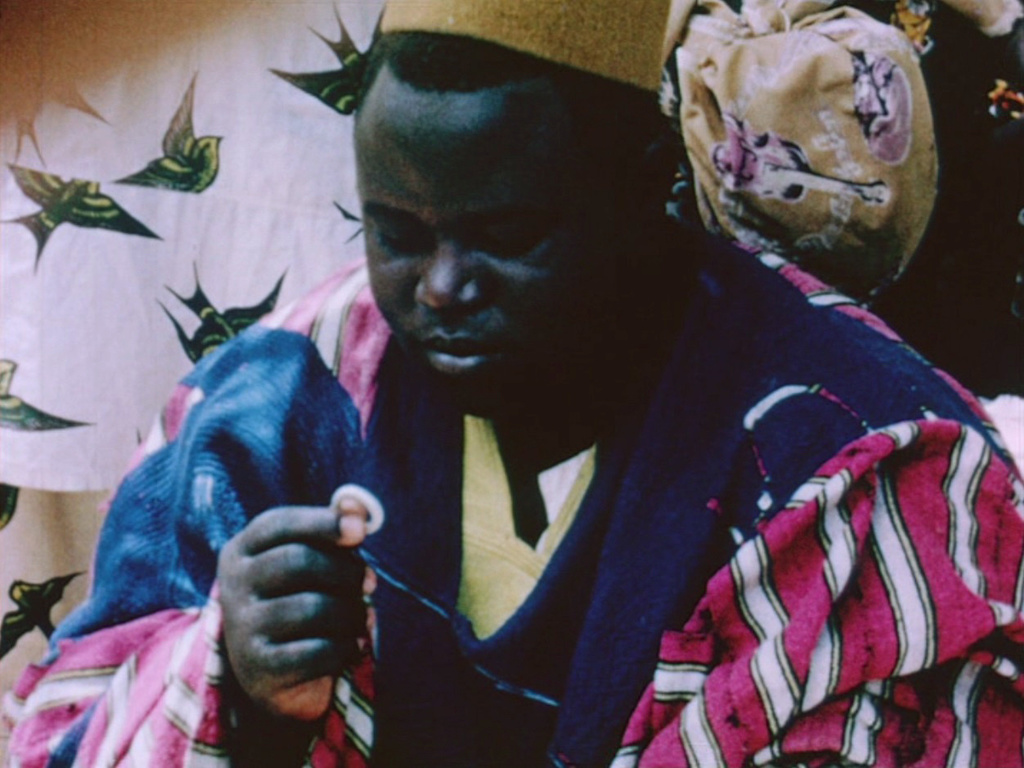 The Ring of King Koda
La bague du roi Koda
Moustapha Alassane—a pioneering African filmmaker born in Benin and living in Niger for most of his life—came to cinema with an already-developed flair for storytelling. According to writer Nwachukwu Frank Ukadike, "His extreme talent for drawing and his quest for invention prompted him, before he even knew what cinema was, to organize a one-man exhibition in which he projected his color drawings for his audience by using transparent cellophane wrappers from cigarette packets."
With the support of the Institut Français
Programmer's Note

The Ring of King Koda, his second film, adapts a folk legend of the Zarma people, predominantly found in Niger. The cruel King Koda, also known as Koda 'Black Heart', decides to test the loyalty a poor village fisherman, the so-called Loi de Dieu (Law of God). He gives Law of God his gold ring, saying that he must keep it for three years. If he keeps the ring, King Koda will cede his kingdom to him; if loses it, he will be killed. The conniving king summons Law of God's wife Mina, who he tells to steal the ring and return it to him. Though she betrays her husband, Law of God again finds the ring through a twist of fate, moments before he is summoned by the king.

The film's action is related entirely through voiceover narration by Alassane himself, and Nikolaus Perneczky describes it as "among the earliest attempts to extend oral storytelling traditions practiced among tribal communities… to the medium of film". Though Alassane's work took many forms—including diverse forms of narrative, documentary and animation—The Ring of King Koda is an exemplary case of illustrating a folk legend while at the same time keeping the function of the storyteller intact. —Herb Shellenberger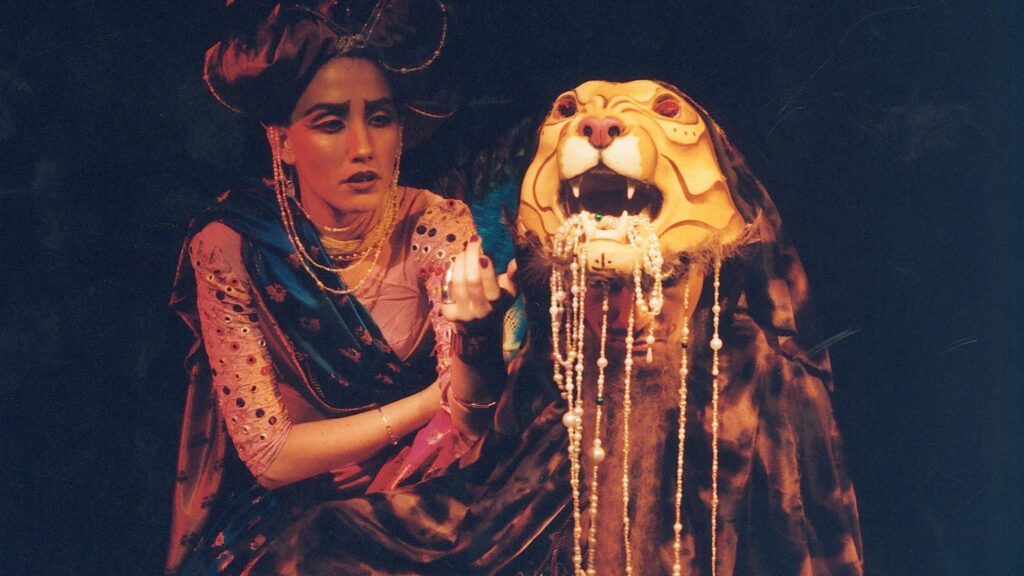 Impressions from Rustaveli
Impressions from Rustaveli is inspired by the 12th century Georgian poet Shota Rustaveli, whose epic poem The Knight in Panther's Skin is considered a masterpiece of Georgia's national literature. The poem is dedicated to King Tamara, the first female ruler of the Kingdom of Georgia at the height of its power in the Middle Ages, and is a chivalric romance which nonetheless emphatically affirms equality between women and men.
Programmer's Note

Georgian artist Nana Tchitchoua's film reinvigorates Rustaveli's writings, infusing them in a film collage with painting, drawing, costume and the performative cinematic language of filmmakers like Sergei Parajanov and Jack Smith. Actors in both traditional and ornamental costume gesture to the camera, frontally posed and holding objects, or otherwise interacting with each other while frame separations, solarisations and other analogue film techniques produce blurry, overlapping, impressionistic images. The filmmaker describes the work as a "glorification of love, beauty, friendship and nobility. It portrays the heroes and heroines whose radiant loveliness is represented in terms of bright celestial light". A ghastly quality of image emerges, with actors' bodies haloed with bright light.

What emerges in Tchitchoua's exotic, Byzantine images is an encounter between Western and Eastern cultures. Impressions from Rustaveli is more than a simple adaptation of a folk legend, the film expresses through image, sound, erotics and emotion what can't quite be represented by words or painting. The language of the film is light in all its beauty and complication. —Herb Shellenberger