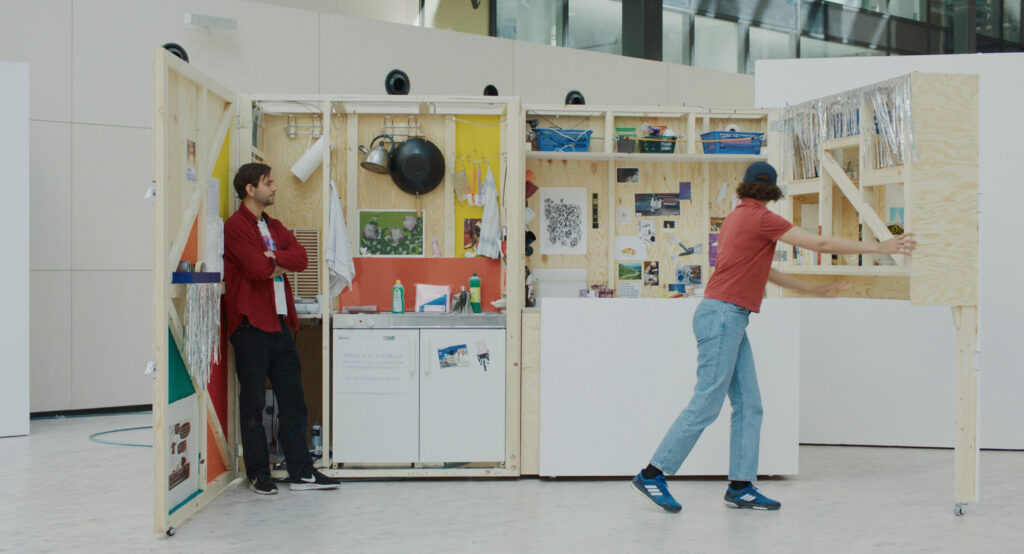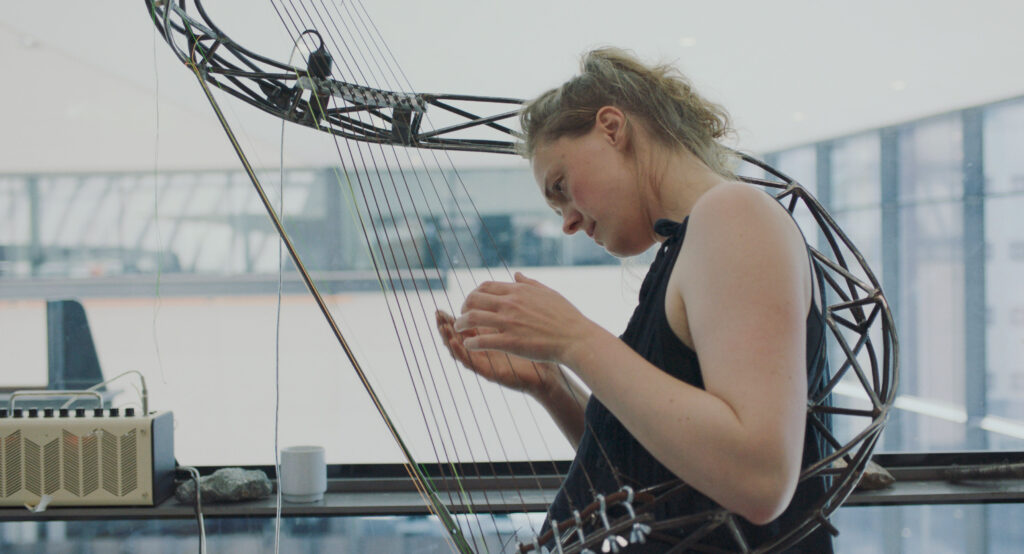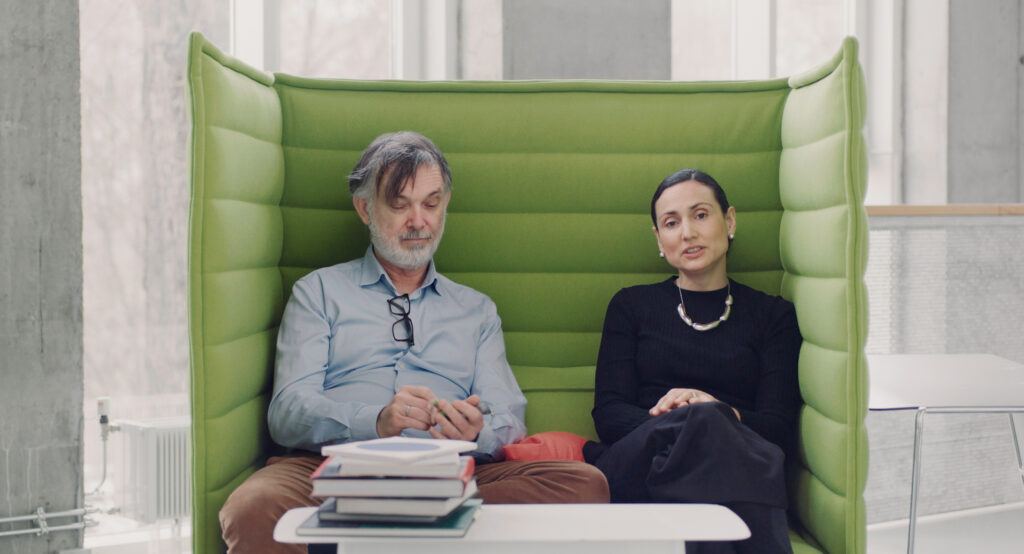 Manifesto establishes a multifaceted portrait of an arts academy which has been recently subsumed into a large national university. Through frank and revealing discussions with students, teachers, administrators and other staff, Ane Hjort Guttu establishes links between seemingly disparate topics—from architecture and surveillance to neoliberalism and dysfunctionality—embedded within the framework of contemporary academia.
Programmer's Note

The main engine propelling the film is the art academy's new building, promised to students as purpose-built but clearly designed without functionality truly in mind. When faced with obstacles (doors won't stay open without huge bricks), annoyances (their new building is constructed without communal kitchen space) or things even more nefarious (their movements can be tracked through their electronic key cards), the community of students and staff decide to self-organise by creating their own policies, courses and ways of existing within the hostile architectural environment. And so, in secret, they build a mobile kitchen unit hidden within movable exhibition walls, invite the public to participate in low-key workshops, and vote the building's cleaner as the art school's rector.

Manifesto brilliantly details the systemic dysfunction that accompanies work or study within educational environments in which administrative policies outrank educational imperatives. An inevitable pang of recognition will arise in any viewer who has studied at, taught in, worked for or otherwise interacted with any higher education institution over the last two decades. One interviewee concludes, "the only possible relationship to academia today is a criminal one."

Beyond elucidating the often intangible failures and dissatisfaction in contemporary university arts education, Guttu's most remarkable contribution with Manifesto is yet another deft construction that comments on reality through character design, scripted dialogue and worldbuilding. Even shrewd viewers could be excused for mistaking the film as a documentary, as its factual content is so persuasive and compelling. The film arises yet again from Guttu's research-based practice which includes field studies, workshops and casting actors in roles that mirror their actual professions and sensibilities. —Herb Shellenberger
Director Biography

Ane Hjort Guttu (1971, Norway) is an artist, writer and curator based in Oslo. In 2013, she obtained a PhD in Artistic Research from the Oslo National Academy of the Arts, where she has worked as a professor since 2016. Through video works, picture collections, sculpture and photography her recent work has focused on the issues of power and freedom in the Scandinavian post-welfare state. Hjort Guttu also writes analytical as well as poetical texts, and several of her projects discuss art and architectural history.

Daisuke Kosugi and Ane Hjort Guttu's film The Lost Dreams of Naoki Hayakawa screened at BFMAF 2017.
Director Filmography

Manifesto (2020), Pratiquer le Poésie (2019), Furniture isn't Just Furniture (Møbler er ikke bare møbler, 2017), The Lost Dreams of Naoki Hayakawa (2016), Time Passes (Tiden går, 2015), This Place is Every Place (Dette er alle steder, 2014), (The City at Night), (Uten tittel (Byen om natta)), 2013), Four Studies of Oslo and New York (Fire studier av Oslo og New York, 2012), Freedom Requires Free People (Frihet forutseMer at noen er fri, 2011), The Paper is the Line's World (Arket er strekens verden, 2009), How To Become A Non-Artist (2007)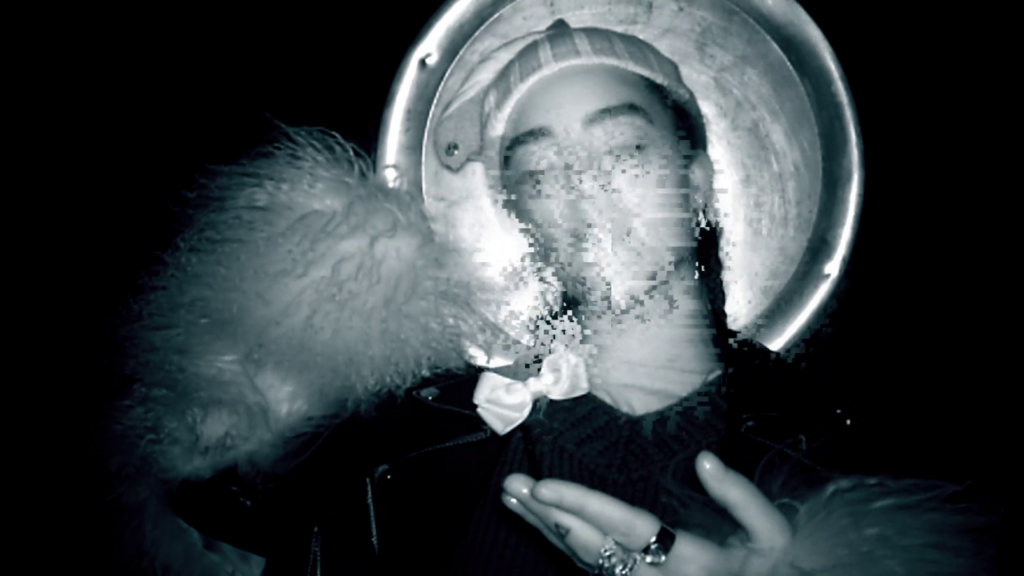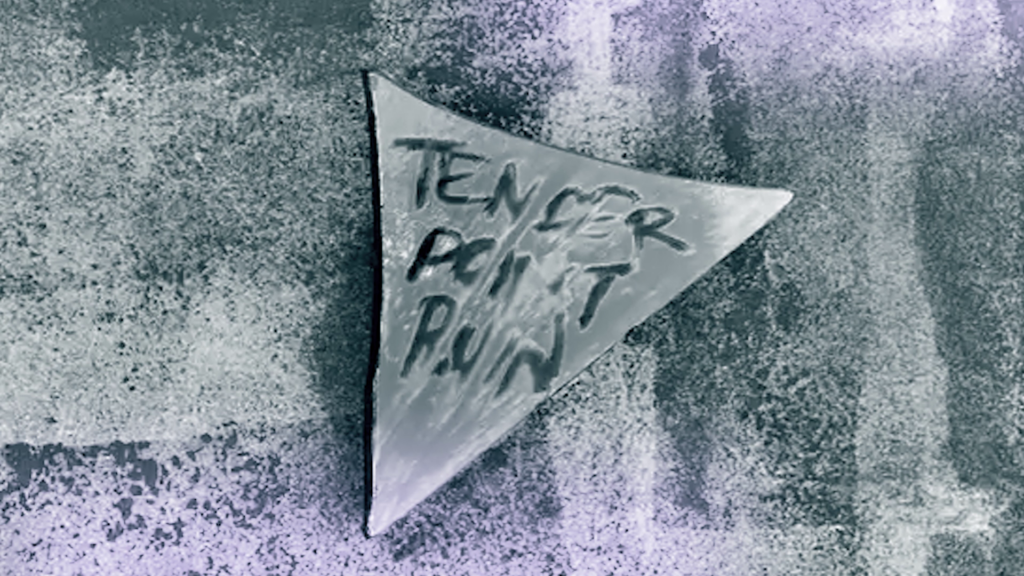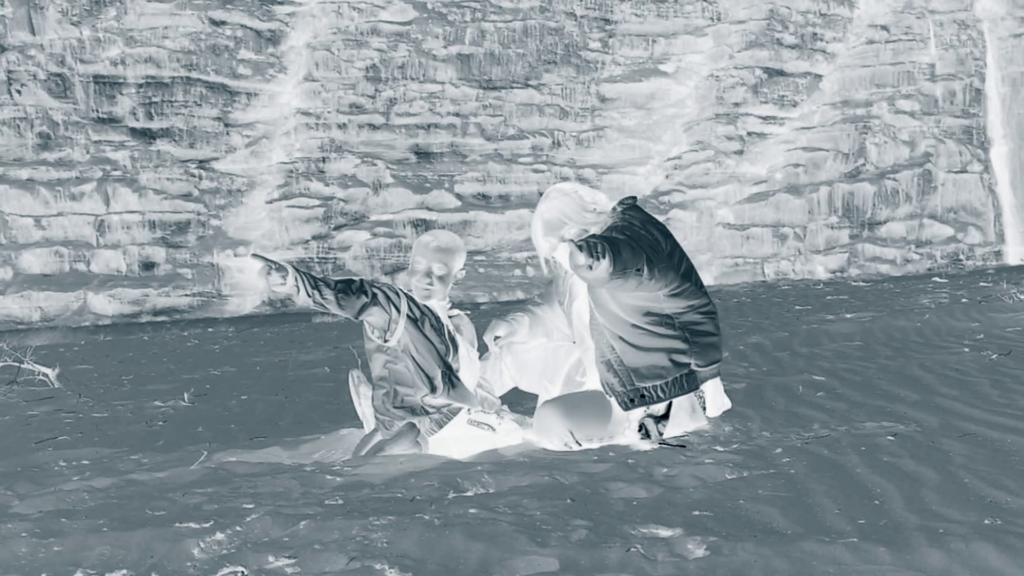 Tender Point Ruin
Programmer's Note

How do we make and remake ourselves? The body of Tender Point Ruin unravels through a series of aural and textual encounters. Beginning with the rogue test (a behavioural experiment using mirrors and make up from the 70s, which mapped how self recognition develops in young children) and ending with a conversation with her frequent collaborator drag performance artist Sin Wai Kin.

In many ways, the film is a companion piece to her recent video work Beast Type Song, in which she began to explore her profound loss of faith in the written form. In Tender Point Ruin, Al-Maria returns to many of the same references and texts. An essay written to reject speechlessness by Jamaican-American writer Michelle Cliff entitled Caliban's Daughter is this time recited by American artist Kelsey Lu. Etel Adnan, whose epic 1989 poem The Arab Apocalypse, so foundational to Beast Type Song, is here cast in the role of the poet. Her gravelly voice accompanies images of the moon as she tells us of the recurring images of desolate lovers in Arabic poetry, their yearning telling us of the "tender point of a ruin." In between, we see Umm Kulthum, the iconic Egyptian singer's only 1970 performance in Paris, performing Al-Atlal. Describing heartbreak, the song was originally a poem by Ibrahim Nagi and its title translates as 'the ruins'.

In a text exchange in Tender Point Ruin, Al Maria asks "wtf is the point of art?"—gesturing to the inevitability of ruination when in love with something that cannot love you back. But like the poetry that finally shores up her faith in language, the artist's CGI renderings of future landscapes turn technologies of hyper-vigilance into spiritual openings. Cameras and pineal eyes become composite and night vision cameras give way to another world that invites us to enter into the spaces between the ruins, to wander and discover, and to reach for the moon. —Jemma Desai
Director Biography

Sophia Al-Maria (1983) studied comparative literature at the American University in Cairo, and aural and visual cultures at Goldsmiths, University of London. Her work spans many disciplines including drawing, film and screenwriting for TV. Her cinematic videos explore postcolonial identity, imperialism, and counter-histories weaving together music, literature, oral history, film and dance. Her fractured, nonlinear works are often cast against a science fiction backdrop and explore the revision of history, the isolation of individuals through technology, and the corrosive elements of consumerism and industry. Recent solo exhibitions include Julia Stoschek Collection, (Düsseldorf, 2020), Tate Britain, (London, 2019–20) and Whitney Museum of American Art, (New York, 2016). In 2018, she was the Writer-In-Residence at Whitechapel Gallery, London and she has a forthcoming Garage Museum of Contemporary Art, (Moscow, 2021).

Al-Maria was BFMAF's 2018 Artist in Profile and included the world premiere of her film The Magical State as well as a wide-ranging selection of her moving image work.
Director Filmography

Tender Point Ruin (2021), Astral Bodies Electric, Makeup! (2019), Beast Type Song (2019), Not Really in Reality Reality TV (2018), Mirror Cookie (2018), Major Motions (2018), The Magical State (2017), Wayuu Creation Myth (2017), Spiral (Fatima Al Qadiri music video, 2017), Mothership (2017), Black Friday (2016), The Limerant Object (2016), The Future Was Desert Parts I-II (2016), The Litany (2016), Little Sister (2015), Sisters (2015), A Whale is a Whale is a Whale (2014), The Watchers 1–5 (2014), Class A (2014), Your Sister (2014), Evil Eye (2014), Choque (2014), Slaughter (2013), Schrodinger's Girl (2013), Scout (2012)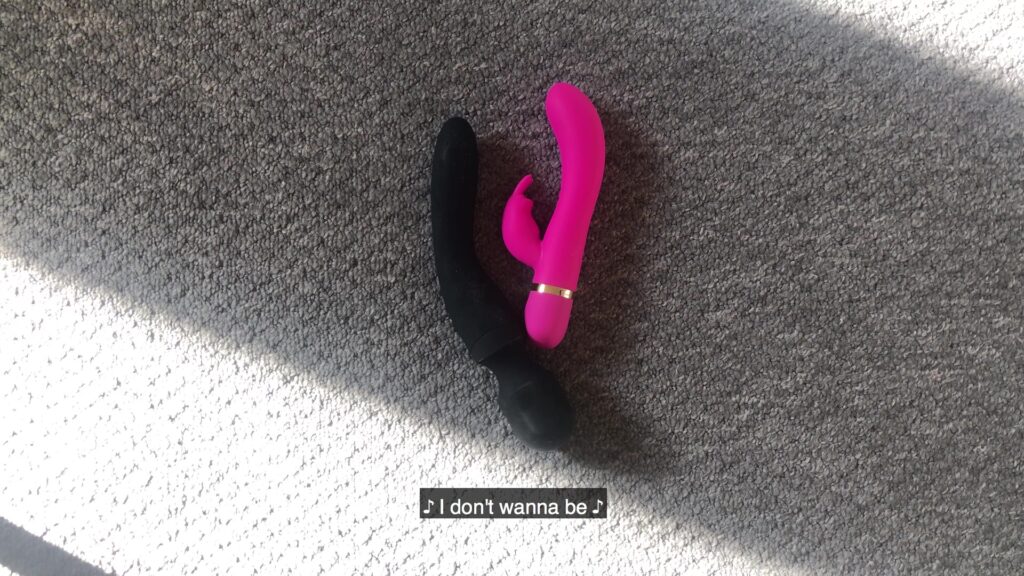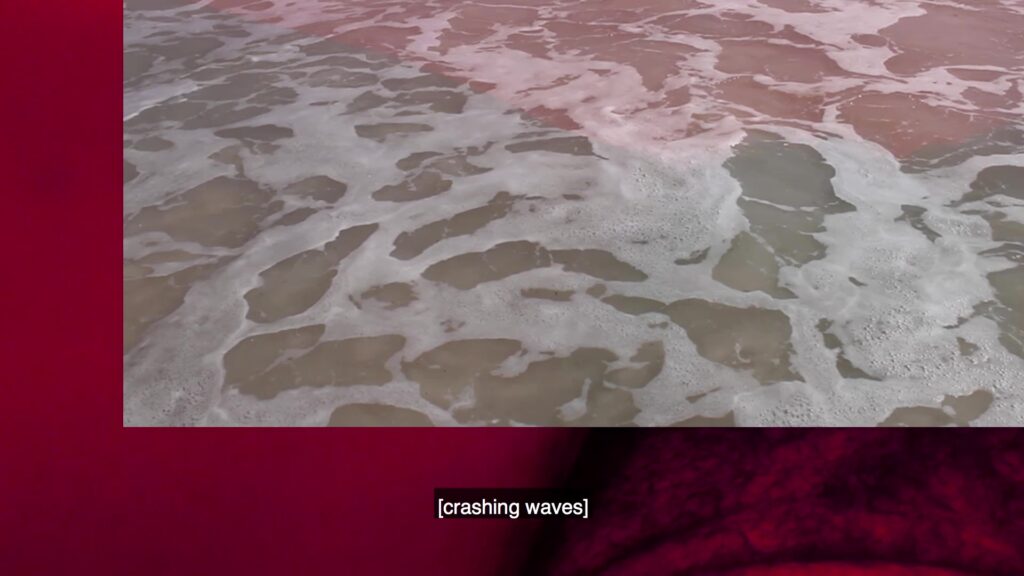 suspiration!
In suspiration!, Taylor brings false promises made by the United Kingdom to the surface with pieces of news footage and a spoken testimony describing racism in the UK. Amongst this bleakness, moments of beauty shine through, indicating the possibility for reassurance and hope.
Programmer's Note

Suspiration, [noun]—a long deep breath or a sigh. The film is a collage of images, bodily gestures and sounds. The structure and the score of the film are comprised of the body's audible release of liquid and air; enmeshed utterances and ir/regularvibrations. Although we do not hear the narrator's voice, their presence is made evident through these reverberations: breath; urine against a toilet bowl; vibrations; the knock of fingernails against teeth; queefs. These noises, combined with electronic beeps, drums and the repetition of a match striking—over and over—create an anxiety inducing score.

Utilising different forms like printed text outlines and the artist's handwriting feel like ways of distinguishing a reference point, a cinematic weaving of different paths of thought. Taylor's practice is one of meticulous research and suspiration! is a continuation of lines of inquiry that they have been pursuing over the last few years, woven together and processed through the body.Excerpts from work by Frantz Fanon, Christina Sharpe Fred Moten and Stefano Harney populate the screening, gesturing towards a lineage of black radical thought. —Myriam Mouflih
Director Biography

Camara Taylor is an artist and programmer who lives and works in Glasgow. Camara's practice flows from photography into text, sound works, workshops, events, publications and a zine library. Recent works include holus-bolus commissioned by Edinburgh Art Festival as part of What happens to desire… (2021); suspiration!, a film organised around queefs and other utterances for The Newbridge Project, Gateshead (2021) and sorry I missed you, an epub of collages for The Second Life, Edwin Morgan Trust & Saltire Society (2020/21). Taylor has undertaken residencies at Market Gallery, Glasgow (2020), The National Theatre of Scotland, Glasgow (2019) and Fresh Milk, St George (2015). Currently they are participating in the Satellites programme at Collective Gallery, Edinburgh and will be part of an upcoming Experimental Film and Moving Image Residency at Cove Park.
Director Filmography

suspiration! (2021), mind how you go (2020), screaming by citation, lol ur so drama (2019), Untitled (HYSTERIA!) (2019), all we can given the climate (2018)