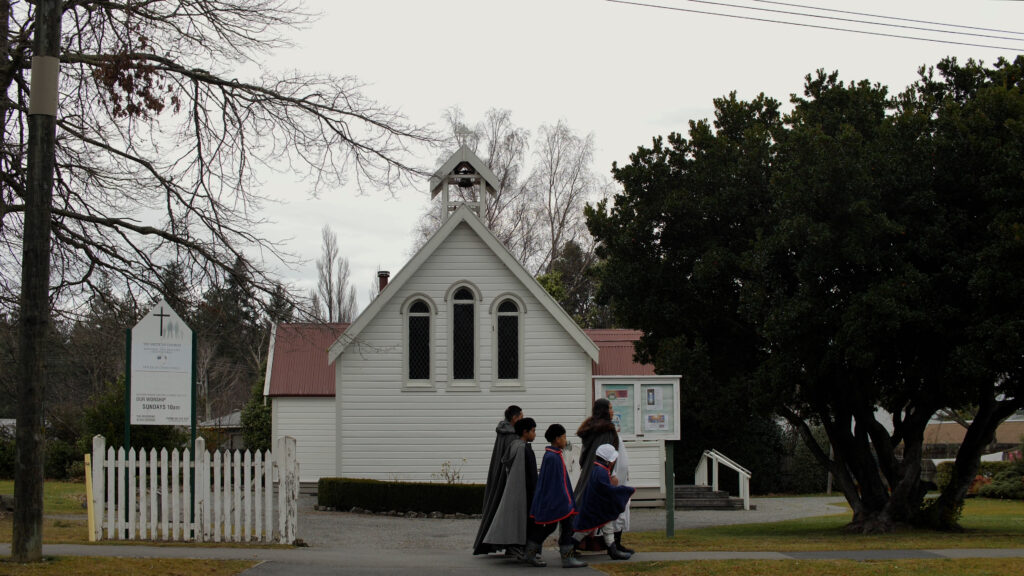 The Pleasures of Unbelonging
A woman and children walk through a landscape wearing large velvet robes. Birds call, a river runs, and the sound of a bell radiates through deserted streets.
The Pleasures of Unbelonging, filmed in Hanmer Spring, a resort town in the Canterbury region of New Zealand's South Island, unfolds through a series of dreamlike tableaux poised at the fringes of mystery and disquiet. With reference to James Baldwin's Stranger in a Village, and leaning gently into the heady noir of Vertigo and Twin Peaks, Christopher Ulutupu's new work stages a drama of encounter with the white gaze.
Programmer's Note

His mastery of the cinematic uncanny, gliding between motifs of landscape painting, postcard imagery, horror and science fiction produces dislocations that, like Baldwin before him, bring us into a world where racial difference is the locus of conflict, rupture, and potential liberation. The setting in a town seemingly 'untouched' by the presence of the 'other' invites reflection on complex entanglements of race and identity that persist, echoing and morphing through time.

The Pleasures of Unbelonging is a new commission presented by CIRCUIT with support from TAUTAI, Creative New Zealand, Berwick Film & Media Arts Festival and Flat Time House (FTHo).

Following its world premiere screening Christopher will be in conversation with May Adadol Ingawanij, Professor of Cinematic Arts at University of Westminster.



Director Biography

Christopher Ulutupu is an artist of Samoan/Niuean/German descent currently residing in Wellington. His research and practice is autobiographical by nature, referencing personal experiences to offer critiques about Colonisation through video and performance. Through a richly pop, queer and celebratory Pacific lens he creates new narrative forms opening up conversations around collaboration, connection, and disconnection. He had been collaborating with family, friends and non-actors since the start of his video practice, including for solo exhibitions Be Happy/Be Still (2019) and Lelia (2018) and is keen to explore collaborative practice beyond the New Zealand context.

Recent exhibitions include Gus Fisher Gallery (2021), Suter Art Gallery (2021) The Dowse Gallery (2021), Pataka Art Gallery and Museum (2021), Shanghai Duolan Museum of Modern Art (2021), A Space Gallery Toronto (2021) and Jhana Millers Gallery (2021) amongst others.