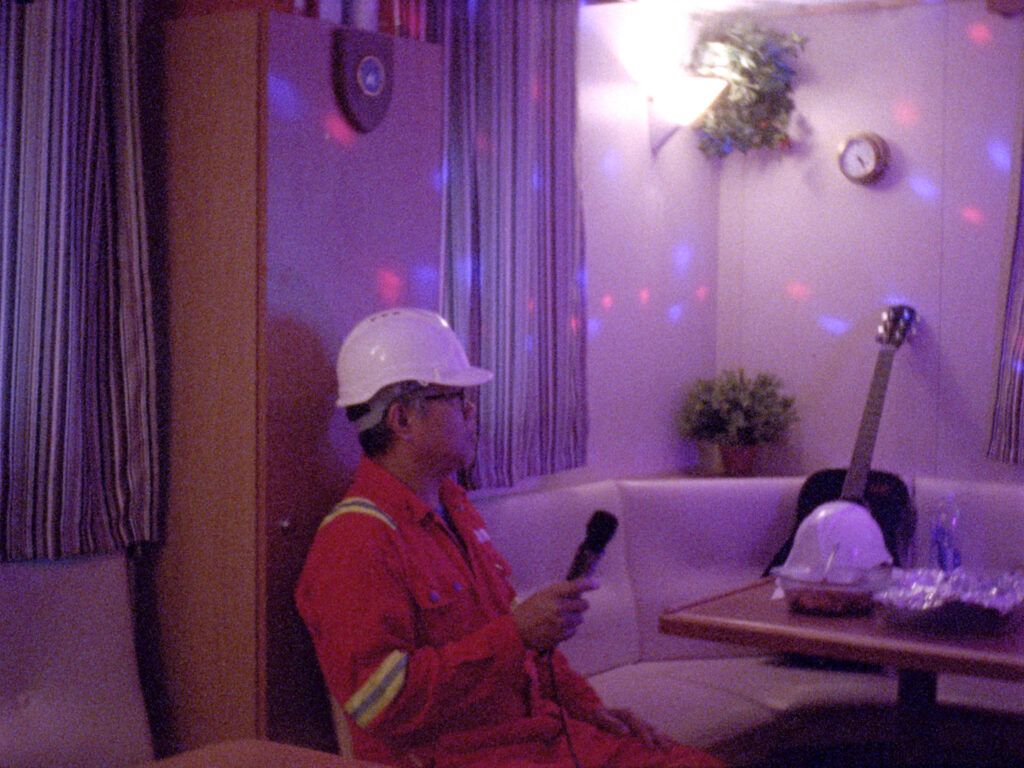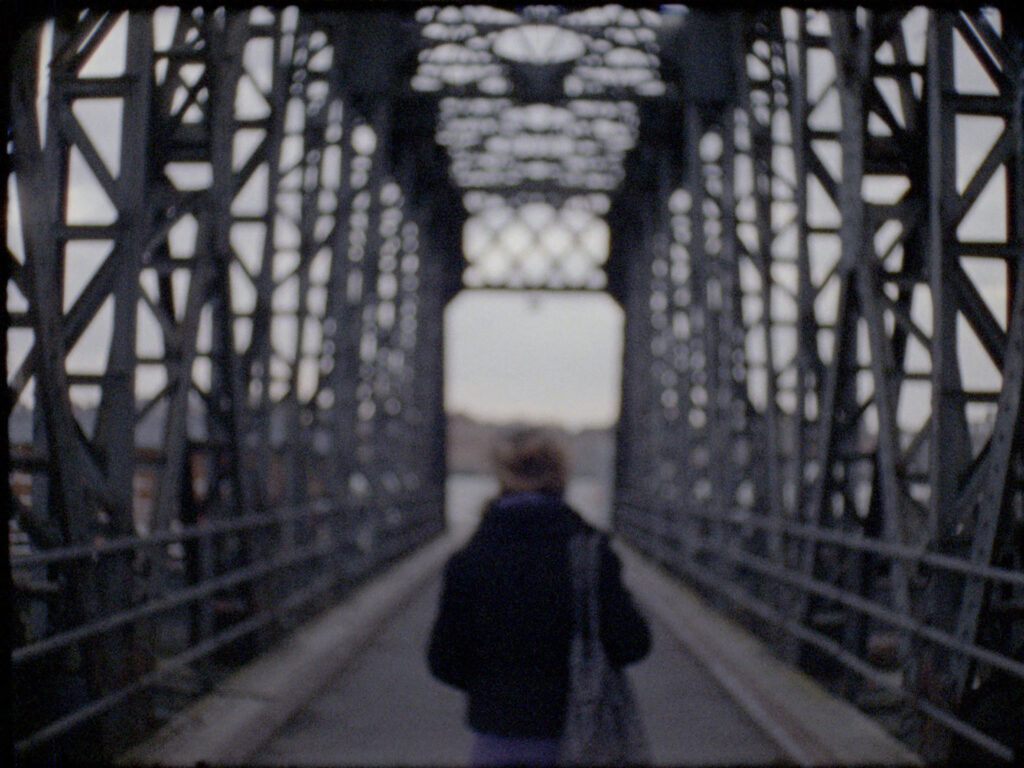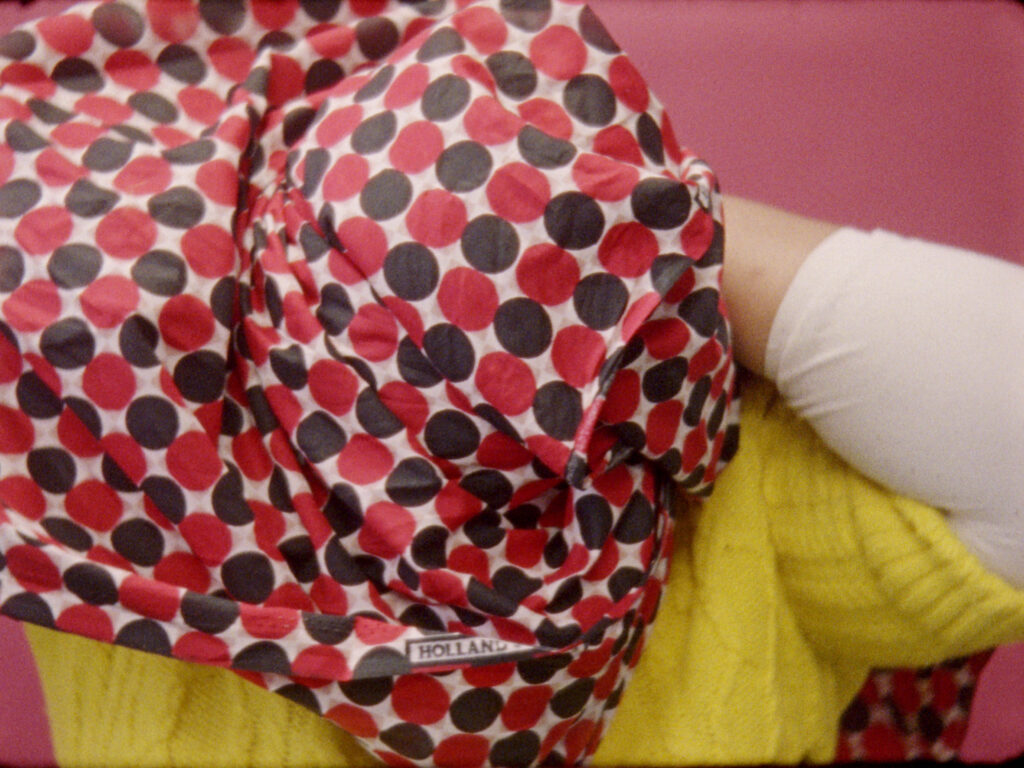 Way My It Did I
In the Port of Tilbury—a place which historically was the point of entry for migrants to the UK—filmmaker Maria Anastassiou worked collaboratively with a group of people who had recently arrived in the town to paint a portrait of life in the transient space of the Thames Estuary.
Programmer's Note

Aboard a commercial vessel docked in the Port of Tilbury, Filipino migrant workers sing karaoke. This port town, on the Thames Estuary, has historically been a point of entry for migrants into the UK as well as a major commercial port. Set against the transient landscape of the Thames Estuary, this is a place laden with traces of the ever-shifting global narratives of empire, commerce and migrations.

Filmmaker Maria Anastassiou spent a year working with refugee and migrant groups in Tilbury—including Romanian workers, west-African asylum seekers and Filipino seafarers—to explore shared experiences of citizenship and belonging. Documenting the everyday realities of life for this community, Anastassiou intersperses seemingly natural moments of community with scenes of constructed testimony. With a slippery relationship between sound and image, the film draws attention to its own making in an attempt to challenge the production of "truths" or "facts" in our current "post-truth" media environment. In the process, this film re-affirms our relationship to the "real" as experienced and captured through the chosen technology with its limitations and potentials a conscious part of the film's aesthetic.

While the harsh bureaucracy of the UK immigration system is made evident, the film also documents living and working in a port town in a post-Brexit landscape. Through shipping containers and windmills, signifiers of industry float in constant motion in the background of shots and the presence of the border is made visible—a black border patrol boat docked by the shore.

Shot on a hand-cranked 16mm film camera with the participants actively involved in the film's production, the film aims to question official narratives and histories within the UK's current political context. Commissioned by New Geographies—a three-year project which highlights overlooked or unexpected places across East Anglia—the film redraws the map of the region with places important to those living here. —Myriam Mouflih
Director Biography

Maria Anastassiou (1982, Cyprus) is an artist and filmmaker based in London. She uses analogue and digital media in moving image, social practice and curatorial projects. Her work is informed by experimental ethnographic approaches to documentary and structuralist film traditions. Many of her projects are collaborative and defined by an exchange with other artists and the public, across disciplines and presentational platforms. Between 2014-2017 she took part in 'Corners', a collaboration with artists and audiences from the peripheries of Europe. In 2013 she co-founded collective-iz, a curatorial initiative creating expanded and immersive cinema events that examine new critical contexts for contemporary and historical avant-garde film. In 2010 she co-founded the film project 'Unravel-The longest hand-painted film in Britain' that won the Deutsche Bank Award for Art and involved more than 5000 people across the UK in creating a 16-hour long 16mm film. She is the recipient of an Acme Artists' Studio Residency (2017-2023) at Highhouse Production Park. Her work has screened and exhibited at Courtisane Festival (Ghent), LUX (London), Whitney Museum of American Art and Microscope Gallery (New York), among others.
Director Filmography

Piano Practice (2020), Way My It Did I (2019), Kleep toowit, klip klip, too-ow-wit (2018), Clubhouse (2018), Safari Here (2017), Gymnastics for everyday Anxieties (2017), Film and Photo (2016), In-Situ Cinema (2016), Gravity (2015), Eastern Postcards (2014), Dropped Frames (2013), Lighting Strikes (2013) Deniz: bir, iki, üç (2013), Illuminated Exchanges (2012), B for Sky (2011) Here this time, a terrible beauty (2010), Unravel (2010)