When we are amongst our own our labels disappear. We become more than we usually are. We can finally get closer to ourselves, shedding a layer of unwanted eyes. This moment of real home amongst family is presented in a virtual tour around the 3D rendered city "FAM". The city fam has been made as a tribute to the work of 3 artists: Shenece Oretha, Ebun Sodipo and Day Eve
Like this space their works have held more than can be spoken, and have given rise for spaces like this to be conceived. Tread respectfully. —Danielle Brathwaite-Shirley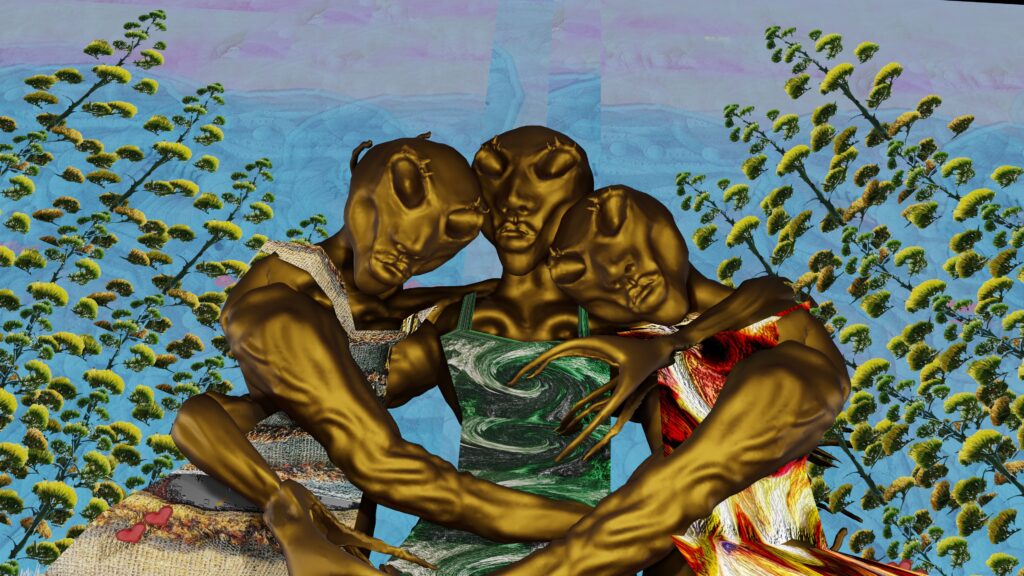 A CITY OF Shenece Oretha, Ebun Sodipo and Day Eve
When we are amongst our own our labels disappear. We become more than we usually are. We can finally get closer to ourselves, shedding a layer of unwanted eyes. This moment of real home amongst family is presented in a virtual tour around the 3D rendered city "FAM". The city fam has been made as a tribute to the work of 3 artists: Shenece Oretha, Ebun Sodipo and Day Eve.
Like this space their works have held more than can be spoken, and have given rise for spaces like this to be conceived. Tread respectfully. —Danielle Brathwaite-Shirley
Director Biography

Danielle Brathwaite-Shirley is an artist based in London. Brathwaite-Shirley graduated from the Slade School of Fine Art (London) in 2019. They work predominantly in animation, sound, performance and video games to communicate the experiences of being a Black Trans person. Their practice focuses on recording the lives of Black Trans people and intertwining lived experience with fiction to imaginatively retell Trans stories. Spurred on by a desire to record the "History of Trans people both living and past," their work can often be seen as a Trans archive where Black Trans people are stored for the future. In 2020, Brathwaite-Shirley produced a solo performance work at Tate Modern, London. Recent solo exhibitions have taken place at Focal Point Gallery, London (2020); Science Gallery, London (2020); and MU Hybrid Art House, London (2020). Group exhibitions include Re$$urection Lands, Les Urbaines, Lausanne, Switzerland (2019); BBZ GRADUATE SHOW, Copeland Gallery, London (2019); and Transpose: The Future, Barbican, London (2018).