Life's tender resilience: On reunion and separation in Armenia, joy in the face of conflict, and a cinema of nostalgia in Maria Saakyan's Mayak/The Lighthouse
by Ilinca Vanau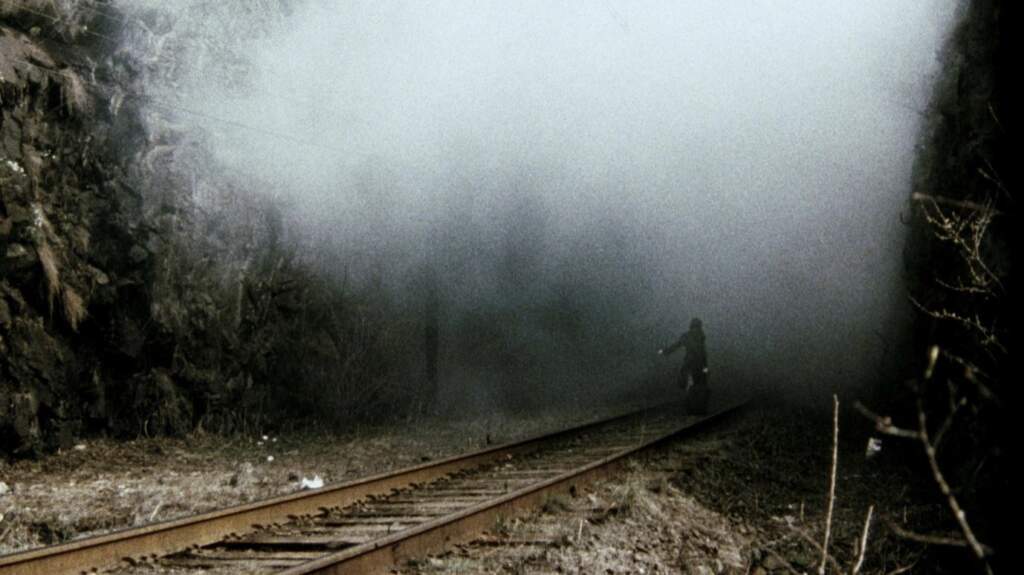 Mayak/The Lighthouse (2006) is a film that unfolds in the mist and, like mist, it is at once ungraspable and overpowering. The story of Lena's (Anna Kapeleva) return to her home village in war-torn Armenia is nothing short of an exploration of the very vibration of life, the longing for an existential homecoming. Directed by Maria Saakyan at age twenty-seven, the film was not only a remarkable debut feature but also the first Armenian feature to be completed by a woman. Referencing the conflict that shook the South Caucasus in the early 1990s and forced her and her family to flee to Moscow, Saakyan offers a sensitive take on the entanglements of war with childhood memories and its toll on women's lives. The film weaves together quiet observations of the foggy landscape, candid village scenes and archival footage into a new temporal flow, one marked by suffering yet brimming with life.
Mayak does not shy away from the horror of war yet it does not address the conflict directly; instead, it sifts the harrowing pain of war and displacement through the most delicate gestures. Upon returning after a long absence, Lena looks for her grandmother in the village school and finds her teaching a piano lesson in a gloomy classroom. Just as the two are reunited, Lena learns that war has been shaking the village for years. The noise of approaching helicopters mingles with a young pupil's clumsy piano notes. This fusion of sounds summarises, poignantly, the entwinement of life and what threatens it.
Time and again, life appears both fragile and resilient. When Lena takes Givi, her friend's young child, for a walk up a hill, she hands him a nest that holds a single white feather; just as the child cups his hands around it, a helicopter soars again. Lena tries to escape with Givi in her arms but stops in her tracks, holding him close. The child's mother runs to them with anxious cries and the three of them hug, framed in a long bird's-eye view. Their embrace reworks the image of a nuclear family and stresses the compassionate solidarity of women. As the noise of helicopter blades gives way to birdsong, their embrace is rendered as an impenetrable shield.
The affecting strength of the embrace is shown not only as part of reunions but also as part of distressful separations. When Lena is seen saying goodbye to her grandmother, their tormented cries remain inaudible against a moving score. The ethereal soundtrack, arranged by accordionist Kimmo Pohjonen, is at its most haunting here, over the slow-motion images of the two women's desperate embrace. It is not clear if or when this scene takes place or if it is imagined, but it arrives with the full weight of painful inevitability. The face of war is not that of a bleeding soldier but that of an anguished young woman saying goodbye.
Images of farewells and displacement occur repeatedly. People carry their heavy belongings, crowd the train station, or wave from moving trains. These scenes are echoed in the use of archival footage from the 1990s, of the forced migration of Armenians, as well as distinct footage that seems to correspond to Lena's emotions or childhood memories: cranes in flight, a tearful parting, a joyful water fight. Trains are central to the film, and while they may bring people to the comfort of familiar surroundings, like they did for Lena, they are equally reminiscent of deportations.
Mayak plays with ambiguity but its vivid opening scene, showing a crowd dancing on the train tracks, is charged with celebratory force. During a Q&A at the 2020 Berwick Film and Media Arts Festival, the film's producer Victoria Lupik explained that Saakyan had not scripted this scene but decided to film and incorporate it upon finding the film's actors and extras dancing during a break. This spontaneous scene underscores joy and a toughness of spirit that accompanies the darker moments to come. The film also attends to other passing characters who seem unconnected to Lena's journey, often insisting on the faces of unknown mothers, children and elderly women.
Such moments are only seemingly peripheral; they suggest a crucial kinship and point to elusive links across time. Mayak's temporal arrangement conjures Andrei Tarkovsky's cinema of nostalgia and exile, with its web of dreams, imaginings, and memories. But unlike the meticulous poetry of Tarkovsky's slow long takes, Saakyan's vision welcomes chaos and a more spontaneous quality. Her approach evokes the work of Armenian-Canadian filmmaker Gariné Torossian, whose films probe the boundaries of belonging and displacement from a diasporic perspective. Torossian's experimental work seems nevertheless entrenched in a first-person experience. While Saakyan's film feels profoundly personal, it delves into emotions that escape specificity, a quality that is unique to her monumental achievement.
Heartbreaking and uplifting at once, the film leaves a confounding aftertaste; its core eludes any complex explanation and lingers instead like a single nameless emotion, unfolding its depth. Suffering, joy and resilience are all underpinned by a sharp feeling of nostalgia. What Mayak does most strikingly is put forth a vision of nostalgia that is not simply anchored in the past. It meanders across generations, across personal and collective memory, and stitches them together. While official historical narratives are written and rewritten, and borders are drawn and redrawn, one dangerous certainty replacing another, this tender film survives as an authentic testimony, unclear yet irrefutable.
Ilinca Vanau is a writer and photographer living in Edinburgh. Born in Romania, she moved to Scotland a decade ago to study at the University of St Andrews, where she received her undergraduate degree in Social Anthropology and Film Studies. Her academic journey has happened in tandem with ventures into publishing, curating and film programming as well as work on several long-term photographic projects. In 2018, she returned to the University of St Andrews and completed an MLitt in Film Studies with a thesis exploring the formal correspondences between films by Chantal Akerman and Sergei Loznitsa. Ilinca is drawn to cinema that touches upon the fields of documentary film, visual anthropology, sensory ethnography and is interested in cinematic thinking and the ethics of film form. More broadly, she turns to moving image practices to question and taste the intimate relationship between time, memory and identity.