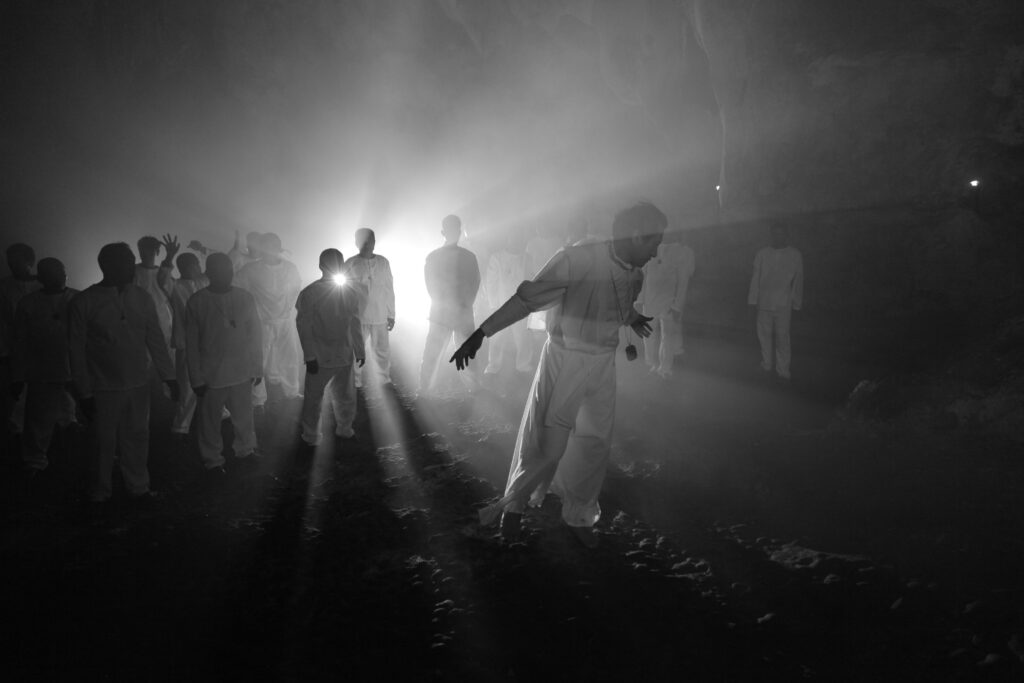 Animistic Apparatus presents an overnight screening of Lav Diaz's epic film—projected outdoors continuously and ending around sunrise—as a nocturnal offering to the spirits of place and the ecology of visible and invisible beings of Berwick-upon-Tweed.
Meet Animistic Apparatus's featured artists. In this conversational session Lucy Davis, Chris Chong and Tanatchai Bandasak talk about their artistic engagement with ecology, cosmology, and the politics of environment and land in Southeast Asia. May Adadol Ingawanij introduces the project's speculative method of exploring animistic relations and artists' moving image.
Hear tales of what happens when the projector light beam goes outside into animistic spaces. In this storytelling session, George Clark, Sheryl Cheung, Xia Lin, Mary Pansanga, Julian Ross and others recount their recent experiments with projecting and performing at potent sites in proximity with spirits in Thailand and Taiwan.
In 2012, George Clark shot 900ft (10 mins) of 35mm film of streets, hospitals, sleeping dogs and aerobic classes in Bangkok.
Camera Trap is a comparative video using moving images made a hundred years apart.
Commissioned by Animistic Apparatus to make a video responding to Southeast Asian animistic practices of communicating with spirits, Tanatchai Bandasak draws inspiration from the presence of prehistoric standing stones in the highlands of Laos.
'Double Ghosts' is a multi-part exhibition which traverses the Pacific drawing on historical fragments, traces and ghosts from the coasts of Chile to a mountain cemetery in Taiwan. Exploring the status and potential of unrealised and fragmented histories, the exhibition draws together 35mm film, sound recordings, script fragments, photography and archival material filmed and gathered in Chile, France and Taiwan.
'Double Ghosts' was commissioned by Berwick Film & Media Arts Festival in partnership with Berwick Visual Arts
Fireworks (Archives) is Apichatpong Weerasethakul's offering to the potent spirits of his home region, shot in the sculpture park of a little-known nonconformist temple in the northeast of Thailand.
A response to George Clark's exhibition Double Ghosts, from Taipei based arts-collective lololol (Sheryl Cheung & Xia Lin).
Multimedia artist Xia Lin guides a session of 3C Xing Yi Quan, a new form of martial arts she developed which imitates the form and essence of products from our daily life.
Sound artist Sheryl Cheung's 'Internal Motivations' is a collective listening and improvisation session for energy circulation between people and their environments.
This new collaborative performance will assemble materials from the local environment with the artists' personal archives, from a destroyed 35mm film of the mythic Naga serpent to studies of plant life.
The Migrant Ecologies Project is a collaborative project that brings together various art practice-led inquiries into questions of culture and nature in Southeast Asia. Animistic Apparatus presents two installations—Railtrack Songmaps and Teak Road—from the Singaporean project.