Anti-Archive
Since its founding in 2014, the Cambodian film production company Anti-Archive has emerged as a formidable platform through which the new generation of filmmakers in Cambodia can develop their artistic visions, realise ambitious productions and collaborate with others internationally. Across 16 productions and growing—both fiction and documentary films, either short or feature-length—they have demonstrated a refreshing diversity of form and an enviable level of quality.
Anti-Archive was founded by Davy Chou, Steve Chen and Kavich Neang, three young filmmakers who had previously collaborated on each other's projects. The collaborative spirit runs through all the company's work: one filmmaker might take on an acting role in a production, or work as camera operator or producer instead. Another form of collaboration can be seen in the several co-productions that Anti-Archive has engaged in, either through their own films being co-financed and co-produced by international companies or in collaboration with international, independent filmmakers who are shooting in Cambodia and Southeast Asia.
The past seven years have brought many new developments to Anti-Archive. Their films have been shown extensively across international film festivals, earning awards at International Film Festival Rotterdam, Jeonju IFF, Singapore IFF and Cannes' Semaine de la Critique. In more recent years, the core group of Chou, Chen and Neang have been joined by new partners, producers Sungho Park and Daniel Mattes. And the project "Echoes from Tomorrow" was developed, creating a support structure for Anti-Archive's behind-the-scenes (or in front of the camera) female collaborators Danech San, Sreylin Meas and Kanitha Tith to realise their first films.
BFMAF is proud to present the first-ever Focus programme bringing together a number of films produced by Anti-Archive, a reflection on their working methods and chance for new audiences to see their expertly crafted productions. This series includes several titles by filmmakers produced prior to the founding of Anti-Archive, to give a fuller sense of their trajectory, as well as productions as recent as 2020. In a special online event, we will speak with several Anti-Archive filmmakers together to learn about their history, production methods and what the future holds for the company. —Herb Shellenberger
Kavich Neang's first film is a short documentary following Sory Chan, a 14-year-old boy who is living in Phnom Penh apart from his family. A student of Cambodian classical music, Sory lives with his mother's friend after his mother fled a debt she couldn't afford to pay back. Each evening after class, he carries a scale outside in a popular part of the city and asks people to weigh themselves for a small amount of money. In this urgent film, we witness Sory's day in class, his nightly routine and a particularly difficult conversation with his mother who he meets on the street.
This collection of short form work by the Cambodian filmmakers associated with the production company Anti-Archive shows the breadth and quality of their filmmaking.
Kanitha Tith's 2014 artist film Boding is an evocative portrait of Phnom Penh's White Building, Cambodia's first public housing project built for moderate-income residents during the early 1960s. Originally consisting of 468 apartments, the White Building (like the whole city that surrounds it) was abandoned during the Khmer Rouge regime rule in the 1970s. After their fall in 1979, the building fell into disrepair but was still a home for its original residents, artists, community educators and others who built a vibrant community there. Tith's film is a patient walkthrough of the "boding" (as it is popularly called by locals) that allows the viewer an unhurried look at its corridors, surfaces and the manifestations of life inside and around it.
Sreylin Meas' first film follows a simple scenario in creating a stunning work of loneliness and connection shot at an oceanfront resort. Sarita travels to the seaside to take a break from her hectic life and family obligations. While exploring the surrounding wilderness, she meets another woman, Sak, who works at the hotel where she is staying. Also in need of respite from her busy job, Sak invites Sarita to meet in a secret place where the two discover an unforeseen connection that allows them to temporarily escape from reality.
Cambodia 2099 is a fictional short by Davy Chou which, on the face of it, consists of three characters whose interactions drive the film's action. Sotha (artist Sotha Kun) and Kavich (Anti-Archive filmmaker Kavich Neang) meet on a sunny day in Phnom Penh's Diamond Island to discuss their dreams from the night before. Kavich's girlfriend Vanary (first-time actress Sothea Vann) comes to meet him and they spend the evening together in which a difficult conversation needs to be had. The film's climax comes as Sotha re-enacts his dream, transporting to the future out of thin air in front of a crowd assembled on motorbikes.
Golden Slumbers is a feature documentary on the legacy and contemporary traces of the "golden age" of Cambodian cinema which emerged from the 1960s and into the 1970s. During this period, several hundred feature films were produced and exhibited in cinemas across the country, and even in some cases internationally. But the Khmer Rouge's reign of terror from 1975 to 1979—which resulted in the deaths of over 3 million Cambodians—also put a halt to this flourishing national cinema. Director Davy Chou reckons with this loss of life and culture through finding remnants of this cinematic past among rogue photos, still-existing soundtrack music, traces of film studios in the land and most of all in the memories of the few who survived, among them actors, directors and cinema-lovers.
Last Night I Saw You Smiling finds filmmaker Kavich Neang documenting the final days of the White Building. An architectural landmark in Phnom Penh built in the 1960s, the building was earmarked for destruction in 2017. Originally built as social housing for moderate income tenants, the White Building stood as witness to the history of the past 50 years in Cambodia. After the building (and city) became empty due to the Khmer Rouge's brutal regime in the 1970s, tenants relocated to a building that came into increasing disrepair while simultaneously nurturing a community of artists, educators and neighbours. Neang films residents packing up their lives in the final week before moving out, conversing about their own personal histories and how they intertwine with the White Building and Cambodia at large.
Through an expertly pitched blend of realistic fiction, Sunrise in My Mind shows a view of a beauty salon in Phnom Penh at night which sparkles like a jewel box. The patterned aquamarine wallpaper plays off of the many pink objects inside, including the shirt of the film's protagonist Pich, a beautician whose mind is clearly elsewhere. Against the strains of a soul song from the early 1970s by Pan Ron, the co-workers' conversation moves toward the guy who has a crush on Pich, to which she acts demure and with indifference (but also with a private smile to herself). But Lay, a deliveryman who rides a motorbike through the city at night, reliably shows up to the salon. After asking Pich to wash his hair, we witness a moment of intimacy, though it's unclear whether this is real or imagined.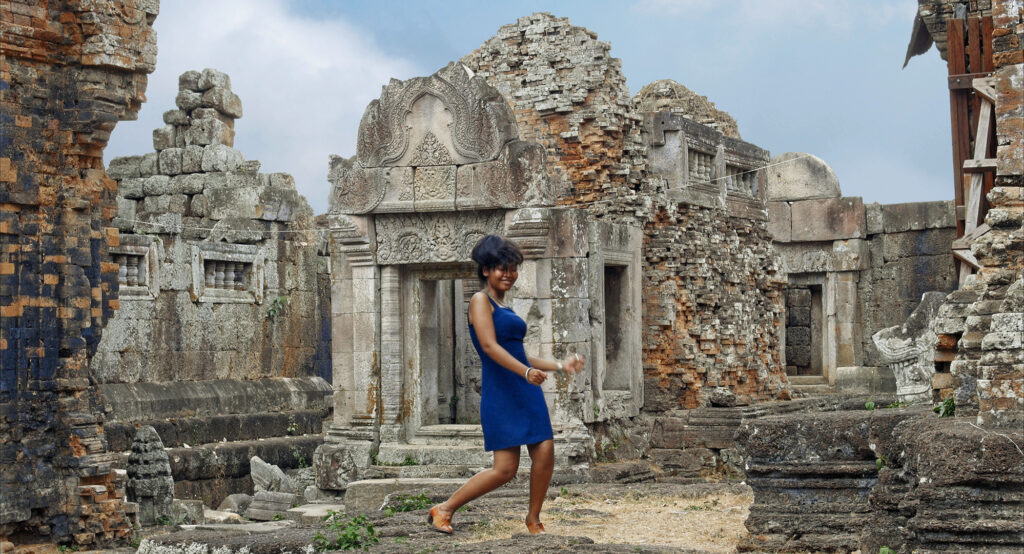 Turn Left, Turn Right is a narrative feature following Kanitha (played by artist/filmmaker Kanitha Tith), a free-spirited young woman in Phnom Penh who doesn't conform to society's (and her mother's) expectations. Easily prone to daydreams, Kanitha floats by working at a rock club and at a hotel, riding her motorbike across the city and generally being restless, unsettled and at times self-sabotaging. But this lifestyle is increasingly out of step not only with her mother's demands, but also with her father's deteriorating health. When she needs to step in and care for him, engaging with dreams might provide a potential solution to his suffering.