The programme begins with two films produced prior to Anti-Archive's forming. Kavich Neang's first short documentary A Scale Boy (2010) is an urgent work produced by his mentor, Rithy Panh, one of Cambodia's most important filmmakers. Davy Chou's debut fiction short Cambodia 2099 (2014) premiered in Cannes Directors' Fortnight and set in Phnom Penh's Diamond Island, where two friends tell each other about their dreams.
Kanita Tith's Boding (2015) is an independently produced artist film set in Phnom Penh's White Building. An actor and art director in several Anti-Archive films, her short documentary The Crab is currently in production. It forms one third of the "Echoes from Tomorrow" project of female filmmakers, of which Sreylin Meas' California Dreaming (2019) is another production. The short fiction film shows an unexpected encounter between two women who meet at an oceanside resort. Finally, Danech San's second short film Sunrise in My Mind (2020) stages a late-night romance between a hairdresser and a delivery man who cross Phnom Penh on his motorbike. —Herb Shellenberger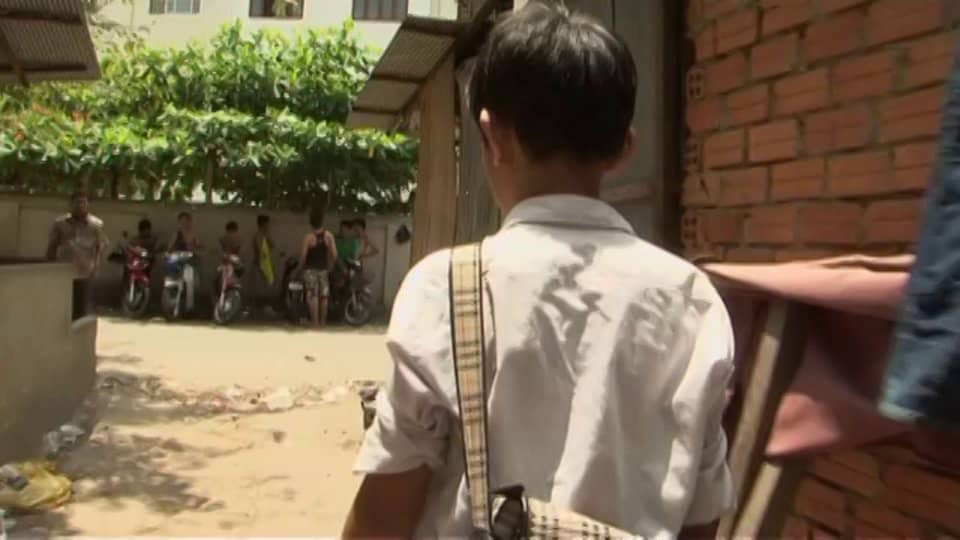 Kavich Neang's first film is a short documentary following Sory Chan, a 14-year-old boy who is living in Phnom Penh apart from his family. A student of Cambodian classical music, Sory lives with his mother's friend after his mother fled a debt she couldn't afford to pay back. Each evening after class, he carries a scale outside in a popular part of the city and asks people to weigh themselves for a small amount of money. In this urgent film, we witness Sory's day in class, his nightly routine and a particularly difficult conversation with his mother who he meets on the street.
Programmer's Note

A Scale Boy was produced by Rithy Panh, one of the most acclaimed Cambodian directors whose films have won awards internationally at BAFICI, Berlinale, Cannes and Yamagata IDFF, to name a few. The legacy of Panh's socio-political documentary filmmaking can be found in Neang's debut, which follows its protagonist closely, filming him directly and without intervention.

The film shows Sory's daily scenes without narration and without patronising; though he is a young teen, the viewer understands he has had to take care of himself for some time. We also are confronted with the fact that his story is not unique but symptomatic of a country where urban poverty is at a high level. The film ends with its subject walking off into the distance, without direction, a charged image that we hope will lead to better conditions in the future. —Herb Shellenberger
Director Biography

Kavich Neang (1987, Phnom Penh, Cambodia) graduated from the Asian Film Academy in 2013 after originally studying Music and Dance. In 2014, he co-founded the Cambodian production company Anti-Archive. Kavich has been part of Talents Tokyo, Visions du Reel's Docs-in-Progress and Cannes Cinéfondation Residency. Since 2010, he has directed five short films.
Director Filmography

White Building (2021), Last Night I Saw You Smiling (2019), New Land Broken Road (2018), Goodbye Phnom Penh (2015), Three Wheels (2015), Where I Go (2013), A Scale Boy (2011)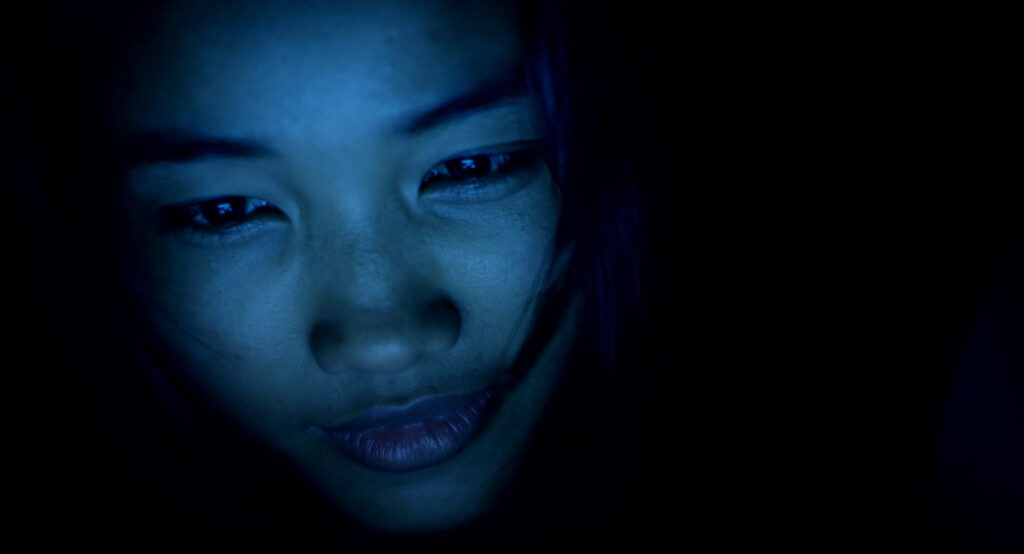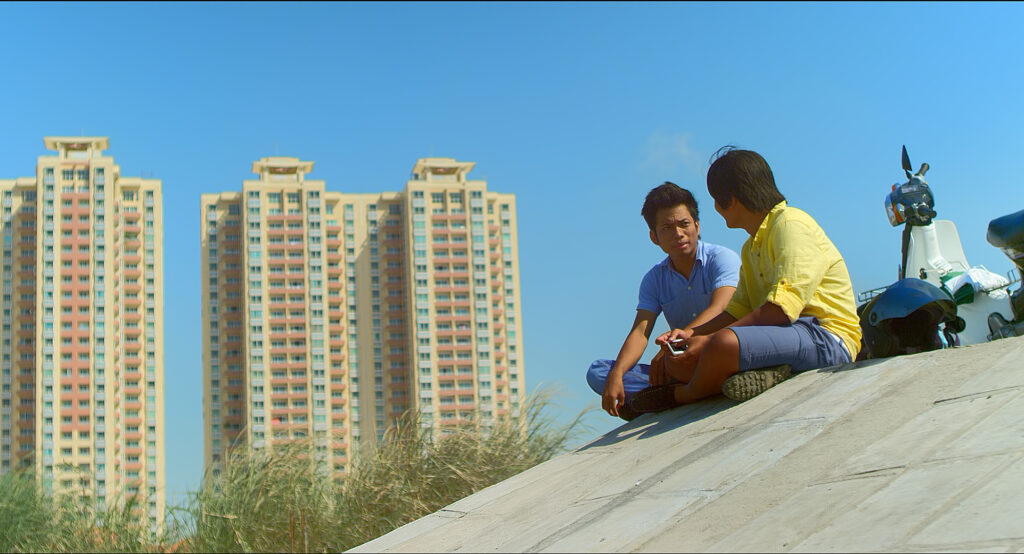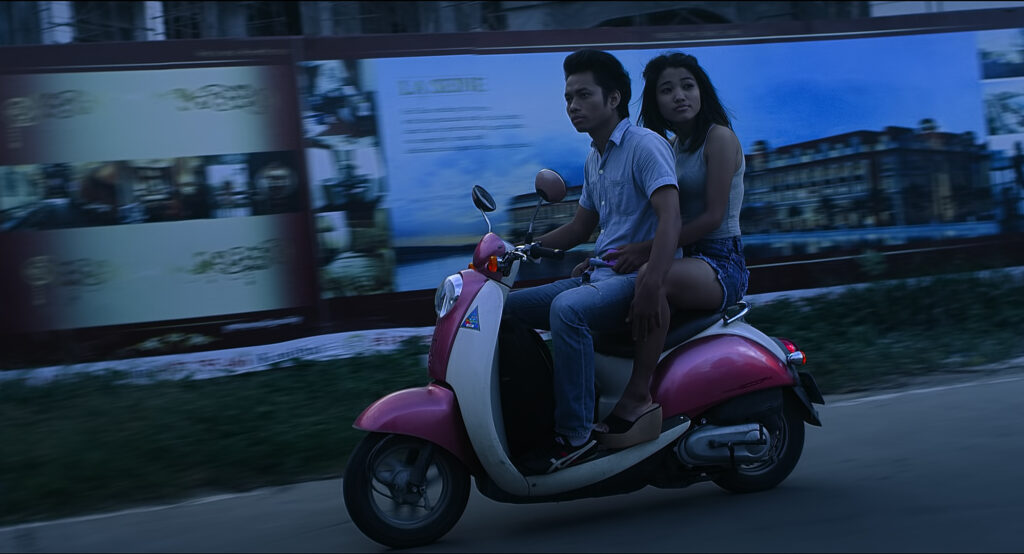 Cambodia 2099
Cambodia 2099 is a fictional short by Davy Chou which, on the face of it, consists of three characters whose interactions drive the film's action. Sotha (artist Sotha Kun) and Kavich (Anti-Archive filmmaker Kavich Neang) meet on a sunny day in Phnom Penh's Diamond Island to discuss their dreams from the night before. Kavich's girlfriend Vanary (first-time actress Sothea Vann) comes to meet him and they spend the evening together in which a difficult conversation needs to be had. The film's climax comes as Sotha re-enacts his dream, transporting to the future out of thin air in front of a crowd assembled on motorbikes.
Programmer's Note

The film brilliantly mines the uncertainty and discontent of the present era towards the promise of a future where everything is perfect, easy and worked out. In this way, Chou speaks beyond the specific context of the film towards universal feelings, where the present can feel like a state of becoming towards some future resolution. It's a mistake that young people can make, to not realise that life is forever unfolding, changing and is charged with a lack of permanence. Kavich's hesitance in breaking the news to his girlfriend that he will go to live with his mother in California expresses this lack of permanence, as does the ominous shot of a neon sign towards the end of the film which reads "The future of Phnom Penh".

Coming after Davy Chou's brilliant look at Cambodia's past—Golden Slumbers (2011) looks back to the Golden Age of Cambodian cinema in the 1960s and its subsequent destruction by the Khmer Rouge in the 1970s—Cambodia 2099 elegantly shoots forwards to a completely different register. The film acts as a sort of proof of concept for Chou's subsequent feature film Diamond Island (2016), which again explores the challenges and opportunities faced by new generations, the tension between rural and urban life, as well as Cambodia's uncertain future. —Herb Shellenberger
Director Biography

Davy Chou is a filmmaker and producer based in Paris, France and Phnom Penh, Cambodia. In 2011, he directed the documentary Golden Slumbers (Berlinale Forum, Busan), about the birth of Cambodian cinema in the 60's and its destruction by the Khmer Rouge. In 2016, his first fictional feature, Diamond Island, won SACD award at Cannes Critics' Week. He is one of the founders of Cambodian production company Anti-Archive, which has produced several films by emerging independent Cambodian directors, including documentary Last Night I Saw You Smiling by Kavich Neang, which won the Netpac Award at Rotterdam in 2019. In 2021, he produced Kavich Neang's first fictional feature, White Building.
Director Filmography

Diamond Island (2016), Cambodia 2099 (2014), Golden Slumbers, (2011), Expired (2008), Davy Chou's First Film (2007)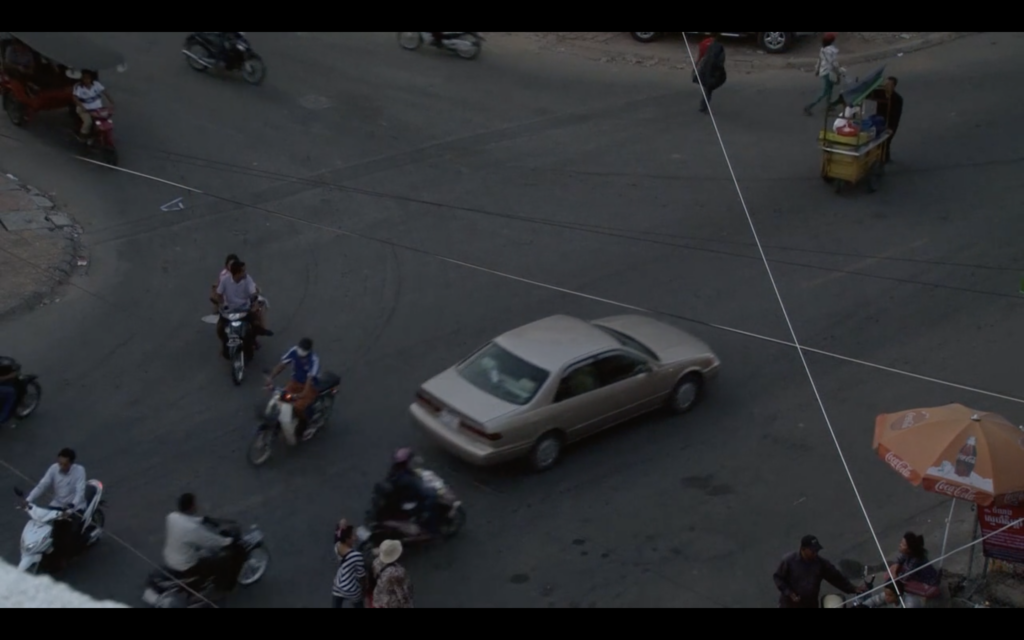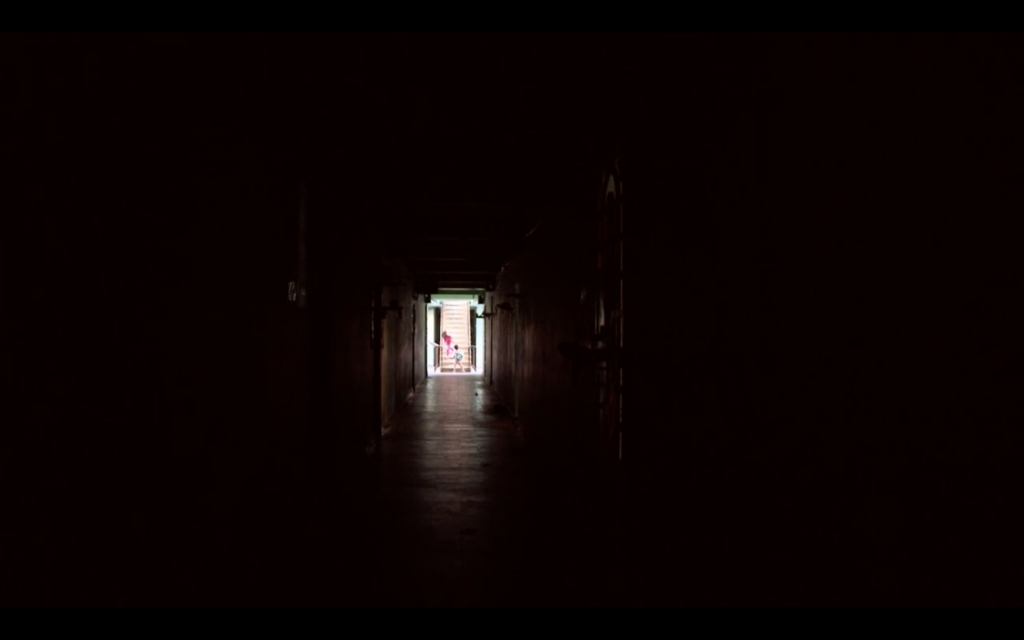 Boding
Kanitha Tith's 2014 artist film Boding is an evocative portrait of Phnom Penh's White Building, Cambodia's first public housing project built for moderate-income residents during the early 1960s. Originally consisting of 468 apartments, the White Building (like the whole city that surrounds it) was abandoned during the Khmer Rouge regime rule in the 1970s. After their fall in 1979, the building fell into disrepair but was still a home for its original residents, artists, community educators and others who built a vibrant community there. Tith's film is a patient walkthrough of the "boding" (as it is popularly called by locals) that allows the viewer an unhurried look at its corridors, surfaces and the manifestations of life inside and around it.
Programmer's Note

The artist explains: "I think that, sometimes, the omnipresence of the context of something, or its too powerful background story—in other words the construction of an "official image"—tends to prevent us from really seeing that thing, or from feeling its sensitive reality. Walking through the numerous, typically long and dark corridors of the White Building recently, I suddenly felt an unfamiliar sentiment of losing the consciousness of time, as if the space was offering me a unique journey in the vertigo of time. It is this very specific and personal connection I felt within the space and time, losing myself into those corridors, which I have tried to explore in this video."

Boding isn't specifically an Anti-Archive production, rather an independently made artist film from Kanitha Tith, a visual artist whose work ranges across sculpture, performance, installation and film work. But Tith has worked with Anti-Archive extensively, both in front of the camera (as actress in Douglas Seok's Turn Left, Turn Right and Steve Chen's Dream Land) and behind, as an art director for Anti-Archive films. One film which Tith provided art direction for is Kavich Neang's White Building, a narrative feature set in the eponymous building, which was also the subject of Neang's previous documentary feature, Last Night I Saw You Smiling, chronicling the last days prior to the White Building's destruction in 2015. Tith is currently in production with Anti-Archive as director of The Crab, a short documentary which will complete the "Echoes from Tomorrow" project. —Herb Shellenberger
Director Biography

Kanitha Tith (1987, Cambodia) is a cross-disciplinary artist working between the visual arts in sculpture, performance, installation and in Cambodia's independent film industry as an artistic director. She is also working as a forthcoming director with Phnom Penh based Anti-Archive film production project "Echoes of Tomorrow". In 2010, she was awarded an honorable mention at the inaugural You Khin Memorial Women's Art Prize. Tith's works have been exhibited widely, most recently including the group exhibitions Le paysages apres coup, Centre d'art contemporain Faux Mouvement, Metz, France (2018) and SUNSHOWER: Southeast Asian Art From 1980s to Today, Mori Art Museum, Tokyo, Japan (2017). Her 2014 video work Boding was created as part of the 2014 group exhibition, "Rates of Exchange, Un-Compared: Contemporary Art in Bangkok and Phnom Penh" at H Gallery in Bangkok and Sa Sa Bassac in Phnom Penh. It has since screened at Tentacles Gallery in Bangkok, M+ Museum in Hong Kong, and National Gallery of Singapore. Tith is currently an artist in residence at Rijksakademie, Amsterdam, Netherlands.
Director Filmography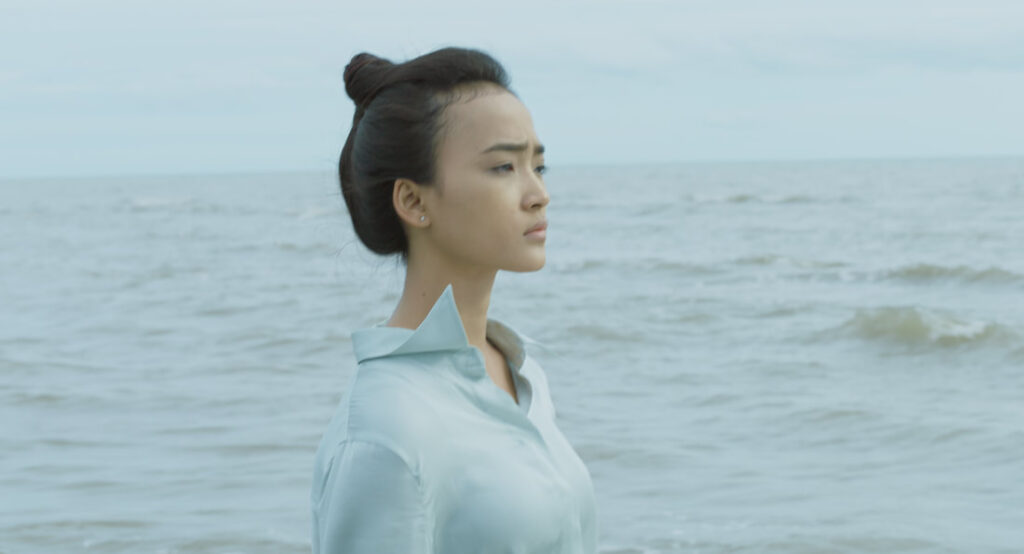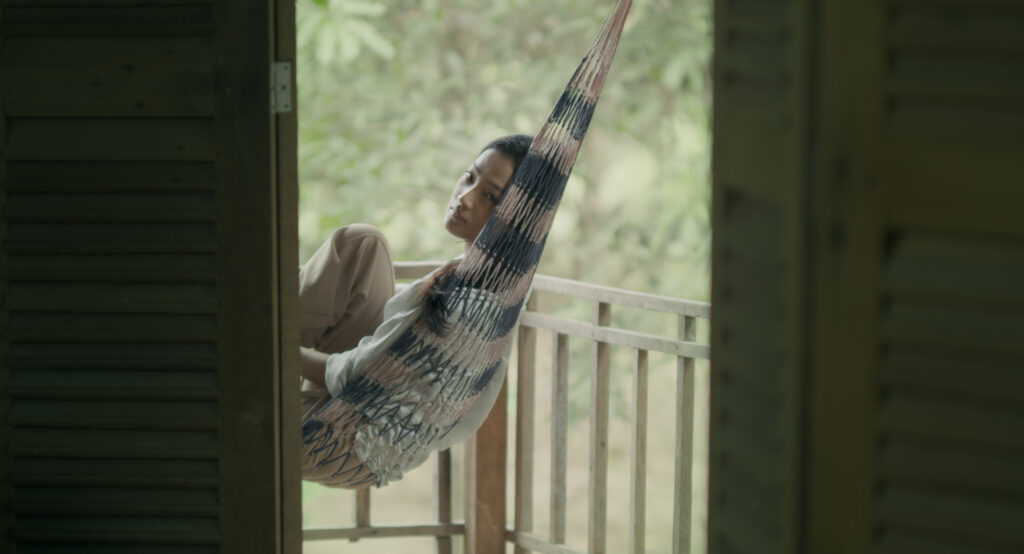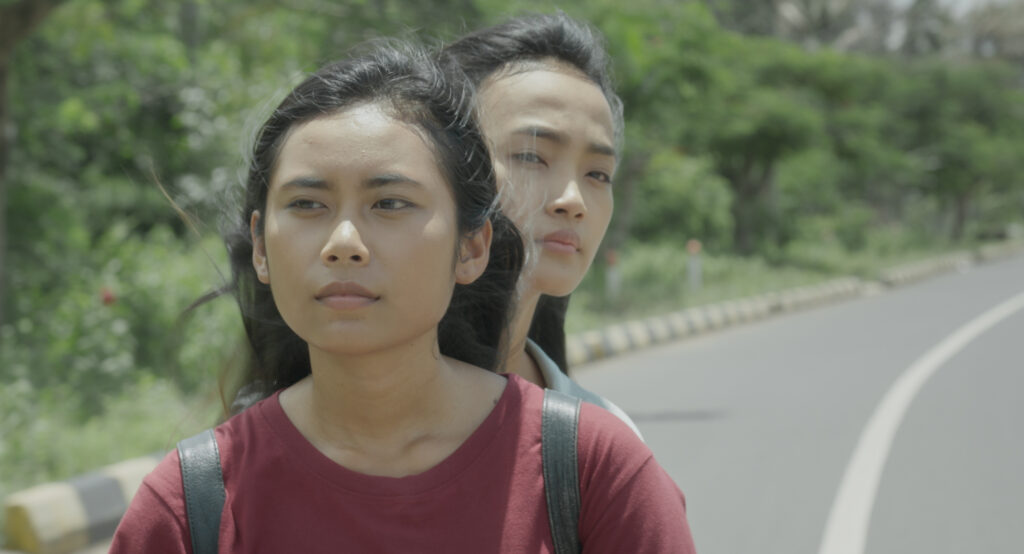 California Dreaming
Sreylin Meas' first film follows a simple scenario in creating a stunning work of loneliness and connection shot at an oceanfront resort. Sarita travels to the seaside to take a break from her hectic life and family obligations. While exploring the surrounding wilderness, she meets another woman, Sak, who works at the hotel where she is staying. Also in need of respite from her busy job, Sak invites Sarita to meet in a secret place where the two discover an unforeseen connection that allows them to temporarily escape from reality.
Programmer's Note

California Dreaming achieves a sensitive pitch as a film both languorously paced yet also filled with presence and intensity. From the opening shot of Sarita (Sarita Reth) walking in a daze along the ocean waves while sounds of the wind and water swell, for most of the film's duration it feels as if it is running in slow(er) motion, an evocative effect given the narrative. Its muted and flat colour palette evokes an echo of the present, as if a dream or a memory is being lived out in real time. That coincides with the film's vignette-like runtime and sparse construction: though references to the outside sometimes intrude, we only see the two actors crucial to the story who seem to exist in their own world.

After working across a number of production roles for both international productions and Anti-Archive films—such as art director for Sunrise in My Mind and assistant director on films like Cambodia 2099 and Diamond Island—Sreylin Meas built up the confidence to develop this personal story from her own scenario. Produced as part of Anti-Archive's "Echoes from Tomorrow" project, California Dreaming proves Meas' talent as a writer and director, and one hopes that her second film won't be far behind. —Herb Shellenberger
Director Biography

Sreylin Meas (1989, Cambodia) has worked in many production roles in both film and television, for both the local industry and international productions in Cambodia. She has worked with Anti-Archive as first assistant director for Dream Land (2015), Turn Left Turn Right (2016), and White Building (2021), and as second assistant director and acting coach for Diamond Island (2016). California Dreaming (2019) is her first short film.
Director Filmography

California Dreaming (2019)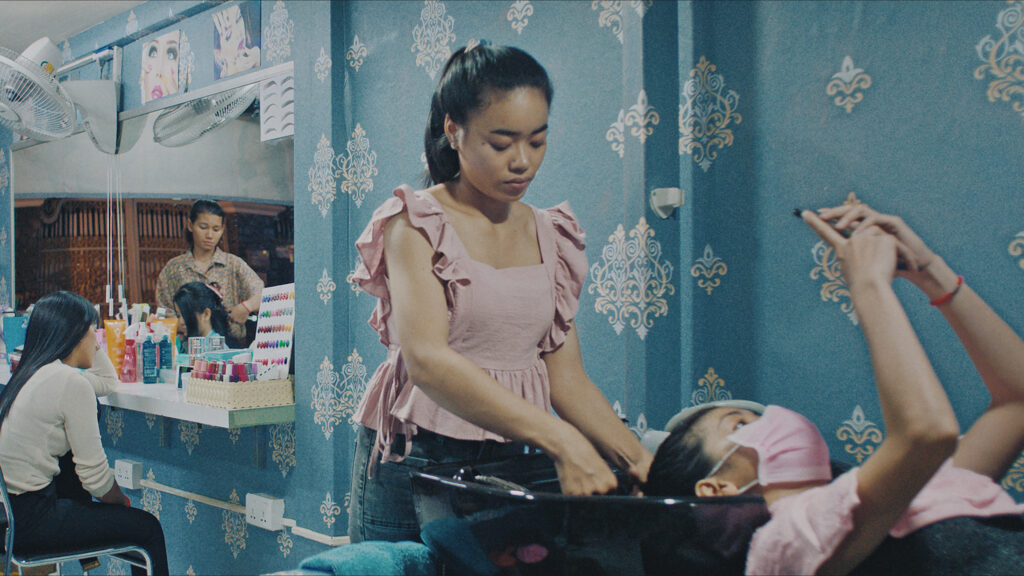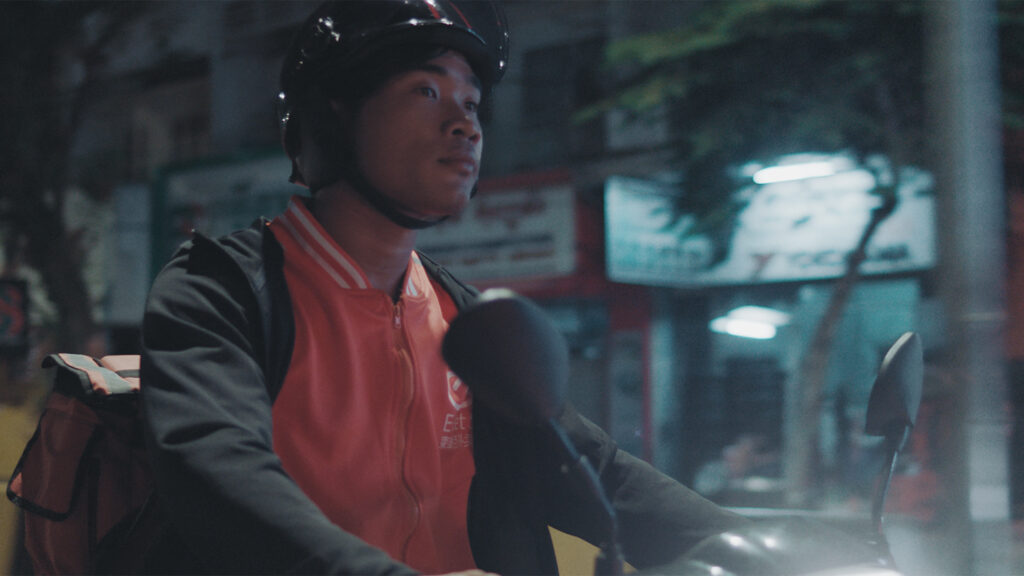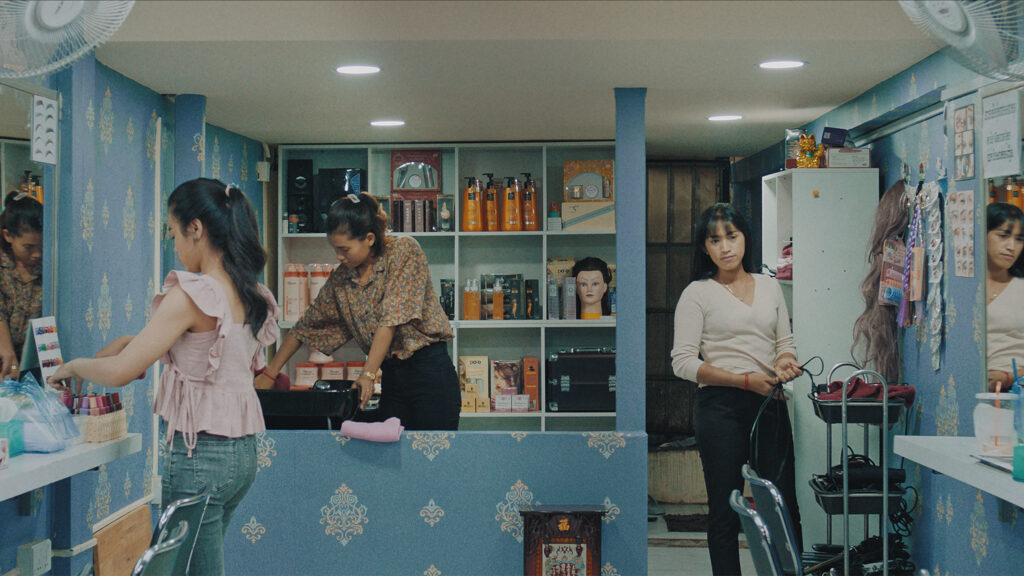 Sunrise in My Mind
Tngaireah knong chet
Through an expertly pitched blend of realistic fiction, Sunrise in My Mind shows a view of a beauty salon in Phnom Penh at night which sparkles like a jewel box. The patterned aquamarine wallpaper plays off of the many pink objects inside, including the shirt of the film's protagonist Pich, a beautician whose mind is clearly elsewhere. Against the strains of a soul song from the early 1970s by Pan Ron, the co-workers' conversation moves toward the guy who has a crush on Pich, to which she acts demure and with indifference (but also with a private smile to herself). But Lay, a deliveryman who rides a motorbike through the city at night, reliably shows up to the salon. After asking Pich to wash his hair, we witness a moment of intimacy, though it's unclear whether this is real or imagined.
Programmer's Note

Danech San's second short film instantly creates an evocative atmosphere through the meticulously detailed setting of the beauty salon. The questioning of the line between fiction and reality—or between "life" and "movies"—comes from the dialogue of a film (Jivit Dara Pheapyun, 1990) which a salon customer is watching on a cracked smartphone screen in an early scene of the short film. While we could understand it simply as pertaining to realistic scenarios and dialogue, its use calls into question the film's climax, where the CinemaScope aspect ratio shifts to an otherworldly sequence within a smaller and more intimate frame.

Sunrise in My Mind follows Danech San's 2018 short A Million Years, Anti-Archives first film from the Echoes of Tomorrow project and another exploration of the shaky ground between fiction and reality which won awards at Hamburg International Short Film Festival and Singapore IFF. While the filmmaker is still active in production roles across television and film, she has increasingly been productive as a director, including the documentary short Sea Within a Sea, a commission from New Zealand's Doc Edge Film Festival which looks at the growing concerns between nature and the increasing populations of the Cambodian island Koh Sdach. —Herb Shellenberger
Director Biography

Danech San (1991, Cambodia) is a director and has worked in different production roles on a variety of TV shows and films. After originally studying interior design, San turned to filmmaking, working with Anti-Archive on Three Wheels (Kavich Neang, 2015) as production manager, and Diamond Island (Davy Chou, 2016) as casting assistant and assistant production manager. Her debut film, A Million Years, world premiered at the 2018 Busan International Film Festival. It subsequently was named Best Southeast Asian Short Film at the 2018 Singapore International Film Festival and won the Arte Short Film Award at the 2019 Internationales Kurz film Festival Hamburg.
Director Filmography

Sea within a Sea (2021), Sunrise in My Mind (2020), A Million Years (2018)