The story of the construction of a tractor factory is filmed in a way that was inconceivable at the time. It was shot at Lenfilm, but again displeased the Soviet censors, which led to another limited release. Muratova chose a scenario written by Grigori Baklanov about construction and the fantasy of a love that "isn't produced in factories". She rewrote it, added images, lyrics, expressive caesuras and primitivistic collages, a sophisticated assemblage. Picturesque images merge with lifelike scenes full of dust, mud, paint and cement, larded with intermezzos in folksy and Socialist settings.
Muratova uses a poetic cinematographic idiom to give shape to the shapeless void, the unfinished building and the unstable relationships of the characters, played by Nina Ruslanova, Sergei Popov and Aleksei Zharkov. Speaking in a 1988 interview about the aesthetic potential of the work site, Muratova stated:
"A building site is chaos: a sphere where culture has not yet been created, where there's no concept of beautiful/not beautiful, where there's no aesthetic (it remains to be created.) Chaos may seem terrible, but to me it is wonderful, because there are as yet no postulates at all. There's no style, so stylisation is impossible. I wanted to create a culture, a beauty outside existing canons."
The film marked a transition in her film style towards what she called dekorativnost ("ornamentalism"), as well as extending her exploration of the theatricality of public speech. The film's visual form was also distinct due to the use of a different cinematographer than her first two features, Yuri Klimenko, who also worked with filmmakers like Ali Khamraev, Sergei Parajanov and Aleksei German. The unfettered emotionality in this film democratises Muratova's sophisticated art. Muratova frequently spoke of this work as her own favourite of all her films. —Elena Gorfinkel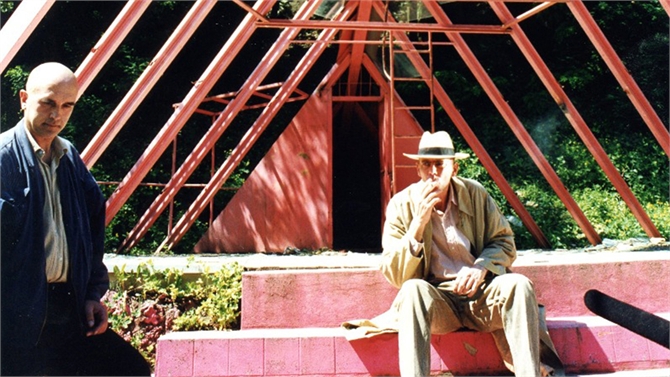 Letter to America
ЛИСТ В АМЕРИКУ
Two friends from Odessa try to compose a video message to their pals, emigrants to the United States. One of them rents his apartment to a devious girl who invents various excuses not to pay the rent. Letter to America is an exceptional story about "Chekhovian" characters on the verge of despair who nonetheless manage to enjoy life, even if these joys are beyond good and evil.
Programmer's Note

Jane Taubman, in her book Kira Muratova, writes: "Letter to America is a black comedy about the desperate predicament of post-Soviet intellectuals… Muratova's film is itself a letter to America. One of its not so hidden messages is an ironic self-commentary on Muratova's own situation, and example of what talent can do even in poverty". —Elena Gorfinkel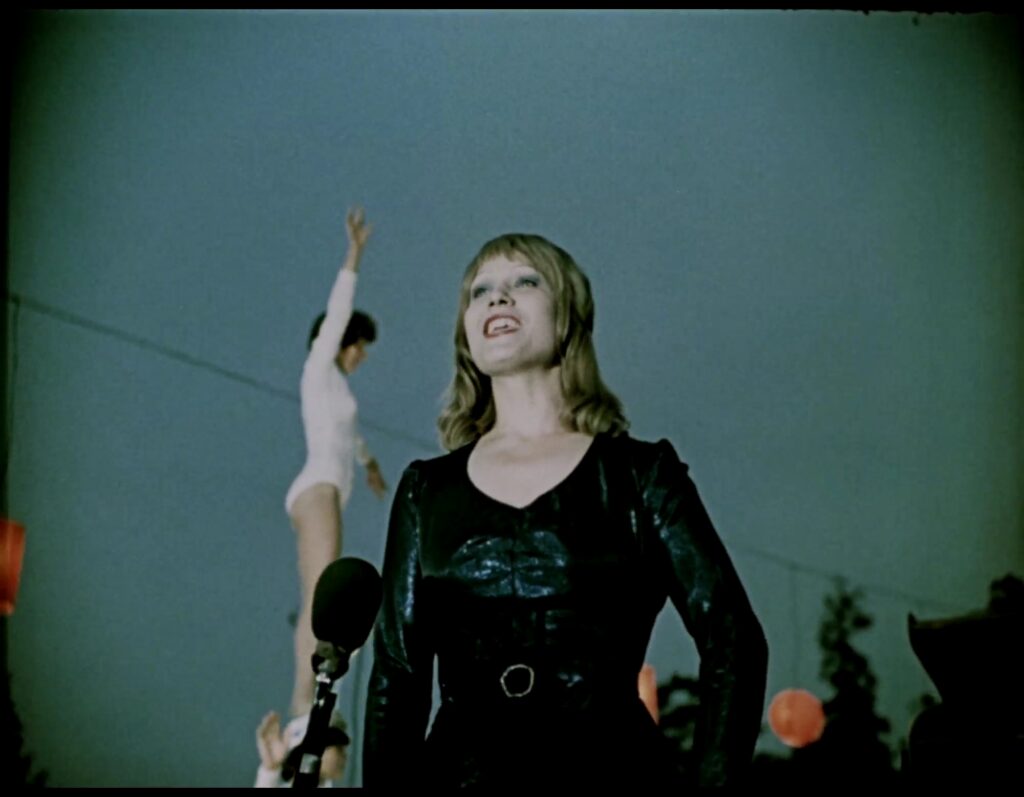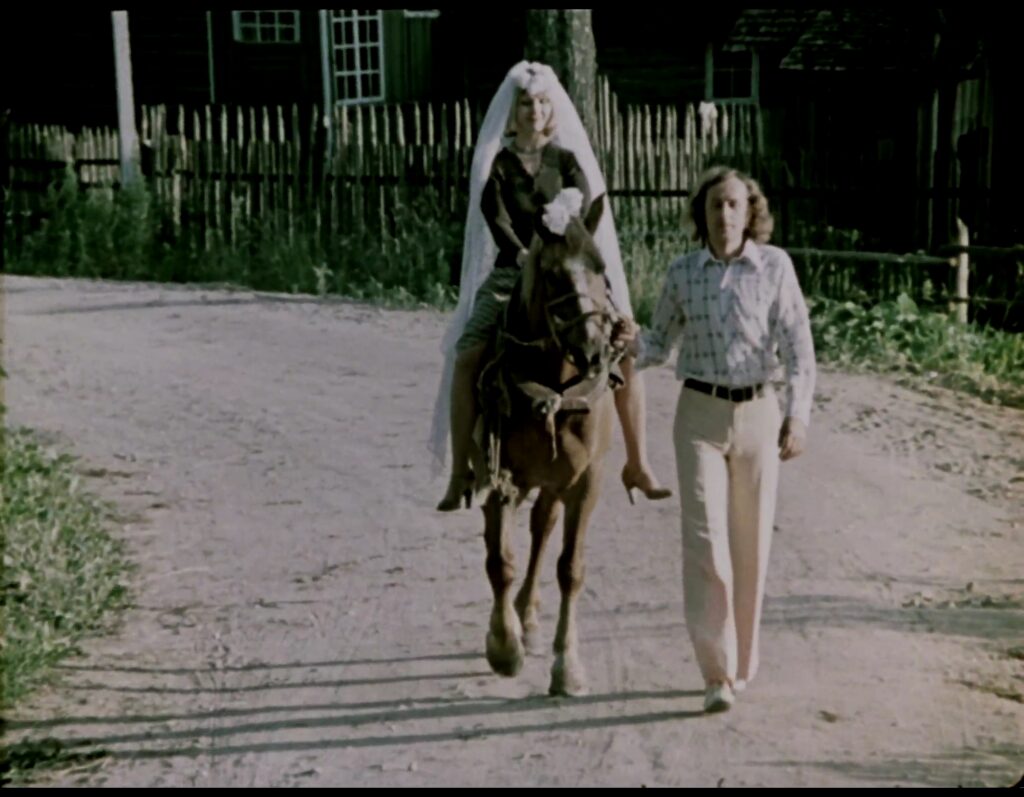 Getting to Know the Big Wide World
ПІЗНАЮЧИ БІЛИЙ СВІТ
Getting to Know the Big Wide World, the chef d'oeuvre of the young Muratova, transforms a conventional love triangle (two men, one woman, all construction workers) into a vividly elusive poem on the origin and inexplicability of love. Through ordinary 'Soviet' characters she reveals expressive individuals, transforming the industrial construction site into a tender scene of unspoken tragedies.
Programmer's Note

The story of the construction of a tractor factory is filmed in a way that was inconceivable at the time. It was shot at Lenfilm, but again displeased the Soviet censors, which led to another limited release. Muratova chose a scenario written by Grigori Baklanov about construction and the fantasy of a love that "isn't produced in factories". She rewrote it, added images, lyrics, expressive caesuras and primitivistic collages, a sophisticated assemblage. Picturesque images merge with lifelike scenes full of dust, mud, paint and cement, larded with intermezzos in folksy and Socialist settings.

Muratova uses a poetic cinematographic idiom to give shape to the shapeless void, the unfinished building and the unstable relationships of the characters, played by Nina Ruslanova, Sergei Popov and Aleksei Zharkov. Speaking in a 1988 interview about the aesthetic potential of the work site, Muratova stated:

"A building site is chaos: a sphere where culture has not yet been created, where there's no concept of beautiful/not beautiful, where there's no aesthetic (it remains to be created.) Chaos may seem terrible, but to me it is wonderful, because there are as yet no postulates at all. There's no style, so stylisation is impossible. I wanted to create a culture, a beauty outside existing canons."

The film marked a transition in her film style towards what she called dekorativnost ("ornamentalism"), as well as extending her exploration of the theatricality of public speech. The film's visual form was also distinct due to the use of a different cinematographer than her first two features, Yuri Klimenko, who also worked with filmmakers like Ali Khamraev, Sergei Parajanov and Aleksei German. The unfettered emotionality in this film democratises Muratova's sophisticated art. Muratova frequently spoke of this work as her own favourite of all her films. —Elena Gorfinkel

Preceded by the short film Letter to America (1990)