A programme of short works traversing hallucinatory dreamscapes, contested landscapes, and the precarious movements of bodies through time and space. Argentinian auteur Lucrecia Martel screens alongside contemporary artists, Basim Magdy, Marwa Arsanios and Fox Maxy.
Followed by a Q&A with Basim Magdy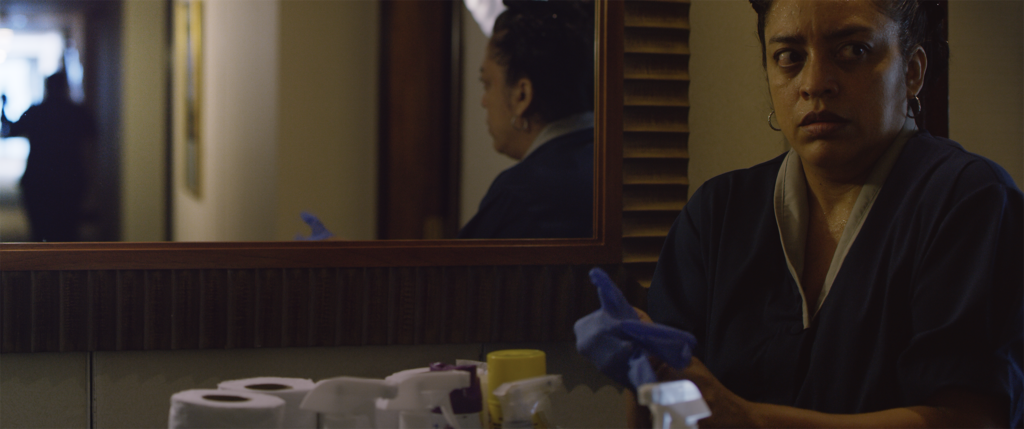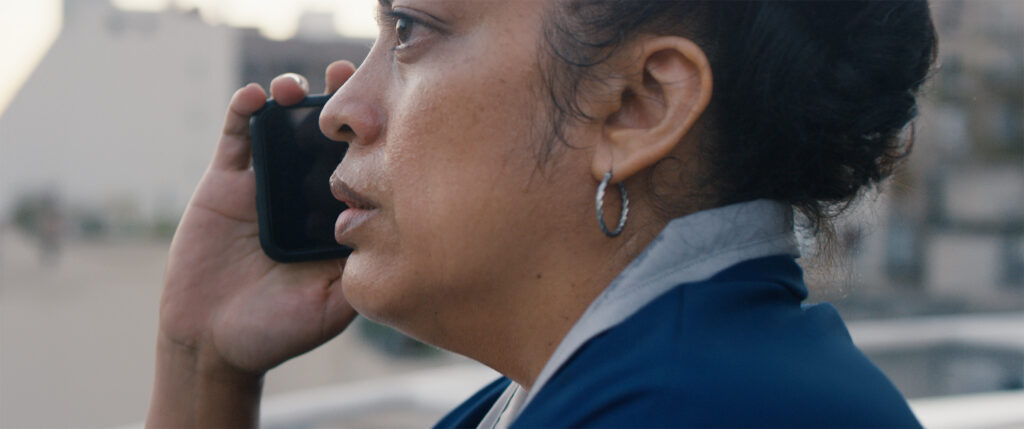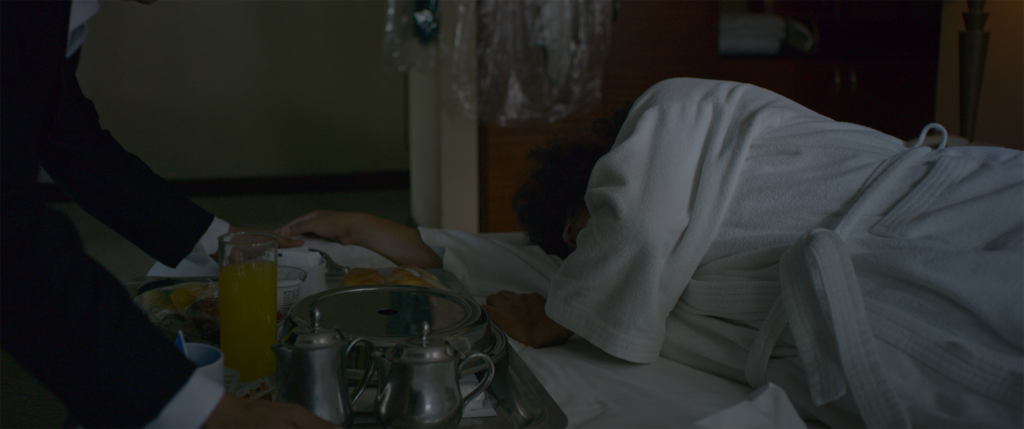 Celebrated Argentinian filmmaker Lucrecia Martel explores themes of class, labour and gender violence through the story of a woman who applies for a job as a maid, haunted by an unspecified family trauma. Inspired by forms of contemporary dance, the film probes a kind of audio-visual choreography, focusing on the continuous movement of the body in space and the disruptions that occur offscreen and in the interplay between linear and nonlinear time.
Programmer's Note

In Camarera de Piso, Martel masterfully builds a scenario in which terror, abjection and the unseen function as crucial components of a scene that would otherwise appear calm, boring and rote. We witness a woman turning over a hotel room, only to realise that she is being observed and trained by another woman who is clearly taking her through the hiring process. As our protagonist attempts to perform her duties with calculated precision, we witness painful disruptions: a familiar voice seems to call her from an unseen place; her cell phone rings even though she was supposed to keep it in her locker; and the unavoidable call turns into a desperate plea. She knows that, if caught, she risks dismissal from the job she needs. In the hands of such a confident filmmaker, the film reaches its boiling point before transforming into something entirely unexpected and perhaps even liberatory.

~ Herb Shellenberger
Director Biography

Lucrecia Martel's rich and concise body of work has gained worldwide recognition and acclaim since her debut feature, La Ciénaga, in 2001. Born in Salta, in Northwest Argentina, Martel studied film in Buenos Aires and began her career making intimate, elliptical dramas that broke from the aesthetic and ideological tendencies of the prevailing "New Argentine Cinema". A singular artist, Martel combines a formal mastery—particularly through her attention to sound design—with a sensibility entirely her own, defined by atmosphere, mystery, and caustic humour alongside provocative critiques of class, gender and patriarchy in Argentine society.
Director Filmography

Zama (2017), La Mujer Sin Cabeza (2008), La Niña Santa (2004), La Ciénaga (2001)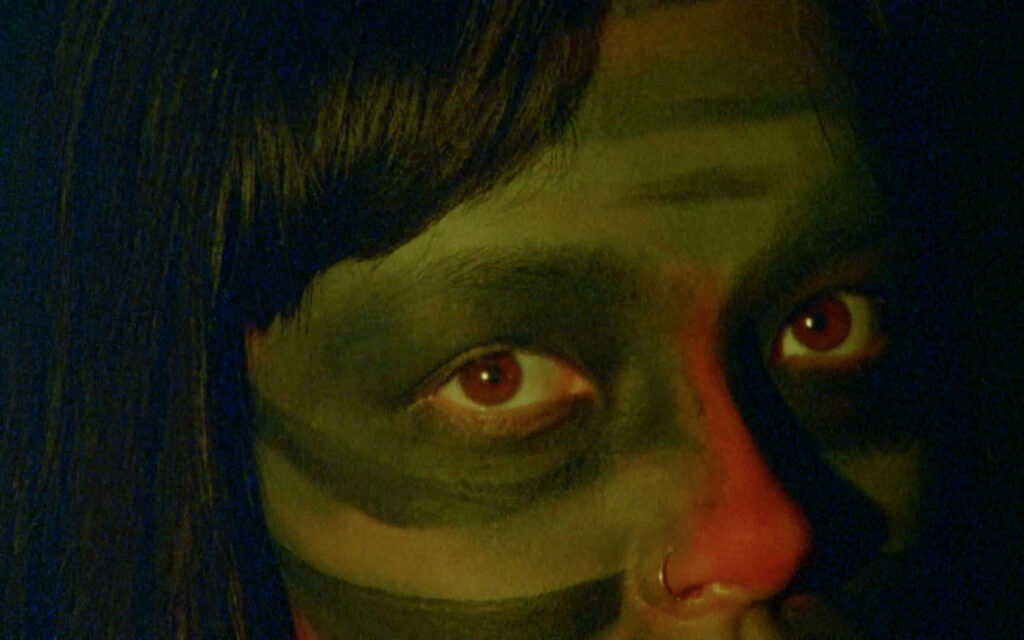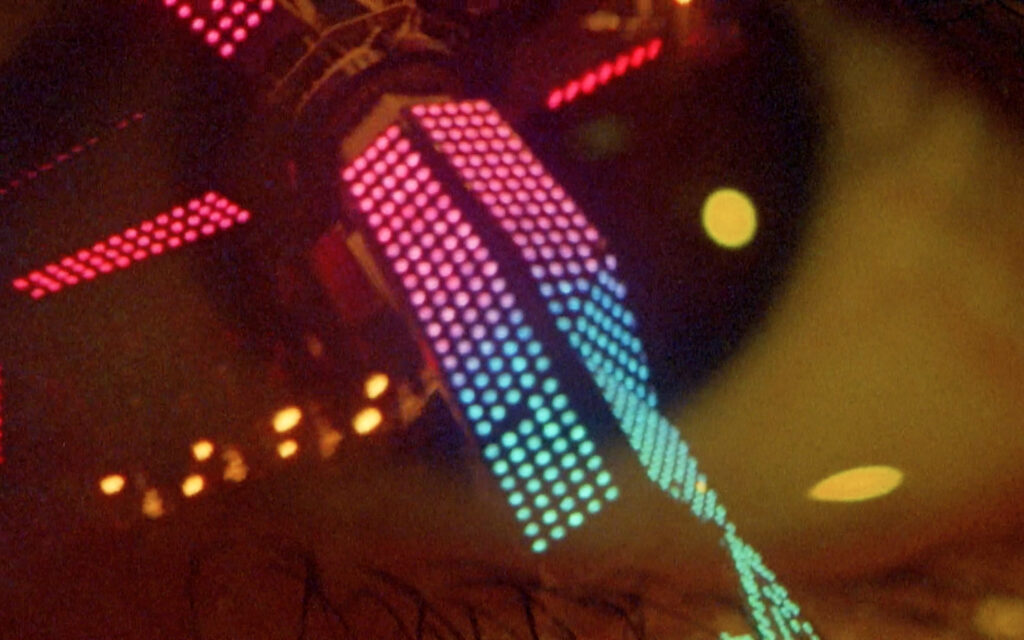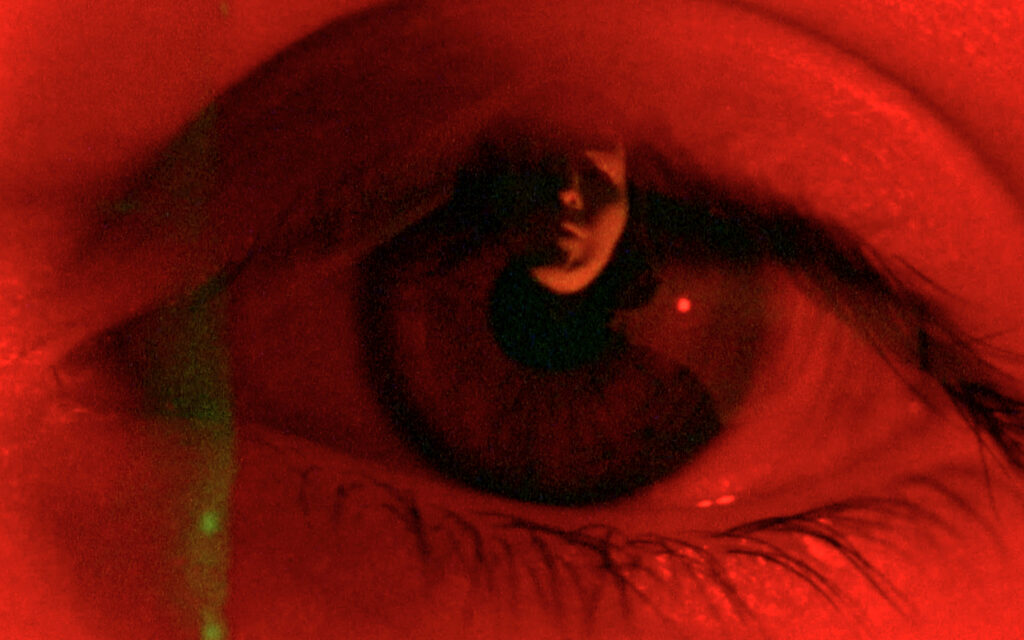 FEARDEATHLOVEDEATH
Egyptian artist Basim Magdy crafts an immersive, hallucinatory audio-visual dreamscape reminiscing on the absurdity of death without trying to understand it. His associative universe of sounds and signifiers imagines a present moment suspended between traces of the mythic past and spectres of uncertain futures. Harnessing the live, organic qualities of super 16mm, the film builds a singular, dissonant energy that stalks the outer boundaries of science fiction, horror, and nature documentary.
Programmer's Note

An exquisitely layered, striking sound design acts like a frequency able to manifest and animate dreamlike visions. Rather than focusing on the phycological, the film evokes a kind of search, as if testing the interplay between different qualities of emotions – ways they can throw us off guard, creep in or flicker like distant signals. Narration and text seem to point to the precarious ways in which disparate forms of articulation can both hold and disrupt meaning. As with Magdy's other works, absurdity and humour operate as part of the same logic; as "Bananish", a one-word language mentioned here, swiftly shows. The work feasts on the incomprehensibility of life as much as on a pleasurably inconclusive exploration of what might lie beyond.

~ Ilinca Vanau
Director Biography

Basim Magdy is an artist and filmmaker whose work employs elements of surrealism and humour to produce layered and colourful observations of reality that investigate collective delusions and dogmatic ideologies. His imaginative works attempt to reveal alternative realities and speculative social blueprints for a more hopeful future. His films have screened at festivals including Locarno, New York Film Festival, International Film Festival Rotterdam, and CPH:DOX. His solo exhibitions include Museum of Contemporary Art, Antwerp; MAAT, Lisbon; MCA, Chicago; and MAXXI, Rome. Groups shows include MoMA, New York; Centre Pompidou, Paris; ands Castello di Rivoli, Torino.
Director Filmography

FEARDEATHLOVEDEATH (2022), M.A.G.N.E.T (2019), New Acid (2019), No Shooting Stars, (2016), The Everyday Ritual of Solitude Hatching Monkeys (2014), The Many Colors of the Sky Radiate Forgetfulness (2014), The Dent (2014), Crystal Ball (2013), Time Laughs Back at You Like a Sunken Ship (2012), On The Good Earth (2011), 13 Essential Rules for Understanding the World (2011), My Father Looks For An Honest City (2010), A Film About The Way Things Are (2010), Turtles All The Way Down (2009), Maybe There is a Message, (2008), Two Days to Apocalypse (2003)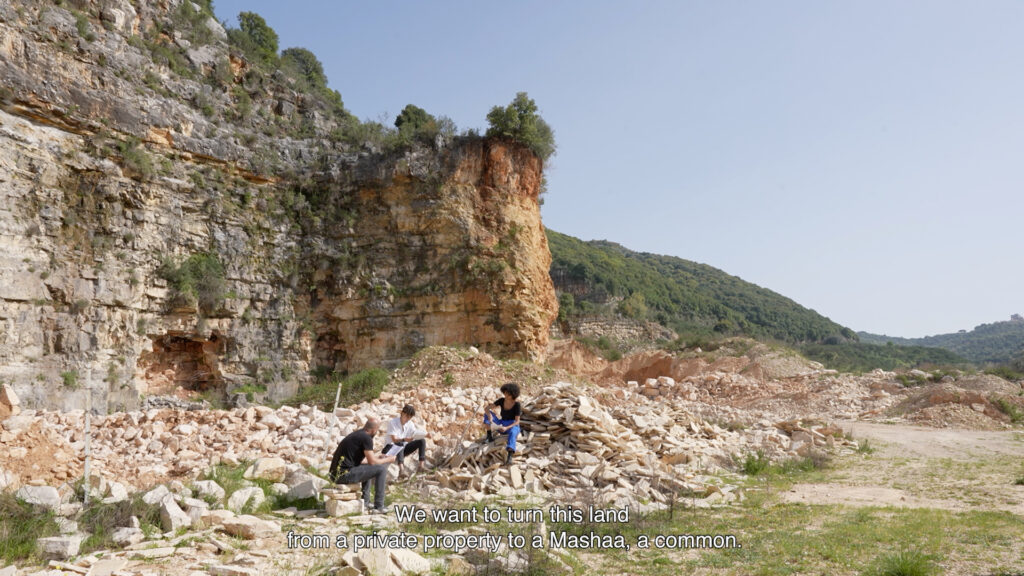 Who Is Afraid of Ideology? Part 4: Reverse Shot
This fourth chapter of Arsanios' Who is Afraid of Ideology? series continues a collaborative investigation of anti-capitalist ideas around property and land ownership in Lebanon. The film's figurative reverse shot reflects land as an autonomous, living object that inherently resists notions of property. Instead, matter and land become witness to the interconnectedness of the geological, the historical, the legal and the agricultural – generating an ecology of thought centred around land as a site of communalisation and rehabilitation.
Programmer's Note

Looking backwards through time, Arsanios provides a historical survey on how land has been divided and used in Lebanon. From the formation of the land, to the contemporary moment, personal histories are intertwined with speculative fiction to think about different ways of interacting with the commons; and in ways that are multi-species, defying separation between the human and the non-human. Rocks become sentient through the use of 3D rendering software, providing a view of history literally from the ground up. This work continues Arsanios' research into land rights, this time using the frameworks of post-humanism and ecology to imagine new potentialities towards how we understand land and capital.

~ Myriam Mouflih
Director Biography

Marwa Arsanios is an artist, filmmaker, and researcher who reconsiders mid-twentieth-century politics from a contemporary perspective. Her collaborative, interdisciplinary research practice often focuses on gender relations, collectivism, urbanism and industrialization. In recent years, Arsanios has been attempting to think with a feminist, new materialist and a historical materialist lens – looking at questions of property, law, economy and ecology from specific plots of land; to the extent that the main protagonists of the work become the lands themselves and the people who work them.

Her films have screeded widely, including at Cinéma du Réel, Rotterdam Film Festival, Film Fest Hamburg, and Berlin International Film Festival. Solo exhibitions have included: Skuc Gallery Ljubljana, Beirut Art Center, Hammer Museum Los Angeles, and Witte de With Rotterdam. Group exhibitions have included: Documenta 15, 11th Berlin Biennale, Gwangju Biennial, Lülea Biennial, and SF Moma, San Francisco.
Director Filmography

I've Heard Stories (2008), I've Heard 3 Stories (2009), Have You Ever Killed a Bear or Becoming Jamila (2014), Learning to Dance (2015), Falling is not collapsing falling is extending (2016), Amateurs Stars and Extras or the labor of love (2018), Who is Afraid of Ideology? Part1&2 (2017/2019), Who is Afraid of Ideology? Part3 (2020), Who is Afraid of Ideology? part 4 Reverse shot (2022)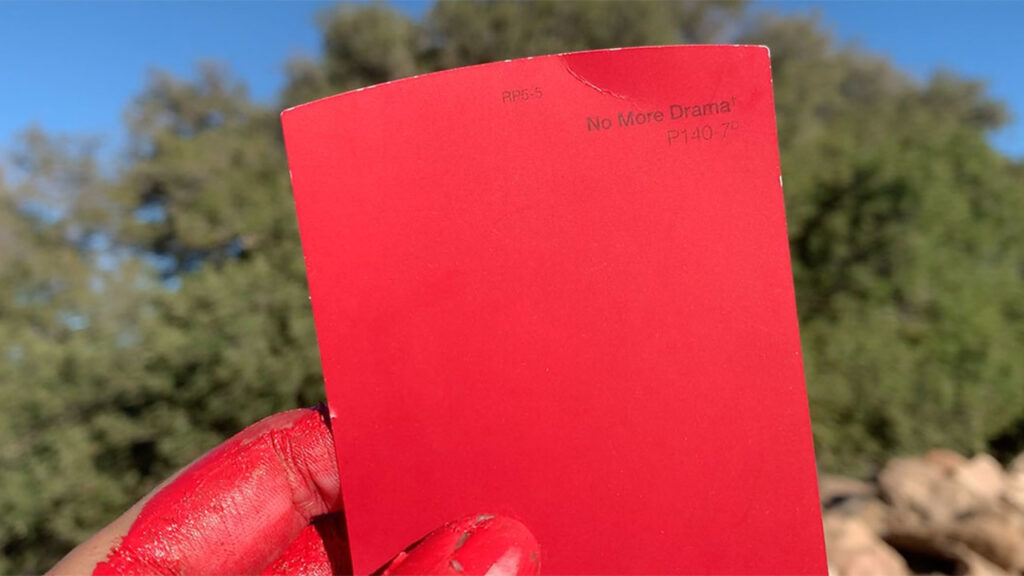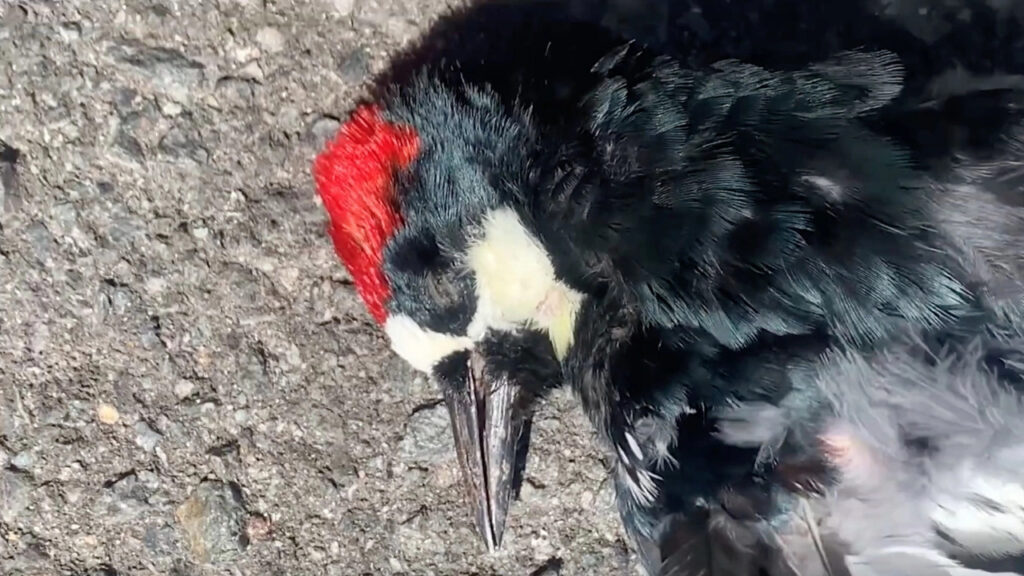 F1ghting Looks Different 2 Me Now
Fox Maxy's F1ghting Looks Different 2 Me Now is a look at her moving home. The film captures an ongoing land dispute between family within an expressive pop culture–inflicted collage. In the words of its maker, "This film is me speaking for me and that's it".
Director Biography

Fox Maxy is a filmmaker based in San Diego, CA. Her first feature length film, Gush, premiered at Sundance Film Festival in 2023. For 2022-2024, she is a Vera List Center Borderlands Fellow. In 2020, COUSIN Collective supported the director with her first grant. Fox's work has screened at MoMA, TIFF, Rotterdam and BlackStar Film Festival. Currently she is working on a film about mental health.
Director Filmography

Maat (2020), San Diego (2020), Petroleum Jelly (2020), One Big Selfie (2020), Lil Nas X (2019), California Girls (2018), Muzzles Off (2018), Cheyenne Ziegler (2018)