Presenting the first UK retrospective of acclaimed filmmaking duo Anastasia Lapsui (Nenets, born 1944, Yamal Peninsula, USSR) & Markku Lehmuskallio (born 1938, Rauma, Finland). Their narrative and documentary features made across four decades centre people, stories and perspectives indigenous to the Arctic Circle, particularly the Nenets, a nomadic tribe living for centuries in regions of the Extreme North.
Followed by a Q&A with Johannes Lehmuskallio and Caroline Damiens, senior lecturer at Universite Paris Nanterre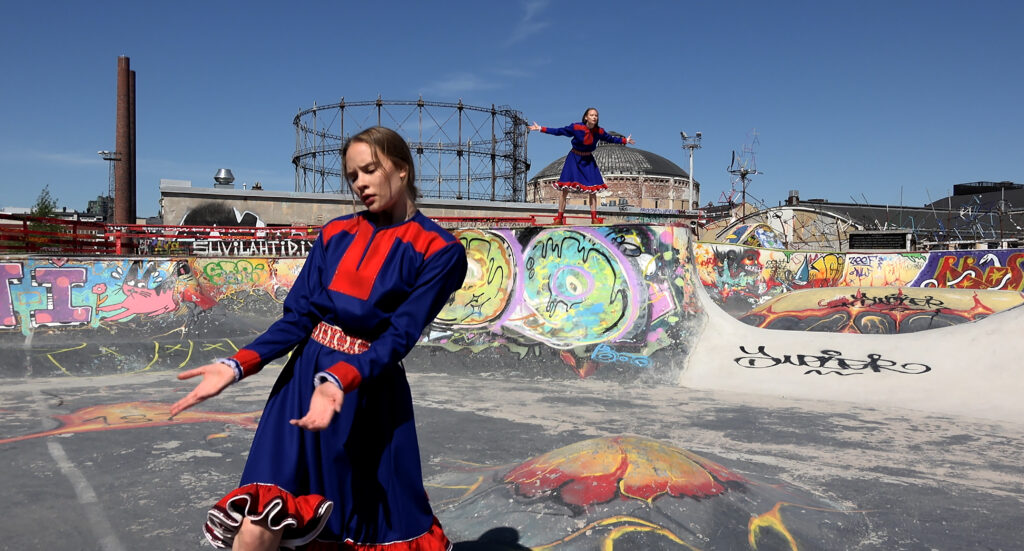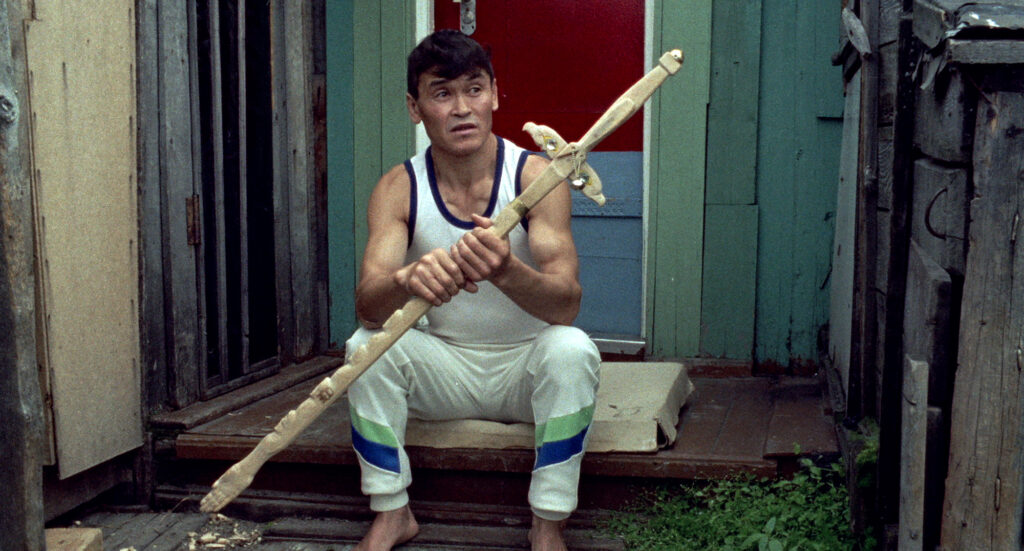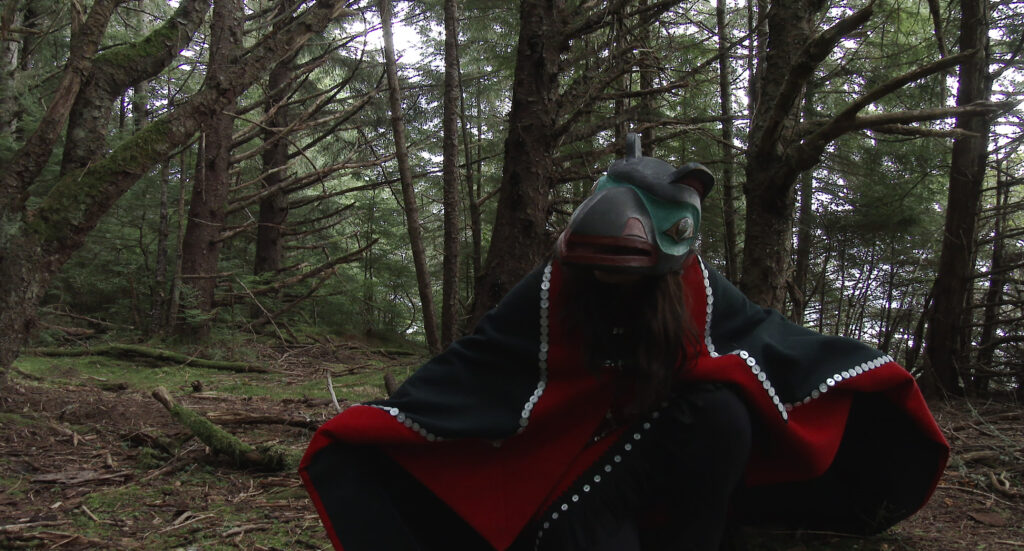 Anerca, Breath of Life
Anerca, Elämän Hengitys
In Inuit, the word meaning to bring forth a poem is the same as the word to breathe – an act that inspires Finnish filmmaker Markku Lehmuskallio's poetic ethnography, co-directed with his son Johannes Lehmuskallio. A beautifully expansive film centred on performance and the importance of song, Anerca, Breath of life was shot over several decades with the indigenous peoples of the Arctic Circle. People and cultures spanning the borders of Finland, Sweden, Norway, Greenland, Canada, Alaska and Russia, the filmmakers are clear to point out, "It wasn't these cultures that drew up these borders, rights have been violated." Speaking against these continued infractions, the film magnificently expresses the joy, pain and energy of these individuals and communities through fleeting, magical moments of performance, conversation and cinema.
Programmer's Note

The film uses a free and open approach to its formal construction that allows different types of images – from film to digital cinematography, from archive and newsreel footage to performance and interview – to exist alongside each other without hierarchy or division. Skips in chronology, geography, subject and setting feel natural, easy and unforced – serving to accentuate the similarities between people who live in vastly different parts of the world. A young man breakdancing in a shopping mall, an artist drafting on paper, a father and son hunting in the woods, dancers on a graffiti-covered skating rink or a Sámi rapper spitting verses: all are presented with attention, care and respect. The moments captured appear as fleeting as a passing breath; filmic distillations of beauty and vitality.

~ Herb Shellenberger
Director Biographies

Markku Lehmuskallio is a film director and cinematographer born in 1938 in Rauma, Finland. His entry point into filmmaking began while working as a forester in Finland, where he created instructional films for farmers to teach them how to plant pine seedlings. This ecologically focused practice continued, and while filming in the Arctic regions of the former Soviet Union he met Anastasia Lapsui. They have since collaboratively produced numerous documentaries about the lives of Indigenous peoples in the Arctic Circle and around the world. Lehmuskallio's films have been exhibited widely at venues around the world, including the Berlinale, International Film Festival Rotterdam, Docpoint Helsinki, Dok Leipzig, Midnight Sun Film Festival, Toronto International Film Festival, and Karlovy Vary International Film Festival, among many others. He is the recipient of numerous awards including Jussi Awards for Best Short Film (1973), Best Cinematography (1975), and Best Documentary Film (2003); an Honourable Mention from the Berlinale (1980); the Aho & Soldan Lifetime Achievement Award (2002); the Jury Prize Région de Nyon from Visions du Réel (2020); and the Finland Award (1998).

Johannes Lehmuskallio was born in Kauniainen, Finland in 1973. He acted in several films directed by Markku Lehmuskallio in the 1980s before turning to directing and cinematography. He has directed short and feature films, and was awarded the Jussi Award for Best Cinematography for the film Seven Songs from the Tundra (Markku Lehmuskallio & Anastasia Lapsui, 2000).
Director Filmographies

Johannes Lehmuskallio filmography: Anerca, Breath of Life (with Markku Lehmuskallio, 2020), Pyhä (with Markku Lehmuskallio & Anastasia Lapsui, 2017), The Wait (2011), Paimen ja kitara (2001), Paha henki (1995), Life is too short to chess (1994)

Markku Lehmuskallio filmography: Anerca, Breath of Life (with Johannes Lehmuskallio, 2020), Pyhä (with Johannes Lehmuskallio and Anastasia Lapsui, 2017), Tsamo (with Anastasia Lapsui, 2015), Eleven Images of a Human (with Anastasia Lapsui, 2012), Pudana – Last of the Line (with Anastasia Lapsui, 2010), Earth Evocation (with Anastasia Lapsui, 2009), Travelling (with Anastasia Lapsui, 2007), The Sami (with Anastasia Lapsui, 2006), Fata Morgana (with Anastasia Lapsui, 2004), A Bride of the Seventh Heaven (with Anastasia Lapsui, 2003), Mothers of Life (with Anastasia Lapsui, 2002), Shepherd (with Anastasia Lapsui, 2001), Seven Songs from the Tundra (with Anastasia Lapsui, 2000), The Sacrifice – A Film about a Forest (with Anastasia Lapsui, 1998), Anna (with Anastasia Lapsui, 1997), A Farewell Chronicle (1995), A Paradise Lost (1994), In the Shape of a Reindeer Across the Canopy of Heaven (1993), I Am (II) (1992), I Am (I) (1992), Inuksuk (1988), Finnish Mobile (1985), The Blue Mammy (1985), Skierri – Land of the Dwarf Birches (1982), The Raven's Dance (1980), Mikä mies matsuri (1977), Elämän tanssi (1975), Tapiola (1974), The Swan (1974), Big Silence (1973), Muuttuva E-myymälä (1971), Ilta-Sanomat (1970)